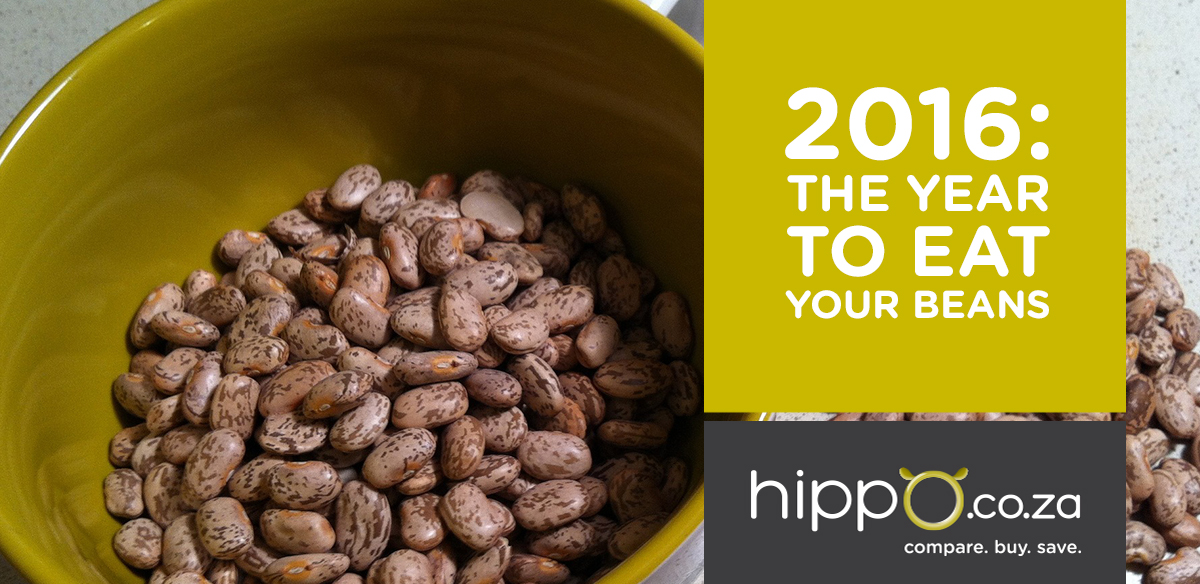 Beans. Lentils. Chickpeas. These humble foodstuffs are probably not on the top of your favourite foods list. However, the United Nations is hoping to change all of that by declaring 2016 "The Year of the Pulse", an initiative aimed at encouraging consumers to eat more of this healthy food type.
We're doing our part in getting you excited about pulses by giving you the lowdown on why they're such a great food to include in your diet. We ask Safia Hothi-Bellamy from Pure Punjabi for some recipes that show how tasty pulses can be, tips on how to incorporate more pulses into your diet and some local restaurants that are getting it right.
What are the advantages of eating pulses?
Safia says that if there's one item you should include in your diet, it's pulses. They're a fantastic source of plant-based protein, affordable and really easy to store in your cupboard or pantry. They're also kinder to the environment to produce versus other proteins like meat. Pulses are perfect for food allergy or food intolerance sufferers as they are wheat free, gluten free, dairy free, nut free, egg free, vegetarian and vegan.
You might think dishes made entirely of vegetables can be lacklustre and leave you hungry, but by adding pulses, your dish will be more filling. Pulses come to life when cooked with spices and other strong-flavoured foods, because they absorb strong flavours beautifully. This is why many exotic cultures, such as Middle Eastern and Indian cultures, have so many delicious dishes with spiced pulses as the star ingredient.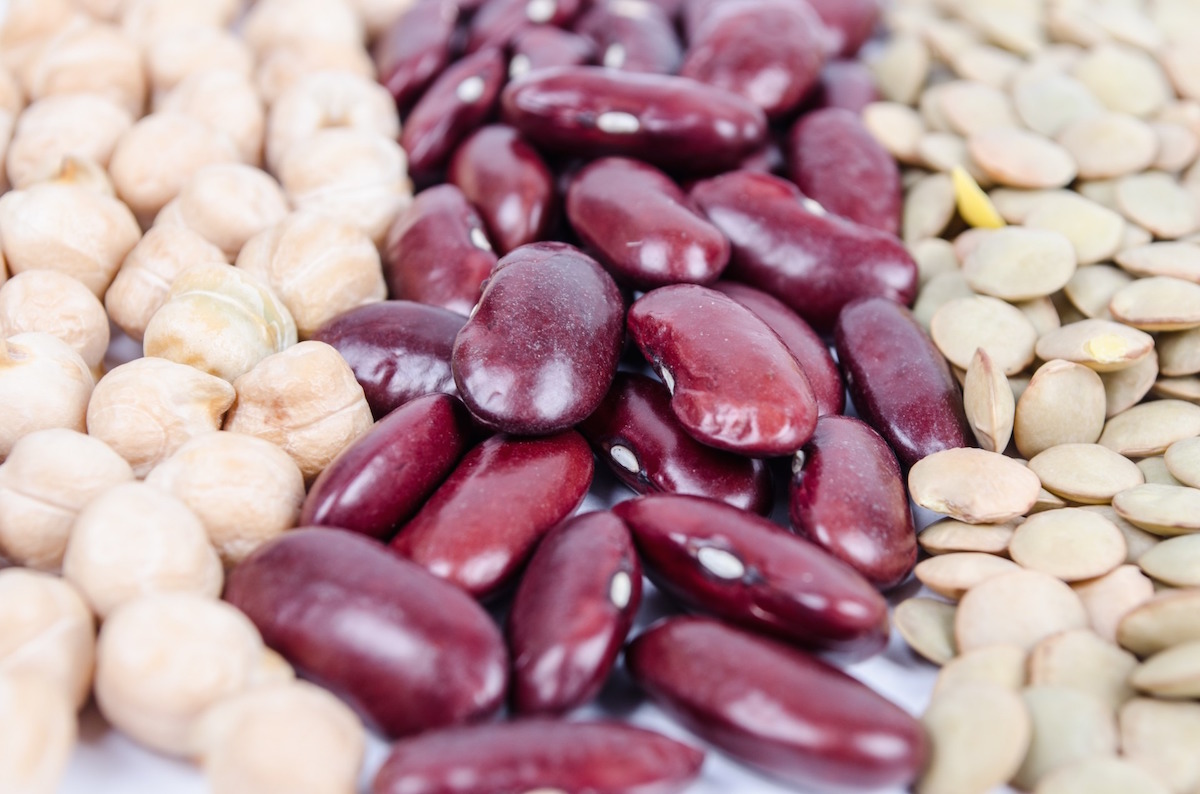 How can I incorporate more pulses into my diet?
Pulses are great incorporated into your diet either as the star ingredient or as a satisfying substitution for or an accompaniment to meat. Here are three simple pulse and meat combinations from Pure Punjabi that you can use to bulk up your meals:
1. Add green lentils to Bolognese meat by replacing half the meat mixture with cooked green lentils. Exact quantities will differ, depending on how many people you are catering for.
2. Add chickpeas to lamb mince: When making stuffed peppers, use a similar method and reduce the quantity of lamb used, substituting it with cooked chickpeas.
3. Add red split lentils to shepherd's pie: Make a delicious sausage and lentil version of shepherd's pie. Make the base of the dish with red split lentils and sliced sausage, and top with a sweet potato mash.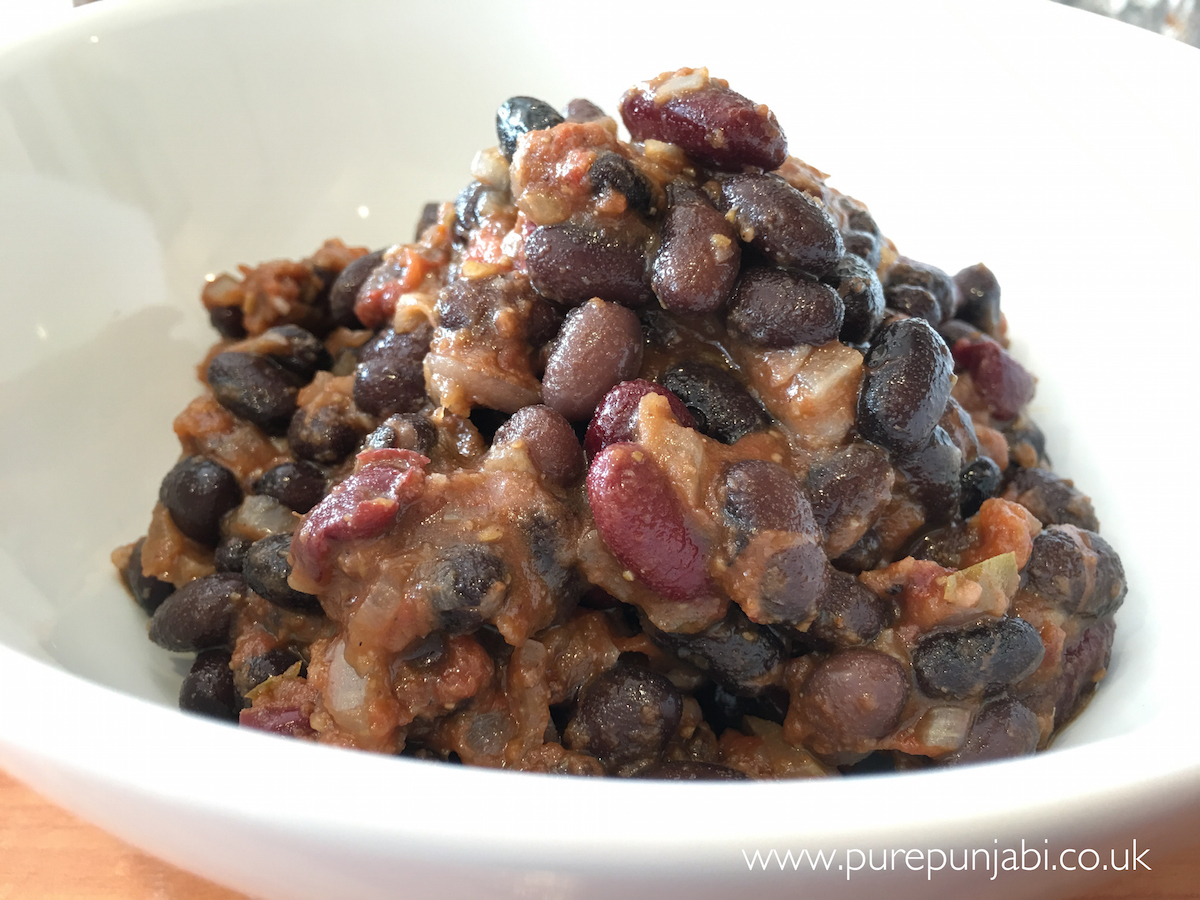 A Warming Winter Dish: Pure Punjabi Kidney Bean and Black Bean Dhal
This dhal recipe has been handed down from mother to daughter in Safia's family for generations. If you want to make an authentic, mouth-watering Punjabi (North Indian) dhal, then this is the recipe for you.
Note: the quality of the garam masala is essential to ensuring the perfect dhal.
(serves 4)
Ingredients:
1 tsp ghee (or sunflower oil if dairy free/vegan)
1 small white onion, diced
1 clove garlic, peeled and minced
1 inch piece of ginger, peeled and minced
1 green bird's eye chilli, finely chopped
1 tbsp garam masala
1 tsp salt
1⁄2 tin chopped tomatoes
1x 400g tin black beans, drained and rinsed
1x 220g tin of kidney beans, drained and rinsed
Method:
1. Heat a saucepan over a medium to low heat. Put the ghee into the saucepan. Once it has melted, add the diced onion and fry gently till translucent.
2. Add the garlic, ginger and chilli. The mixture can stick slightly at this point, so make sure to keep stirring every minute or so.
3. Add the garam masala, salt, chopped tomatoes and turn the heat down to the lowest setting. Simmer for 5 minutes, to allow the flavours to marry together.
4. Add the rinsed black and kidney beans and stir thoroughly. Using the small kidney bean can, fill it with water and add it to the bean mixture. Stir the water through, put the lid on the saucepan, and bring the dhal to a boil.
5. Once it has reached boiling point, turn the heat down to the lowest setting, and allow to simmer for 35-45 minutes. The dhal is cooked when the beans are all soft. If they are still a bit 'nutty', add an extra 2-3 tablespoons of water and simmer for a further 15-20 minutes.
Dhal is traditionally served with rotis, but you can substitute it with whole wheat tortillas.
How to sprout your own beans:
It's believed that sprouting beans and lentils makes them more nutrient-dense. Safia says that she likes doing this as it gives them a crunchier texture.
Sprouting beans is actually very easy, but it requires a little forward planning, as it takes 3-4 days. If you don't have time to sprout them, you can make this salad with normal (unsprouted) mung beans as well. Sprouts are also easy to find in the shops.
Here's what to do:
Put the mung beans into a Tupperware container and fill with enough water to cover the beans.
Soak the beans in the water overnight, and drain the water off in the morning.
Put the lid on the container, and leave in a warm part of your kitchen, but not in direct sunlight.
Over the next 2-3 days, you will see that the beans will start sprouting. If they don't start sprouting, wet your hands with water and sprinkle a little over the beans, to top up the moisture levels in the container.
You can cook with them at any point during the sprouting process but Safia likes to cook them once the sprout is roughly 5mm long.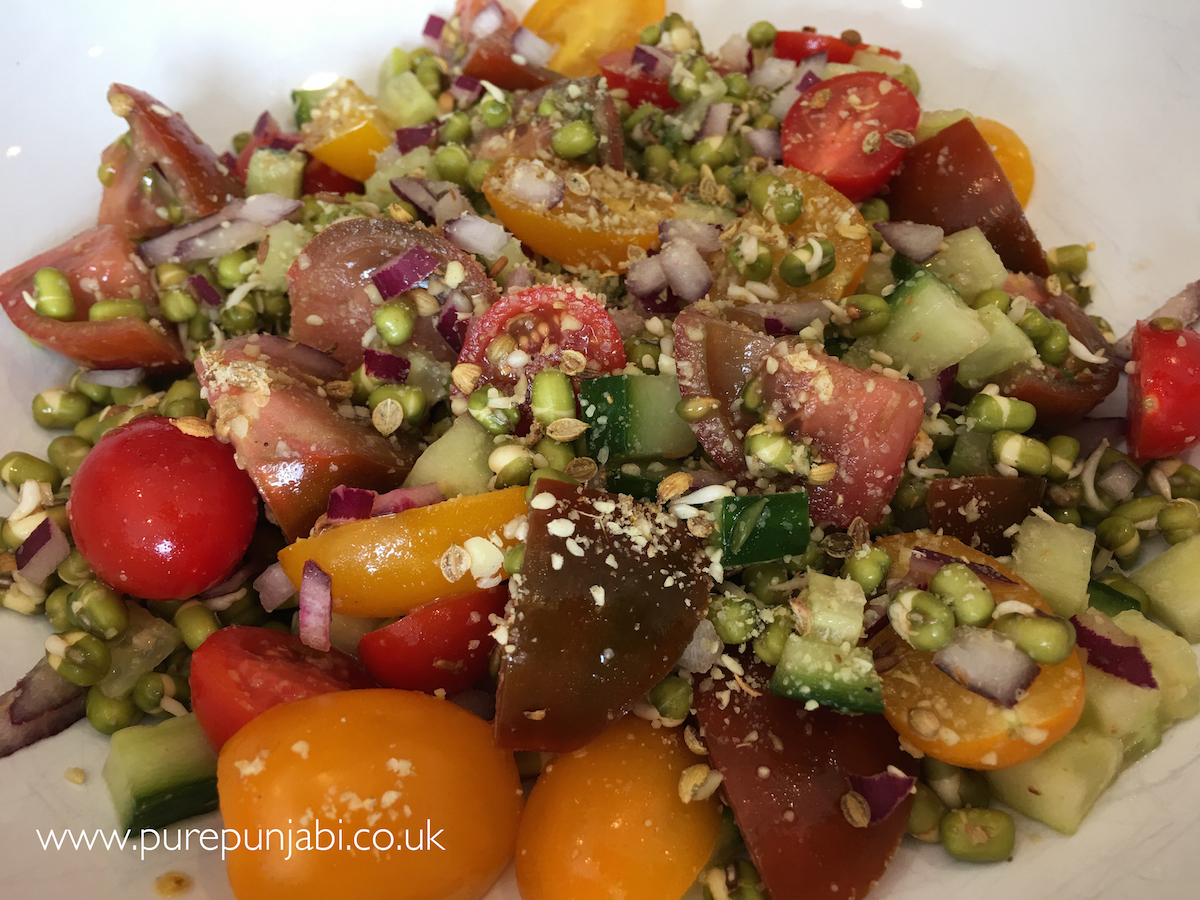 A Refreshing Summer Dish: Pure Punjabi Sprouted Mung Bean Salad
(serves 4-6)
Ingredients
1 cup sprouted mung beans
1 red onion, finely diced
1⁄2 cucumber, cubed
12 cherry tomatoes, halved
1 heaped tbsp dukkah
Pinch of salt
Method
1. Steam the sprouted mung beans until they are tender (roughly 15-20 minutes). When ready, it should squash easily when pressed between the thumb and finger.
2. Rinse the mung beans under cold water immediately, to stop the cooking process. Add the salt to them while still warm.
3. Once the mung beans have cooled, add the red onion, cucumber, tomatoes and dukkah and mix to combine.
This salad is perfect for serving with braaied chicken and meat or fish as a hearty and delicious accompaniment.
Are there any local restaurants who serve good pulse dishes?
Safia lived in Johannesburg when she was a child, and asked her friends for their recommendations. "Greenside Café serves a good range of vegetarian and vegan dishes, many of which incorporate pulses, while Fresh Earth Café takes a holistic view towards food and focuses on the health benefits of plant-based eating," says Safia.
Country-wide, you can't go wrong with a well-established and traditional Indian restaurant, as pulses make up a lot of their staple dishes. You're spoilt for choice in Durban with restaurants like Little Gujarat and Earthmother Organic Café, and in Cape Town Orchard Café and Plant are both health restaurants that produce a range of delicious plant-based meals, many of which incorporate pulses. You won't even miss the meat!
Conclusion
It's no secret that there are multiple benefits to incorporating pulses into your diet on both your health and your wallet. Another way of taking care of you and your family's health is by having comprehensive Medical Aid to provide health care when you need it most. Compare Medical Aid quotes on Hippo.co.za and get covered for health issues that may come your way.
The following information and recipes have all been provided by Pure Punjabi (who are the sole owner of these recipes).
Sources