It's not surprising that in the general crime statistics of South Africa, business crime statistics increase in tandem with all the others. It's no wonder then that some people and businesses like to remain heavily insured against of the multitude of potential criminal acts which harm their interests. However, most SA businesses which are still small and starting off hardly think of comparing business insurance options, as they usually don't have enough liability (in their eyes) to warrant it.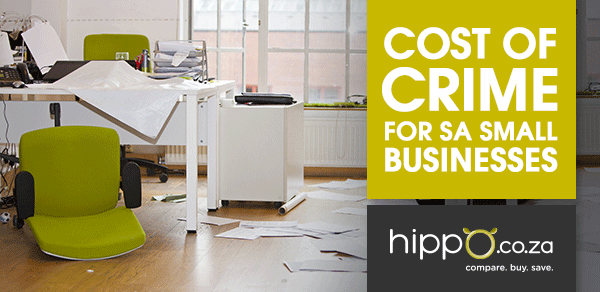 Aggravated robberies, where perpetrators use guns or other weapons to steal belongings, are actually on the rise. In total, the number of aggravated robberies increased by 12,7% from their numbers in 2012/13; from 105 888 to 119 351 – an increase of over 13 000 cases and the rate at which the robberies were taking place also rose. Business robberies as a sub-category increased by 13,7%. If you notice, that's 1% more than the standard increase in the amalgamation of all aggravated robberies. According to a document prepared by the Institute of Security Studies, the particular form of robbery has been increasing steadily over the past eight years: "There were an additional 2 238 armed attacks on businesses in 2013/14 compared to the previous year." What this means in the greater scheme is that South Africa is becoming a more dangerous place for businesses.
According to the statistics, the 2013/14 cycle was the worst two years in the last decade for crime reduction. From 2011 onwards the rate of the annual reduction of crime slowed to the point that over the past two years there has been an increase in the most significant categories of crime. Clearly, there has been a difference in attitudes to crime since 2011, with many seemingly desperate, violent or even erratic crimes taking place. From an economic standpoint, it's interesting that the increase didn't happen in the worst two years of the global economic crisis.
A YaleGlobal report states that "the current financial crisis is the worst the world has seen since the Great Depression of the 1930s," meaning that in 84 years, there hasn't been a more hostile business environment – or another way to look at it is there has never been a more hostile business environment. In a century filled with more dollar-millionaires than any other time in the world, global wealth remains skewed towards a few people having more than whole segments of the human populace. It's no wonder that global crime averages are on the increase. In South Africa, since it remains classified as a developing country, some of these repercussions only reach us later.
Additionally, the announcement made in 2004 that South Africa would host the 2010 FIFA World Cup, also coincides with what analysts call 'soft power'. Defined by Joseph Nye simply as "the ability to influence the behaviour of others to get the outcomes you want," and usually done through co-opting people and organisations, soft power was at play between 2004 and 2010. Once the private sector generally realised, that an event of only a month is not a sustainable basis to an already developing economy, much of the positivity and morale dissipated. So, on a macro-economic level, business crime is rife, the global economy is in crisis and people are demanding better wages.
In the day-to-day trenches of the business world, business insurance helps to mitigate the cost of having to wade your way through the fallen remains of other businesses who couldn't weather the tripartite onslaught. The variability of insurance depends on the business type and the industry as a whole. Insurance service providers offer different packages for specific needs, including business insurance options for office, professionals and tradesmen.
Straight from the source
We conducted interviews with a few small business owners to ask them about their experiences with business insurance. We asked them about the packages covering their businesses; if they use more than one service provider; if they would recommend business insurance; and if they think business insurance is reasonably priced to cater to the needs of the clients.
Kim Finlay of Research Africa, the African branch of a London-based company that provides a funding platform for researchers across Africa, had a few choice things to say about her business' insurance. Research Africa has its own insurer but is additionally insured under their lessee contract as tenants of the Black River Park business complex in Observatory, Cape Town. As such, since the company is already twice insured, it doesn't have a secondary service provider. The company thinks of business insurance in the most basic sense: fire, theft and damage. In order to keep the business running, the electronic equipment needs to be insured. Finlay stated that the relationship with their insurance provider is good because her company recently received a cash back benefit for not claiming over a certain period of time.
Lihle Maziya who owns an internet café in Emalahleni, Mpumalanga insures with Budget Insurance. Budget's comprehensive cover, in terms of electronic equipment, is integral to his business. He found someone who would sublet an area of his house and has been operating that way ever since. Budget is a firm favourite for him because it also includes cover for loss of office content such as documents, which he gets a great deal from people who have no access to printers or good typing skills. As such, the extra errors and omissions cover, if he is negligent in doing something which costs his customers money, is also a plus. The best thing for him is to know that even when he's at home and nobody is at his shop he will be able to continue his business in future if anything goes wrong.
Finally, the owner of a fleet of taxis which has taken numerous people to their places of work, funerals, vacations and places of leisure for the better part of 26 years, Lawrence Skhosana's taxis demand a lot from him. At any point in time, one or more of the taxis could be in an accident and he could be liable for paying third-party insurance claims. He's insured with Dial Direct. The number of taxis (30+) means that he has to get comprehensive cover for the car, driver and passengers – but also for passengers of other vehicles if the fault is the negligence of his own driver. As his employees, the drivers are not liable personally unless stated so in their contracts, which Skhosana has made a standard of omitting. He would recommend business insurance for anyone who stands to lose more than they can earn in profits proportionate to the level of risk. More than 30 taxis means at any given time he could be sued for hundreds of thousands on a personal level. His taxis are held under a private company and the company would be liable, requiring it to be protected.
As much as business crime is on the rise, it's heartening to note that there are still viable defences against it. And, as our sources have indicated above, having business insurance which protects a company financially from claims of negligence provides a peace of mind worth securing.