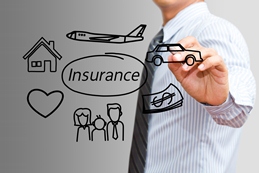 Sifting through the complex minefield of insurance information out there can be a daunting task. This is especially true if it's your first time getting to know the various policy options available. There's a lot of data on specific policy comparisons like 'life insurance' or 'motor insurance' assessments but what do you do if you're looking for the entire package? It's well known by now that taking all of your insurance coverage from the same company is typically a good idea - because you're likely to get discounts and avoid claim complications - but which company suits your needs best?
Assessing Your Needs
It may sound obvious but we're not simply talking about "I need car insurance". Although the types of insurance you require is a major factor (and whether or not the company provides them all) there are more intricate details. You need to make the entire process easier for yourself. Lay a solid foundation by creating a list of the types of coverage you need and then bullet specifics beneath those headlines such as:
Life Insurance
∙ I'm a 31 year old male who smokes
∙ I exercise regularly, think I'm a good weight for my height
∙ I get the flu as often as everyone else each year
∙ I have asthma
∙ I've got 3 children who'll need to be secure if I passed away within the next 10 years
∙ My wife will need financial support if I passed away within the next 30 years
∙ I don't want to be paying more than R1000 pm month for this
If it's your first time putting this kind of brain storm down on paper don't worry about trying to get everything down at once before you start looking around. After you've begun and you start researching or chatting with consultants you'll think of dozens more points to add anyway. Just get your most important, central points down.
Assessing the Company
Once you've made a few calls, done some research and chatted to consultants you've probably got a short list of 5 - 10 different companies which you feel may cater to your needs. It's time to switch from looking at the details of the cover and do some research on the companies themselves. In this step you want to get a good idea of their reputation, payout ratio and overall credibility. A quick online search should turn up a lot of information on what people are saying about them but never take a single opinion. It's also important to remember that people tend to complain more than they praise and you never have the full story.
The Final Deal
At this point you should be happy with three finalists. Review them again and consider all the benefits you'll receive from taking all your coverage from them. Get their lists of what you can do to reduce your premiums in each category of insurance. Naturally, using a reputable comparison engine like hippo.co.za will save you a lot of time and allows you to compare options side by side, so take the first step and get started today.