It's that time of the year again and we're all suffering from holiday fever. Days at work have become unbearably long and we're all counting the calendar days left of the year until we're set to go on our annual leave. We thought that now would be as good a time as any to furnish our readers with some Express travel Tips, as this might be particularly useful for those individuals that have left their holiday planning to the last minute.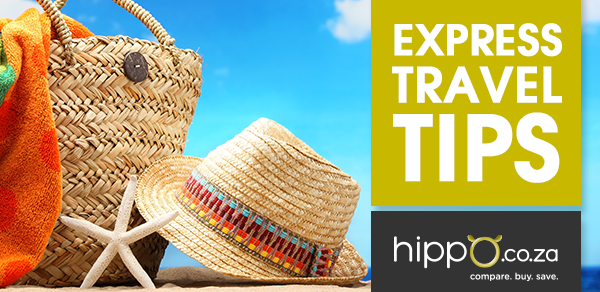 We managed to get the renowned travel blogger Meruschka Govender, also known as Mzansi girl to provide you with some pearls of wisdom on express travel, and hope that this will assist all those last minute holiday planners who require travel advice on the go.

How to best go about arranging last minute travel
Mzansi Girls Express travel tips
As much as I like to be prepared, well in advance for my travel adventures there are often times where I'm in a frantic rush, trying to organize travel at the last minute. This can be a stressful experience, especially if you're travelling to a foreign country, where you have to worry about things like visas, vaccinations and foreign exchange.
My Last Minute Travel check list
Visa's sorted (Don't forget to check if you have enough pages in your passport)
Vaccines (Don't forget your vaccince card! )
Accommodation and flights
Travel insurance
Packing
Getting to the airport
Money
The basics of express travel planning!
Flights and accommodation
These can be a hassle to book last minute, as flights can be expensive. That being said, everything's not entirely lost as last minute deals can still be found although they may be a tad more expensive. Using flight comparison tools, such as Hippo's will help you save some time as you shop around for the best deal. Besides the quotes for flights, Hippo travel also offers tools for finding accommodation and car rental too, which I find convenient, as you can compare and book all your travel on one site.
Health
Make sure you know the vaccine requirements of the country you're visiting. I make a habit of carrying my immunization card with my passport, whenever I travel internationally, just in case it's needed. Also check for travel health warnings and if you're in a malaria zone. If you take chronic medication, make sure you take enough to last your trip, plus some extras in case you get delayed. A copy of your doctor's prescription is also handy in case you get asked about the medication at customs. Don't forget to pack a basic first aid kit in case of emergency.
Domestic Travel: Tips to Plan a City Scape
There are a number of ways in which you could go about making your domestic travel that much more adventurous; all you need to do is source the necessary road trip routes. The travel manuel duo also listed a route on the Wild Coast which seemed to go down as a real treat. If you're looking for a little inspiration your best bet is to read a few reviews of the routes that you wish to travel.
Should you choose to travel with your own vehicle as opposed to travelling with a rental, be sure to check that the required car insurance is in place with all its add on features. There's nothing quite like finding yourself stranded in the middle of nowhere, without any roadside assistance to save the day.
Travelling lighter and smarter
This is difficult even for me, but you will be so much happier not lugging around a heavy bag, and you have less chance of losing things.
Use a packing check list. Leave the non-essentials at home. You can always do laundry on the road. Check out this guide of how to pack in one bag.
When packing lay all the things you'd like to pack on the bed and then cut it in half. Try and travel with fewer colour of clothes, to make it easier to match, and so that you can layer dress. For a trip of less than a week take one smart outfit. Otherwise just keep it simple if you're like me, you'll wear the same comfy pants for a few days, so take 3 tops and 2 pairs of pants, instead of a different set of clothes for each day.
Stuff belts and socks into shoes to make more space. Check out this video on how to pack like a pro. https://www.youtube.com/watch?v=PDn9l20NlWw
Depending on where I'm travelling to and length of stay, I take a small, wheeled suitcase or a backpack.
One of the things I never leave home without is a sarong - they have so many uses, from a scarf, beach wrap or makeshift towel, their uses are endless!
Don't forget your toiletries – go small!
Since I'm on the road so often, I have a toiletry bag that is always packed and ready to go. I decant toiletries into travel size bottles, which you can get from a pharmacy. Sample size toiletries and cosmetics also come in handy for this. My travel toiletries, toothbrush, sunscreen etc stay in the toiletry bag, and don't get unpacked. I just make sure they are topped up before a trip.
Quintessentially, last minute travel is unlikely to be a cheap experience. There's generally a premium paid for last minute bookings. But I'm sure that from time to time we find ourselves paying up for convenience. If you're doing something more local which could amount to extensive driving, be sure to have your vehicle serviced beforehand and that your car insurance payments are up to date, just in case you need assistance in unexpected situations.
Meruschka Govender
Follow me on Twitter and Instagram (@Mzansigirl ) for more travel tips!