Last year, Hippo.co.za launched an intensive interactive media campaign, which won gold at the 2013 annual Assegai Awards.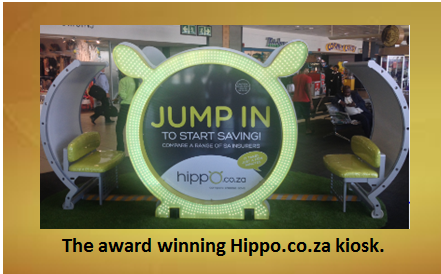 This year, our campaign was nominated at the Point of Purchase Advertising International (POPAI) Marketing & Retail Awards and won two gold awards – one in the competition's most prestigious category.
The POPAI Awards recognise excellence in point-of-sale advertising displays and in-store communication. The highlight of the event is the presentation of the Display of the Year Award and this year it went to Hippo.co.za. Before the night was over, Hippo.co.za won its second gold for the evening, this time in the Flagship Store category.
Receiving these distinguished awards is particularly notable because, as a financial service provider and not a product, Hippo.co.za does not naturally fit into a retail environment. Thus our challenge was to make the intangible tangible. This vision was realised in the form of interactive kiosks, which were designed, developed and set up temporarily in the domestic departures area of OR Tambo International Airport and Lanseria International Airport in Johannesburg.
The combination of our iconic shape, bright LED lighting and the brand's vivid green colour resulted in an eye-catching visual structure. On entering the kiosk, potential customers were transported into the world of Hippo.co.za, showing them rather than telling them what Hippo.co.za can do and what is has to offer consumers.
While the outside displayed the fun and funky side of the brand, the inside boasted a sophisticated user-friendly interface – a perfect representation of the brand's personality and passion for innovation.