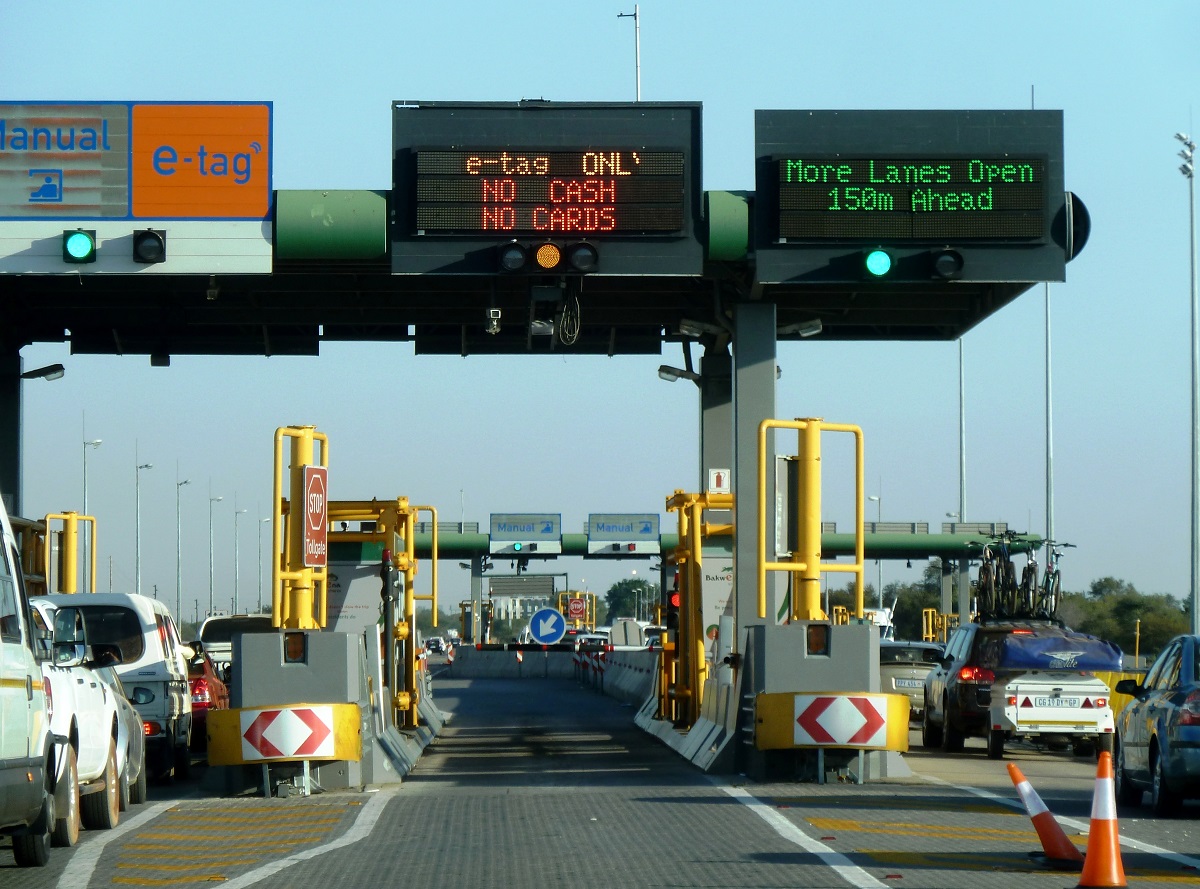 South African motorists still refuse to pay e-toll fees, despite being offered a 60% discount on outstanding debt by SANRAL.
According to the Organisation Undoing Tax Abuse (OUTA), more than 2 million people are refusing to pay their e-toll bills. This means that only 9% of Gauteng motorists driving on the province's freeways are keeping up with their e-toll payments. OUTA says that e-toll revenue mainly comes from logistics companies, car rental firms and the government fleet.
Last year, SANRAL launched the Less 60 campaign to encourage the public to settle their outstanding debt. Motorists who paid their e-toll accounts within 6 months were eligible for the 60% discount.
The Less60 campaign was meant to expire on May 2 2016, but after it failed to generate much interest from the public, Minister of Transport Dipuo Peters postponed the deadline to May 17. Peters explained that the extra time was granted to avoid a last-minute rush, which may leave thousands of motorists outside the window period.
Motorists are now expected to either pay the amount they owe by May 17, or negotiate a new payment arrangement with the department. So far, more than 700 000 road users have asked SANRAL about the offer – either telephonically or through the agency's website.
SANRAL recently sent over 5 000 legal notices to a select few of its customers, demanding payment for arrears. The agency hoped that it will serve as a wake-up call to other e-toll users to take up the offer and clear their e-toll debt.
But far too many road users have avoided the scheme. Meanwhile, OUTA has introduced its own campaign called the '-Toll Defensive Umbrella' to oppose the e-toll system and is offering legal assistance to e-toll users who have received a summons from SANRAL. In a post on their official Facebook page, OUTA encourages e-toll users to join their mass defensive action if they require legal help.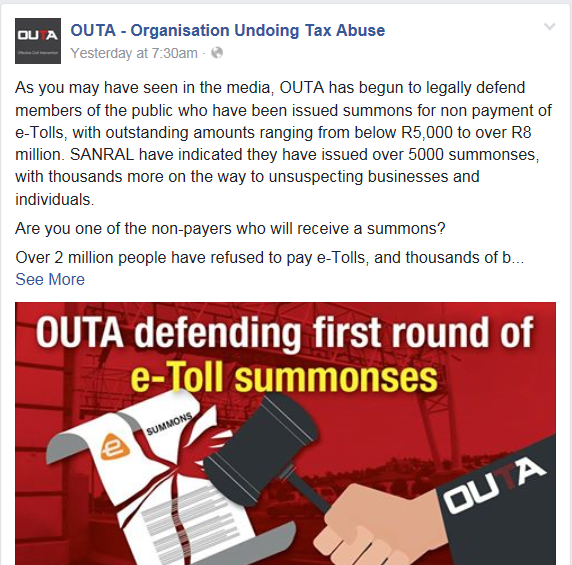 OUTA has said its research shows that motorists are challenging the e-toll system as a matter of principle rather than for financial reasons.
In 2015, Deputy President Cyril Ramaphosa announced that motorists with outstanding e-toll debt may not be able to renew their car licence disks. This has been a main cause of concern for vehicle owners, as some Car Insurance companies may reject a claim if an insured driver's licence disk is invalid.
But, a number of Car Insurance companies have already assured their clients that an expired license, due to non-payment of their e-toll account, will not affect their insurance claims provided their car is roadworthy.
Sources:
http://www.fin24.com/Economy/e-tolls-defiance-a-matter-of-principle-outa-20160508
http://mybroadband.co.za/news/business/127348-car-insurance-companies-stick-it-to-e-tolls.html
https://www.facebook.com/outasa/photos/a.331721633547518.86477.325113820874966/1107908835928790/?type=3&theater
http://www.itweb.co.za/index.php?option=com_content&view=article&id=149257
http://www.outa.co.za/site/outas-e-toll-defence-umbrella/