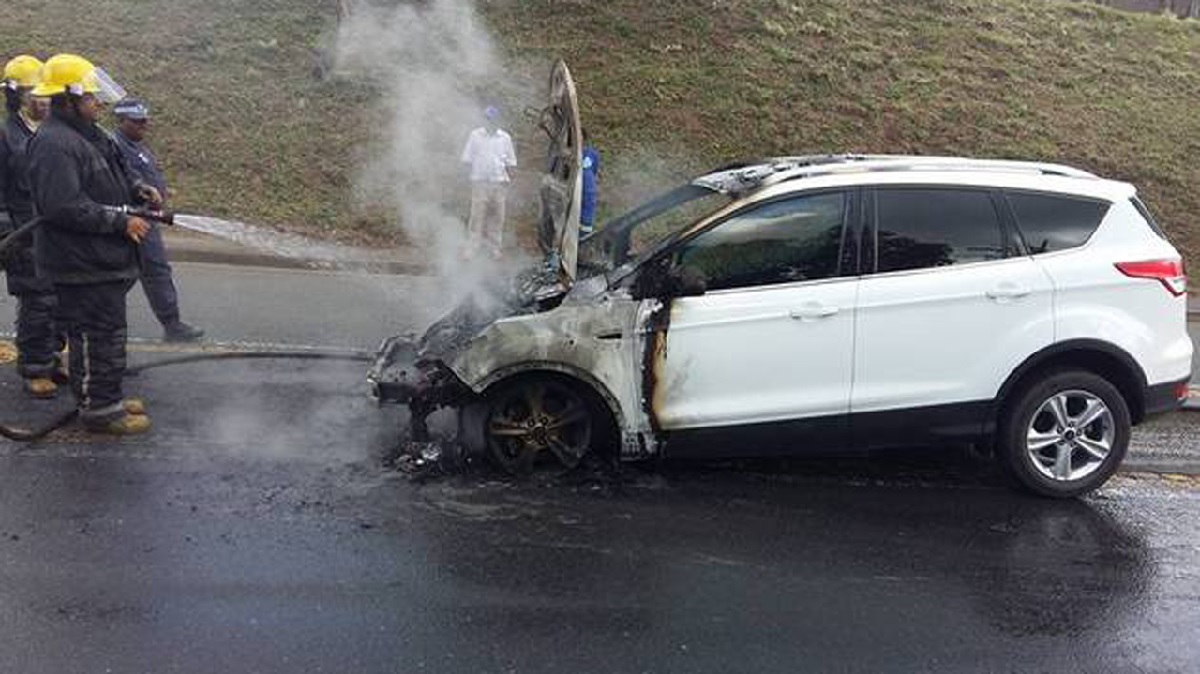 On Monday, 16 January 2017, National Consumer Commissioner Ebrahim Mohamed and CEO of Ford South Africa, Jeffrey Nemeth announced that Ford would be recalling all Ford Kuga 1.6 litre vehicles produced between December 2012 and February 2014 due to safety issues. Roughly 4 556 of these vehicles to date have been recalled, after 48 of the models experienced overheating issues, and burst into flames.
In 2015, Reshall Jimmy was trapped in his burning Kuga, and succumbed to his injuries. The Jimmy family have since investigated the matter and believe Ford must be held responsible. The Jimmy's private investigators have revealed that the car caught alight in the front of the vehicle due to a fault in its electronic wiring system, and investigators from their Car Insurance company have come to the same conclusion. Ford believes differently, stating this was an isolated incident and that the Jimmy car fire did not originate in the engine compartment of the vehicle but rather at the rear.
After Reshall Jimmy's death in 2015, a large number of these vehicles have caught alight, and Ford has been under immense pressure to take on an investigation and recall the model. Nemeth has apologised for the breach in safety that the vehicle has caused, announcing that "we understand customers concerns and will reassure these concerns and will work with dealers to ensure each case is treated fairly."
Ford's investigation results claim that the vehicles caught alight due to overheating. As the vehicles are unable to prevent overheating, the engine cylinders crack, causing an oil leak and inevitably a fire. The Jimmy's investigators, however, claim the fault is caused by wiring issues. All recalled vehicles will undergo a two-step process free of charge: the first step will be to change defect parts and warning systems relating to the cooling system and a software update. The second process will involve updating the engine. During this time, customers will receive a courtesy car provided by Ford if their Kuga is taken in for repairs.
So, if you have a Ford Kuga 1.6, produced between 2012 and 2014, what should you do? If you notice your car overheating or any warning lights appear, pull over to the side of the road safely and call for assistance. It has been advised not to open the bonnet or look for the problem yourself. If you're wondering about how this may affect your Car Insurance, Ford has reassured all customers that they would work closely with relevant insurance companies and customers to handle the issue on a case to case basis. To date, 30 Kuga drivers are planning on taking Ford to court with a class action lawsuit, as they believe Ford South Africa should be held responsible for the damage. This includes the Jimmy family.