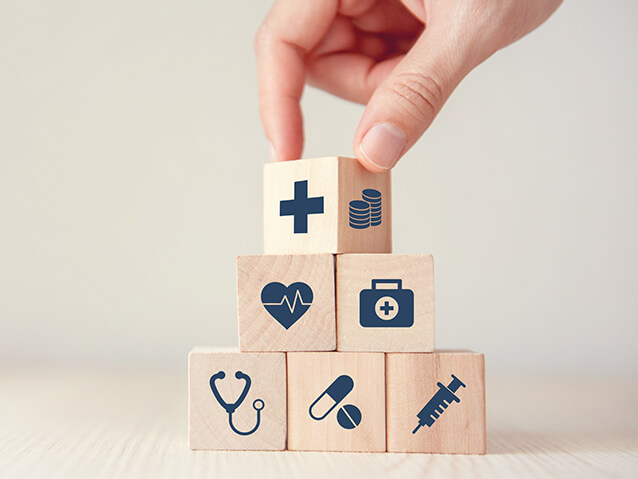 One of the most common questions medical aid providers receive is "What's the difference between medical aid and medical insurance?" As consumers, we may be forgiven for thinking they're the same, and in some ways they are. Both offer some form of cover for certain medical situations, but how they are structured and regulated can vary vastly. A significant difference is that one is more affordable than the other, so while it covers you for less as a standalone product, it provides peace of mind for those emergency medical events.
The sheer variety of medical aid and medical insurance options on the market can be dazzling – and with each offering a host of different tiers, it can be challenging to understand which one is right for you and what signing up actually covers you for.
What is Medical Aid?
Medical aid provides in-hospital cover and pays for treatment according to the specific medical scheme tariff, with payment for treatment made directly to the hospital or service providers.
Both medical aid and medical insurance products provide cover for day-to-day medical expenses, but medical aid will generally offer far more benefits for things like GP visits and medication. By law, medical aids have to offer a minimum set of benefits known as Prescribed Minimum Benefits which cover a broad list of in-hospital procedures, accidents and trauma-related admissions, as well as a defined list of 270 medical conditions and 25 chronic conditions.
The most common misconception about medical aid cover is that "100% of the medical aid rate" means that doctors or hospital fees will be settled in full. This is far from the truth, because medical practitioners' fees are not regulated and therefore are allowed to charge a fee above the medical aid rate. This means that specialists' fees may be five times more than what the medical aid is prepared to pay. "The 100% medical aid rate is actually the lowest level of reimbursement possible." says Alexia Graham, Director, Hippo Advisory Services.
To understand what you will be covered for under your medical aid, Graham advises the following:
Check the high-risk areas: Oncology benefits, joint replacement benefits, specialised radiology, scopes, and diagnostic procedures are good measures.
Check the list of in-hospital co-payments and exclusions:
Co-payments are a common part of most medical aid options, where a portion of the cost of a procedure must be paid by the member.
Co-payments are often also imposed on certain in-hospital procedures like scopes and scans or specialised dentistry.
It's important to understand how your medical aid is structured – do you have a savings account to cover out-of-hospital expenses, or the type of structure that has defined limits for all procedures?
What is Medical Insurance?
Medical insurance usually pays out a set amount for each day spent in hospital or for a specific incident, directly to the member, who must then settle accounts.
These policies are generally governed by short term insurance law and, as a result, they are structured differently to those offered by medical aid schemes.
There are a few different types of medical insurance products, one of which is a hospital cash-back plan. While this ensures that a member will be able to recoup expenses from a hospital stay, it doesn't necessarily guarantee hospital admission. For these types of medical insurance, the member usually needs to pay up-front.
Both medical aid and medical insurance products provide cover for day-to-day medical expenses, but medical insurance offers more limited primary care cover. On the other hand, since medical insurance products aren't subject to Prescribed Minimum Benefits, they are often cheaper. Medical insurance products are not considered by medical aids when evaluating history of cover to determine how a medical aid application will be underwritten.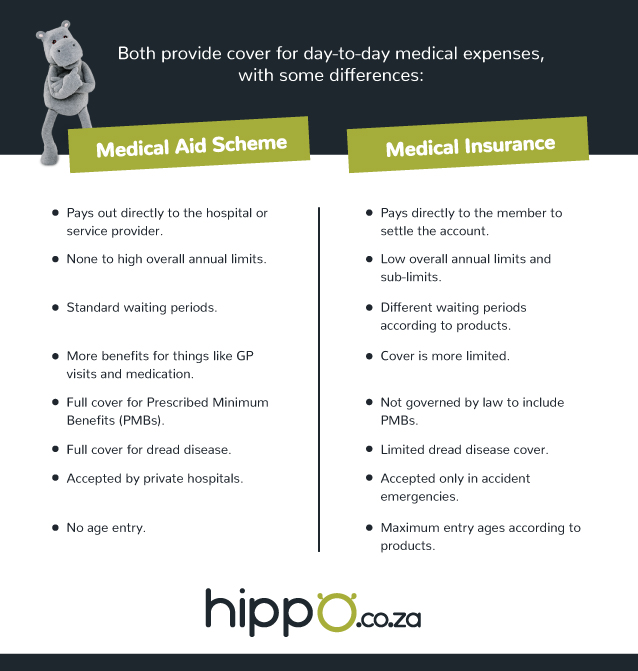 Once you've assessed your health needs against the variety of options offered by different medical aid schemes and medical insurance plans, it's easier to make a decision about which you should sign up for. Deciding which medical aid or medical insurance option is best for you depends on what you can afford, and what your general level of health is. Using Hippo's comparative tool is a quick way to compare different medical aid and medical insurance policies, benefits, and costs and a good starting point to prepare for whenever a health calamity might strike.
Disclaimer: This article is for informational purposes only and should not be construed as financial, legal, or medical advice.