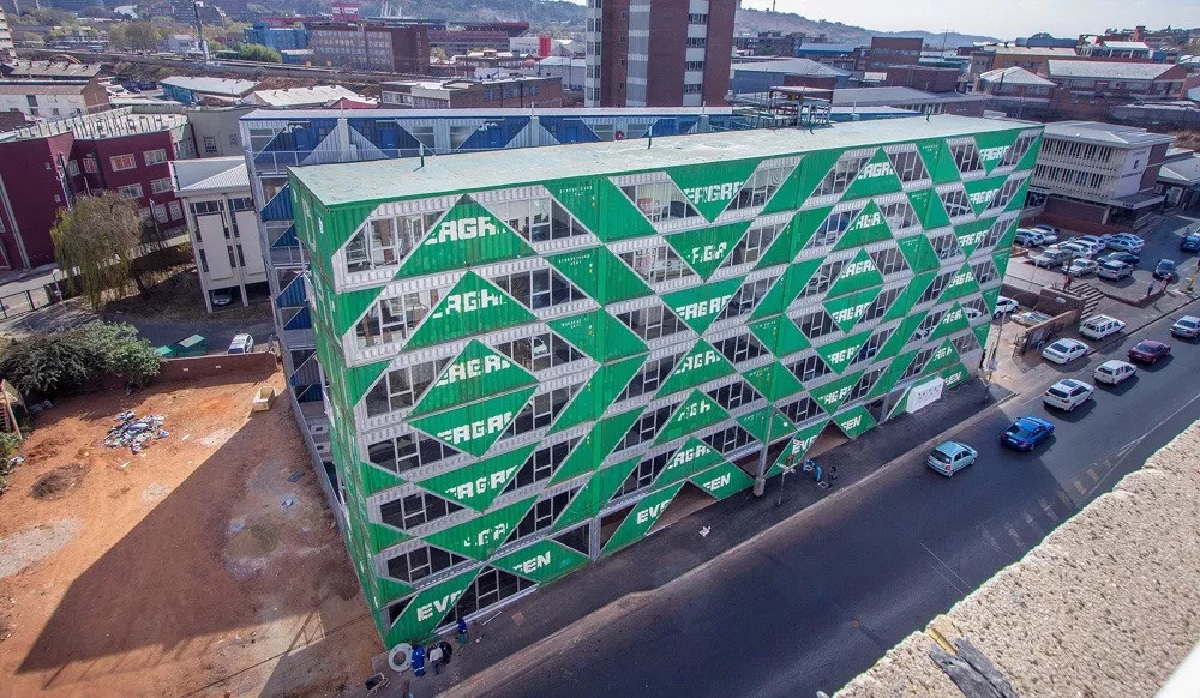 Drivelines Studios, a new urban development project which began in 2014 in the Maboneng area of Johannesburg, has officially opened. The project brings affordable housing to the city, with the use of recycled and transformed ISO (International Organisation for Standardisation) containers built into a multi storey apartment block.
The building not only serves the purpose of affordable housing, but also offers a public retail space. The development, which became habitable from September 2017, contains 100 apartments and three retails stores. Affordability is at the heart of the development, with rental prices starting at R4 900 per month, and buying prices starting from R120 000 for a six metre container and R195 000 for a 12 metre container.
While the apartments are made up of containers, the entire block was built on top of a pre-existing structure that was once a vehicle repair shop. Developed by Propertuity and designed by LOT-EK based in New York, the trendy new apartments range between 37m² and 134m². Each apartment is built to support alternative energy methods including solar panels, geysers and rainwater collection systems.
According to Propertuity CEO, Jonathan Liebmann, "Containers are very relevant in Johannesburg. It's the biggest inland port in the world and 2km south of Maboneng there's a huge industrial shipping park that has more shipping containers than any other part of the world that's not a major water body."
With a number of retired containers available, LOT-EK partner Giuseppe lignano explains that they are "100% steel and 100% hardwood plywood, so there's a lot of wealth, a lot of resources in these containers." Lignano believes the city of Johannesburg has started an interesting urban project that could potentially be used in both developing and developed countries.
The apartments are now open for rent or purchase, and if you're thinking of looking into Drivelines Studios as your new home, or you're shopping around, it is suggested you look into Household Insurance while you're at it.