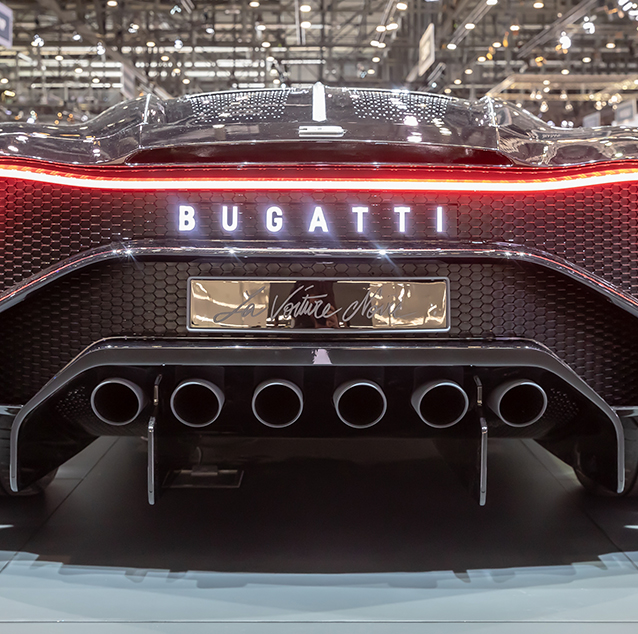 Bugatti, the French manufacturer of some of the world's fastest cars, has just unveiled a one-off masterpiece at the Geneva Motor Show in Switzerland.
La Voiture Noire was built to be the most exclusive car in the world and the price is estimated to be over R250 million! One can only imagine what the monthly car insurance cost might be for such a vehicle.
History of the Bugatti La Voiture Noire
La Voiture Noire is a salute to Bugatti's original 1936 Type 57SC Atlantic, a beautifully hand-crafted sportscar of which only four were built, making it one of the rarest cars to ever exist.
Jean Bugatti, the eldest son of founder Ettore Bugatti, loved the car so much, he kept one for himself. During WWII, his Atlantic was sent from Molsheim to Bordeaux to keep it safe during the war. However, the car never made it to its destination and has not been seen since. Its disappearance remains a mystery.
One of the original models was auctioned off in 2019 by Mullin Automotive Museum in Oxnard, California, to the family of former private car collector, Dr Peter Williamson. It sold for a staggering R427.6 million.
The new Bugatti La Voiture Noire might not be worth the same as the original model but, given time, it could certainly appreciate.
Bugatti La Voiture Noire Specifications
The name may be humble – La Voiture Noire means simply 'the black car' – but the vehicle is anything but. It features a bigger collection of numbers than a maths book. Powered along by an 8-litre, 16-cylinder, quad-turbocharged engine producing 1,497 horsepower and 1,600 Nm of torque, it's a powerful car. Not all figures are available yet, but the Chiron, which shares many similar components with La Voiture Noire, accelerates from 0-100 km/h in under 2.5 seconds and reaches an astonishing 420 km/h.
Who Will Buy It?
Actually, it has already been sold. It is rumoured that the former CEO of Volkswagen Group, Ferdinand Piech, has purchased it, but no one yet knows for sure. Don't fret; you can still buy the Bugatti Chiron for approximately R45 million.
No matter what your car is worth – thousands, hundreds of thousands, or millions – it's an asset worth protecting. If you own an elite, high-priced vehicle, you'll want to look for specialised insurance companies to insure your car. For other cars, there's hippo.co.za, where you can get a range of car insurance quotes in minutes.
Prices quoted are correct at the time of publishing this article. The information in this article is provided for informational purposes only and should not be construed as financial, legal, or medical advice.
Sources: Telegraph.co.uk, CBS News, Bugatti, TopGear