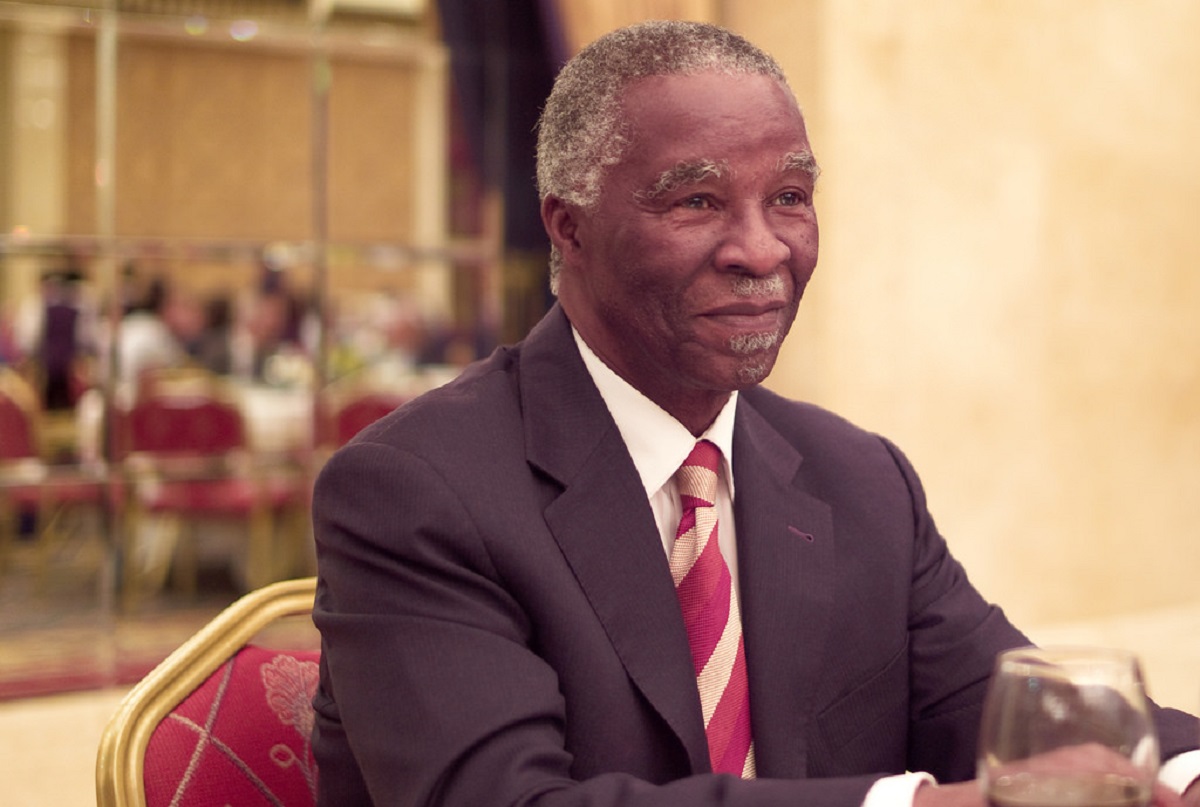 The University of South Africa (Unisa) has appointed former President Thabo Mbeki as its new chancellor to succeed Judge Bernard Ngoepe, who has occupied the chancellor's seat for 15 years.
In a press statement, Vice Chancellor Professor Mandla Makhanya praised Mbeki as an "outstanding African intellectual giant and the most recognisable 21st century proponent of the African Renaissance". Mbeki emerged as the top candidate because he held several leadership positions during the anti-Apartheid liberation struggle and for his involvement in post-Apartheid nation building initiatives.
"As we welcome former President Mbeki as our new chancellor, we are excited about the value his stature and intellectual standing will add to our university at the time where the prospects of the Africa Rising Narrative seem to be realistic enough for the continent to claim its prominent place in the global community," Professor Makhanya acclaimed their new chancellor.
Mbeki's successful track record aligned the most with the university's Strategy Vision 2030 of transforming the institute into "the African university shaping futures in the service of humanity". He has an extensive background in conflict resolution and post-conflict reconstruction efforts, such as the New Partnership for Africa's Development (NEPAD) and the African Union (AU), which will undoubtedly bring a wealth of technical and leadership capability to the university.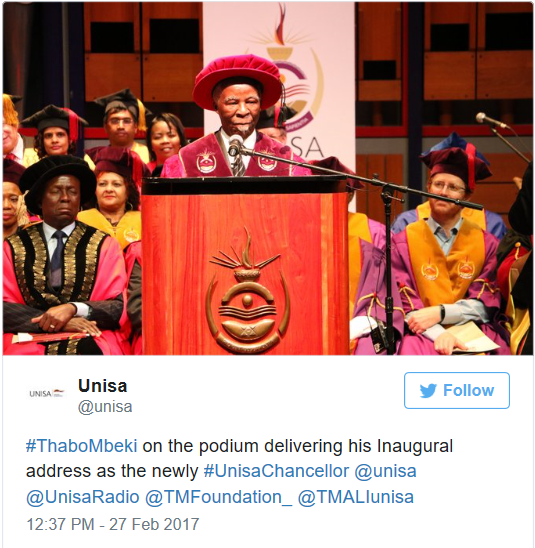 Mbeki has also been a long-time benefactor of Unisa through his Thabo Mbeki Foundation. The foundation's partnership with the university resulted in the establishment of the Thabo Mbeki African Leadership Institute, Thabo Mbeki Presidential Library and South African Democracy Education Trust.
"We have observed his consistency, passion, and dedication in the educational and intellectual engagement programmes. This is in line with and helps to reinforce our academic and research project," Makhanya said.
On 27 February 2017, Mbeki was officially sworn in as chancellor of Unisa during a lavish ceremony at the university's ZK Matthews Great Hall in Pretoria. The event was attended by several ministers, African National Congress stalwarts, and dignitaries. Minister of Higher Education Blade Nzimande, in his commendation, described Mbeki as one of the greatest intellectuals Africa has produced.
The ascendancy of Thabo Mbeki to Unisa's chancellorship comes at a time when the country's higher educational institutions are grappling with revolutionary student movements such as Fees Must Fall. Of interest is that Mbeki himself has been outspoken about educational reform, even praising the Fees Must Fall movement at one stage.
In his inauguration speech, Mbeki set the tone for what the university can expect from his leadership. "I take this opportunity to pledge that I will try to do my best to honour the tradition of chancellorship that he (Ngoepe) has pioneered, always mindful of his tutorship, to do the right thing while serving this university and our system of higher education as a whole." (via EWN).
Mbeki promised to strengthen efforts to involve stakeholders and students in various pressing issues as well as heighten co-operation with other universities on the continent. He also summoned key sentiments from his famous "I am African" speech, saying that the continent needed educated people to improve its dismal socio-economic conditions.