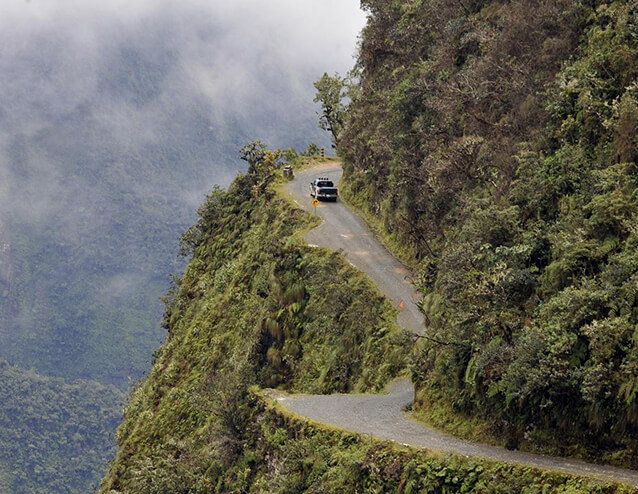 Looking for the drive of your life? How about the most spectacular view you could ever behold? If you're in the mood to test your driving ability and like to live life on the edge, there are roads in this world that will give you the thrill of a lifetime. Be warned though; these eight roads are considered to be the most dangerous on earth due to the risks they pose to drivers, riders, cyclists, and pedestrians. If you're ever interested in traversing a road similar to this in South Africa, make sure you get a car insurance quote that will cover you.
8. Pasubio Road, Italy
Also known as the Road of 52 Tunnels, Pasubio Road winds through the hills of Northern Italy. The view is breathtaking, making it popular with hikers, but driving along this road might leave you with little time to enjoy the scenery. It is so dangerous that certain parts of it are completely closed off to vehicles. However, some brave but foolish souls still drive and ride through the road closures.
7. Taroko Gorge Road, Taiwan
Joining the east and west coasts of Taiwan, Taroko Gorge Road is an example of brilliant engineering, snaking its way through mountains and over rivers across the country. Despite its importance, it isn't well maintained and is crammed full of busses, scooters, cars, and pedestrians. The road is extremely narrow in some places and there are several blind spots and sharp turns. Add to this a visibility problem during the torrential rainy season and you're in for a highly risky journey.
6. Guoliang Tunnel Road, China
Guoliang Tunnel Road was dug and built by hand and runs alongside and through a mountain. Because the village of Guoliang was cut off from the rest of the country due to its remote location, the villagers built the Guoliang Tunnel Road themselves, without an engineer among them. Needless to say, it's not a particularly sturdy road and is full of random twists and turns that would make your stomach do somersaults.
5. Himalayan Roads, India and Tibet
Not just one road but many, the Himalayan Roads run across the Himalayas and are fraught with peril. Most of them are unpaved, extremely narrow (barely enough for a bus to get through one-way), slippery, and without barriers. The network of roads also contains Tanglang La, one of the highest drivable passes in the world. Some of the roads offer a magnificent view of the Himalayas, but you'd probably rather want to close your eyes and hope for the best through most of the journey.
4. BR-116, Brazil
It might sound like the name of a military airplane, but the BR-116 road in Brazil is so famous for being dangerous that it's been nicknamed the 'Highway of Death' by locals. Unfortunately, there is no spectacular view or thrilling adventure associated with this one. Simply due to poor upkeep, it's just a downright unsafe road.
3. James W. Dalton Highway, USA
Located in the peaceful and tranquil setting of Alaska, this highway offers anything but a relaxing drive. Potholes dot the surface and rocks flung by high-speed winds make the James W. Dalton Highway incredibly dangerous. Also, considering the extreme weather conditions and its location (basically, the middle of nowhere), you probably don't want to get stuck there. That being said, if you're a nature lover, you might still enjoy the endless stretches of pristine wilderness.
2. Commonwealth Avenue, Philippines
12.4 km long and 18 lanes wide, Commonwealth Avenue in the Philippines is another road with all of the peril and none of the thrill. Part of what makes it so dangerous is the lack of traffic safety regulations. Although the speed limit is just 60 km/h, there are no signs indicating this or any other road rules. It's also extremely congested and road users drive through three to four accidents daily on it.
1. North Yungas Road, Bolivia
Despite an upgrade from a 10 m wide single lane to a double-lane road with new paving and barrier rails, many people unfortunately lose their lives on North Yungas Road. In the past, the road was mainly used by car and truck drivers. Being so narrow and steep, vehicles regularly tumbled down the mountainside. Nowadays, cyclists and pedestrians are the main road users, but the North Yungas Road is still incredibly dangerous and only the most adventurous and experienced cyclists will ride there.
Can you imagine driving on one of these eight most dangerous roads in the world or perhaps one closer to home? If you are driving, be it on good roads or bad ones, it is best to get your car insurance up to date. Get car insurance quotes online using the Hippo.co.za car insurance comparison tool.
Sources: Top25, Wikipedia; Italy Magazine; Dangerous Roads; Medium
Prices quoted are correct at the time of publishing this article. The information in this article is provided for informational purposes only and should not be construed as financial, legal, or medical advice.