While the residential rental option is becoming increasingly attractive to South Africans, the most recent Residential Rental Monitor Report for the 2nd Quarter of 2017 (PDF) reveals that more tenants struggle to pay their rent on time, as they find themselves financially strained.
The report, compiled by credit bureau Tenant Profile Network (TPN), shows that late payments are less common than they were during the global financial crisis of 2008. However, late rental payments surged from 11% in the second quarter of 2014 to 17% in the second quarter of 2017. Only 65% of tenants have kept up with their rental commitments in the first two quarters of 2017, compared to the 72.5% in 2014 and 71% in 2013 who were in good standing. The number of tenants paying less than the full amount or requesting a grace period from their landlord declined from 85.9% in 2014 to 82.8% in 2017.
The results were categorised into low-income tenants, affordable and high or premium income tenants. Tenants with rent lower than R3 000 per month were most in arrears, accounting for more than 50% of late payments. The report points out that "being the group that, on average, is less skilled than the higher income groups, we believe that it suffers worse in terms of job and income loss in weak economic times."
Tenants whose monthly rental is over R25 000 per month also paid late, with about 40% falling behind on their rent. Tenants in this category typically have more credit (according to Michelle Dickens, managing director at TPN, during an interview on Cape Talk) and could be at risk of being over indebted in terms of other credit agreements they might have.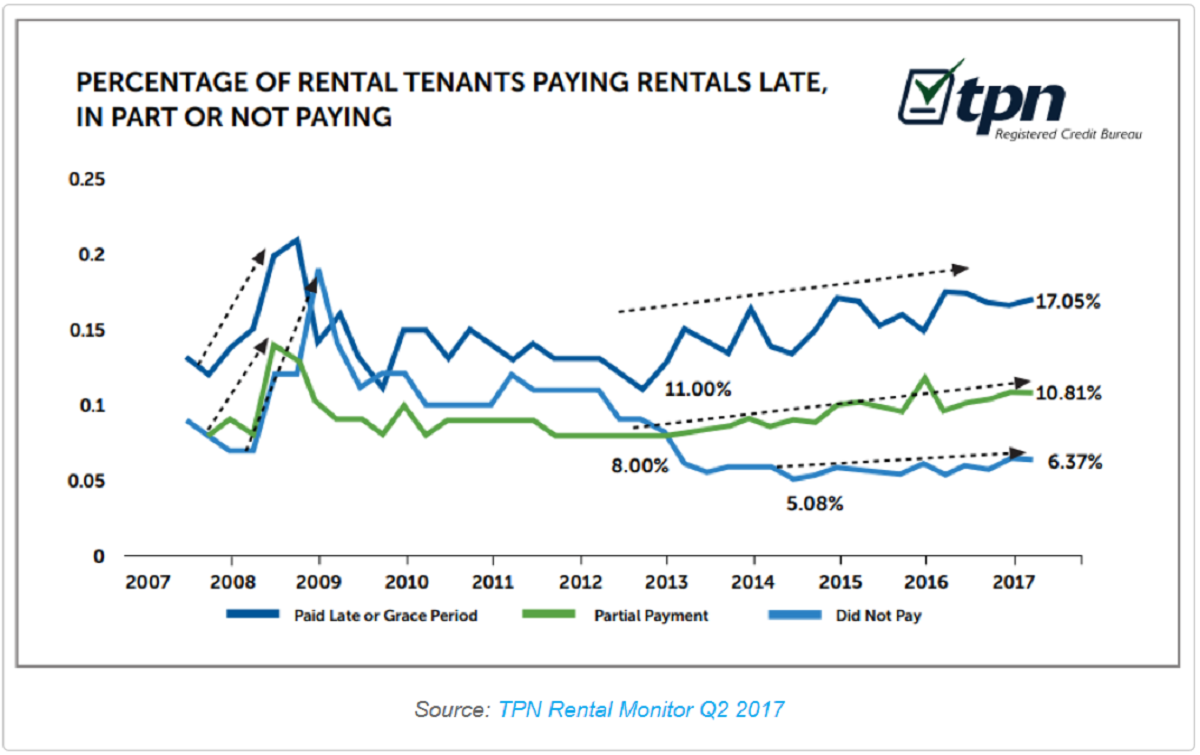 According to Dickens, part of the reason why tenants are pushed into the red every month is the hike in utility costs. And even though rent is increasing to the point of being unaffordable, the Residential Rental Monitor Report noted that the household sector's borrowing and savings behaviour are gradually improving.
The rights of tenants and landlords
Common law states that tenants must always pay the full rent at the proper time. Late or non-payment of rent is a breach of the lease, but landlords cannot simply evict tenants themselves. If tenants are battling to make their monthly rental repayments, landlords may not cut off their water or electricity, change locks, take possession of their goods, threaten, or deny entry to the property.
When payments are in arrears, the landlord must issue a legal notice called a 'notice of breach' and give the tenant a chance to settle the outstanding amount. If the tenant still fails to bring their rent up to date, the landlord can take the tenant to court and demand the money owed.
For tenants, there are a few steps to help them make payments on time. They can arrange that the rent is paid via a debit order. If payment cannot be automated, it helps to set up reminders so that the landlord receives the money on-time. The due-date of payment can be adjusted to the tenant's payday to avoid them spending on luxuries first. Finally, they can start an emergency savings fund to see them through short periods of financial difficulties.
Tenants should also be aware that rental payments may reflect on their credit score. This is now possible after a partnership between TPN and Experian was formed to make positive rental payment behaviour accessible to participating credit providers, making it easier for individuals to obtain affordable credit such as Personal Loans.
DISCLAIMER: This article is for informational purposes only and should not be construed as legal or financial advice.