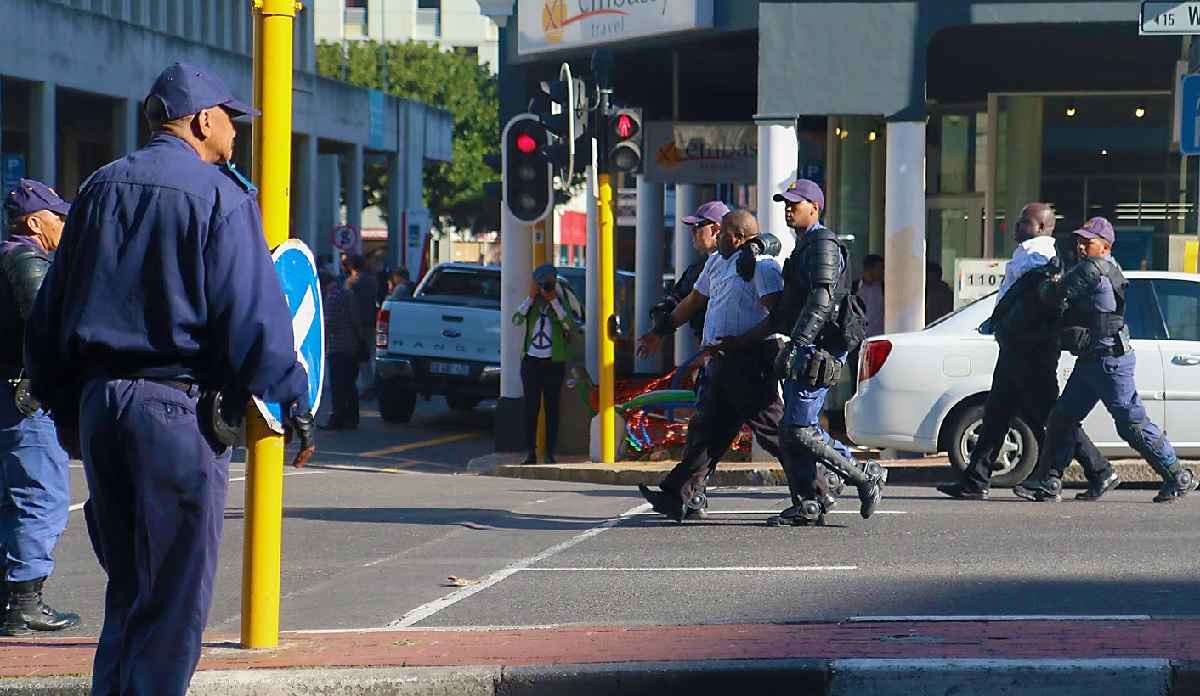 Just days after a brutal attack against an Uber driver in Manenberg, Thursday, 14 July saw a violent clash between metered taxi drivers and the police in Cape Town's city centre, in a protest that ended in at least 15 arrests and numerous threats against Uber drivers. It seems Western Cape metered taxi drivers are still largely unhappy about the advantages they feel Uber has over the industry, and are making their thoughts known. The protest began after the Western Cape Metered Taxi Association held a meeting in Cape Town, to express their unhappiness with Uber. The protest reportedly began at the intersection of Wale and Long Street with drivers chanting, "Uber must go", amongst other comments, and blocking Long Street with close to a 100 vehicles. The protest then took a violent turn when a metered taxi driver allegedly tried to prevent a passenger from getting into an Uber.
Traffic services, police and private security arrived on the scene to diffuse the situation. Stun grenades were thrown to disperse the crowd and tow trucks arrived after an Uber vehicle's windows were smashed and the driver had to flee the area for safety. Luckily, Uber requires all of their drivers to have Car Insurance. The protest took a further downturn, when a metered taxi driver refused to move his vehicle, and remained inside his vehicle as it was hauled onto a tow truck. During this time, the keys to the tow truck were stolen, and an hour-long stand-off ensued between taxi drivers and roughly 40 police officers. After repeated appeals from the police to return the keys and for the metered taxi driver to exit the vehicle, the driver announced he was carrying a firearm, and he was subsequently arrested, ending the stand-off.
The demonstration was officially declared an illegal gathering, with the crowd given time to disperse. According to JP Smith, a mayoral committee member, 12 arrests were made by the South African Police Services (SAPS), and three by the Cape Town Metro Police Department, "for contravention of the Gathering Act". Later on that evening, Uber drivers were seen travelling back into the city, but steered clear of areas where metered taxis were gathered. Uber's spokesperson, Samantha Allenberg, has reassured South Africans that they are trying to resolve the issue, and will continue to try and ensure the safety of passengers and drivers.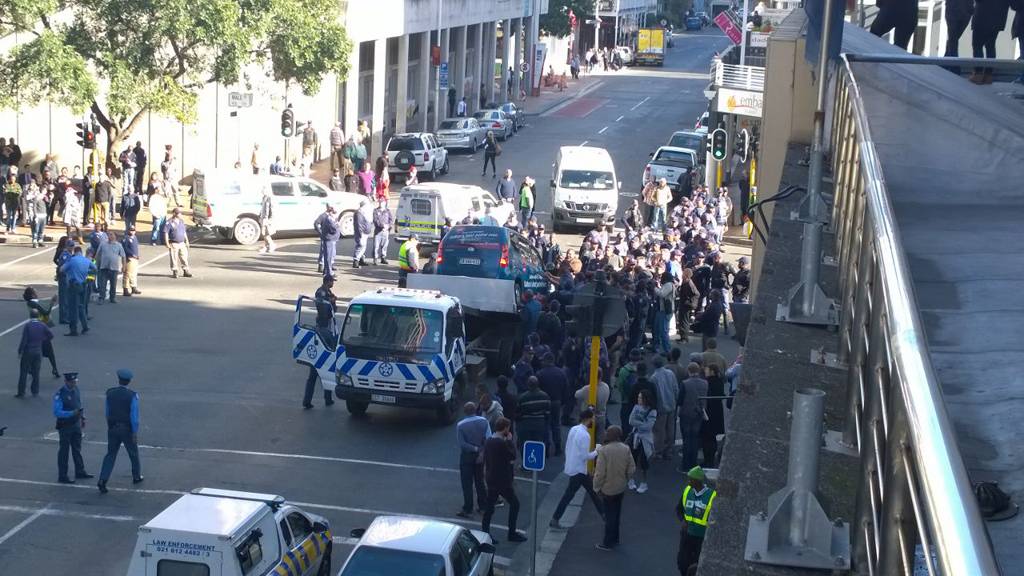 Uber has faced increasing criticism from metered taxi companies, particularly in the Western Cape as their prices remain uncompetitive. The trouble lies within its classification. As it's essentially a new technology-based service, where passengers ask for a driver through an app, it is currently not catered for within the National Land Transport Amendment Bill. Instead of amending the bill by incorporating the new technology, Uber has instead been classified as a metered-taxi operator. As Uber's taxis don't feature a physical meter to clock rates, Uber is still able to set their own prices, and have made their fares substantially lower in order to attract customers. The regulated rate for metered taxis is currently R12.50/km while Uber taxis currently run at a rate of about R6/km, less than half of the regulated rate.
Metered taxi drivers are obviously very unhappy about this advantage, and continue to make Uber and the rest of the country aware of it. This isn't the first incident between metered taxi drivers and their competitors. In May, three metro police officials in Johannesburg were injured after metered taxi drivers stoned two Uber vehicles and two police vehicles outside the Gautrain station in Sandton, while in June, metered taxi drivers forced passengers out of their Uber cars that were travelling to Cape Town International Airport. Roegshanda Pascoe, Manenberg Safety Forum chairwoman fears passengers, particularly single mothers, will suffer as Uber drivers will be forced out of certain areas in fear of the backlash from metered taxi drivers. Certain people, will then be denied access to the Uber service, which is currently cheaper and often more reliable.
While we watch the disagreements between metered taxi drivers and Uber unfold it is hoped the Department of Transport will soon find a solution to end the protests and violence. Uber has made it clear they want to grow the market and create jobs for South Africans as a competitor to other companies, and not take over the market. Unfortunately, their prices are currently not competitive, and while this lasts, metered taxi drivers will continue to feel short-changed.