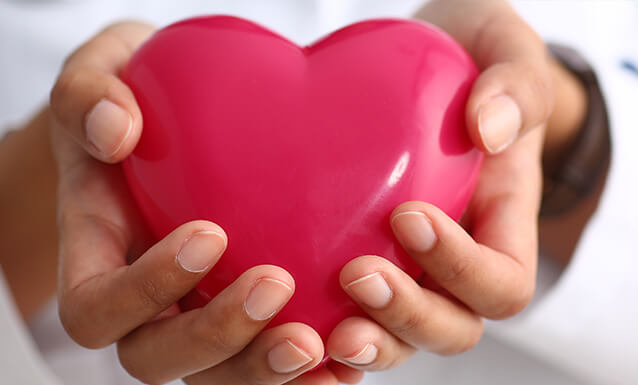 With the ever-increasing cost of medical aid, South Africans are asking themselves whether taking out comprehensive medical aid is the answer. Comprehensive medical aid plans cost more because they are seen to give you better cover, but may not be the best solution for your particular needs.
What is comprehensive medical aid?
Comprehensive medical aid is a medical cover product providing members with in-hospital and extensive out of hospital benefits. Out-of-hospital benefits include, amongst others, doctor visits, prescribed medication, chronic medication, optometry, dentistry, radiology, and certain pathology benefits. These medical aid plans provide members with a financial cushion by including a threshold benefit which kicks in when:
The member's savings account is depleted; and
The self-payment gap, specified in the scheme rules, has been funded from the member's own pocket.
When researching medical aids, remember:
Comprehensive Medical Aid plans are also known as 'full cover' or 'comprehensive cover'.
Unlimited Medical Aid plans usually refer to products which don't have an overall annual cap or limit on in-hospital claims.
Who should take out comprehensive medical aid?
If you are re-considering whether you need comprehensive medical aid, there are three aspects to bear in mind:
Deriving value
Assess how much benefit you derive from your comprehensive medical insurance.
Calculate this by adding up your out-of-hospital medical expenses over a medical aid year (beginning January to end December).
Identify how much of this funding you received from your comprehensive medical aid.
Then evaluate how much you benefitted from your comprehensive medical aid in comparison to if you self-funded the shortfalls of a general cover product where you pay lower monthly premiums.
An example to explain this concept:
A Married Couple

Comprehensive Plan

General Cover Plan (no threshold)

Annual Premium

R139,044

R70,632

Minus annual positive savings

R0 (spent more than available

Plus what you've self-funded

Plus what you've self-funded

R15,248

R32,348

Total Annual Healthcare Costs

R154,292

R102,980

Difference

R51,312 in favour of General Cover Plan
Assumption: Married couples incur out-of-hospital medical expenses of R50,000 in a year. About 70% of these expenses count towards their threshold benefit during the year.
Claims demographics and life stage
Claims demographics show that those who benefit most from comprehensive medical aids are people prone to illness and the elderly. These most vulnerable members are often least likely to be able to afford comprehensive cover during this life stage. Explains Alexia Graham, Director, Hippo Advice: "Often older members cannot afford comprehensive insurance due to a lack of pre-funding which should have happened during working years to ensure sufficient funds during retirement. Thus members of medical aids should continually assess their current and future medical aid needs and plan accordingly."
The graph below indicates medical aid expenditure per capita by age band in 2018.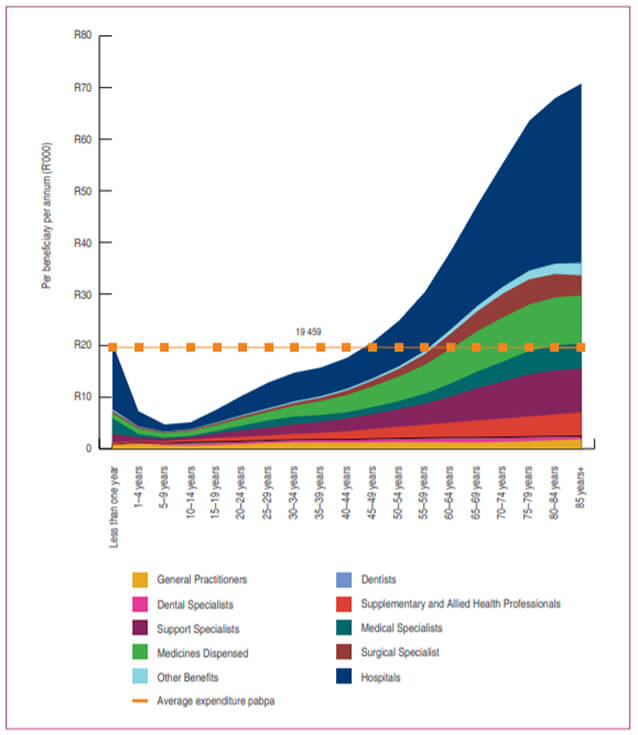 Oncology and joint replacement
Those concerned about oncology or joint replacement should consider comprehensive medical insurance as it provides more generous benefits for these ailments.
By law, medical aids are not allowed to select members according to their profile, for example, age, status, demographics, or genetic predisposition. This challenges medical aids to manage risk which they seek to do through sophisticated product design and pricing. This leads to higher premiums being charged on comprehensive products which enable medical schemes to provide members with greater oncology and joint replacement benefits.
Do you need medical aid with an above-threshold benefit?
Another consideration when determining whether you need comprehensive medical insurance is whether you require an above-threshold benefit. Make this assessment by deciding whether you:
Deplete your savings account, fund your self-payment gap, and then cross into your threshold account during a medical aid year.
Will have your claims paid when you are above threshold according to scheme rules.
Reach threshold late in the medical aid year, only benefiting from it for a few months.
Have personal savings to cover higher than normal medical expenses.
Can manage to pay extraordinary medical costs through the savings you make by taking out a more reasonable plan with no above-threshold benefits.
What are the alternatives to comprehensive medical aid?
By law, all medical aid products include benefits for a predefined list of chronic conditions and the monthly ongoing cost of the medication. Thus, without increasing your risk, you could consider one of the following options if you don't derive sufficient value from your comprehensive medical aid:
Hospital Plan – usually sufficient to cover the needs of a young, healthy family.
General Cover Plan – includes limited out-of-hospital expense cover.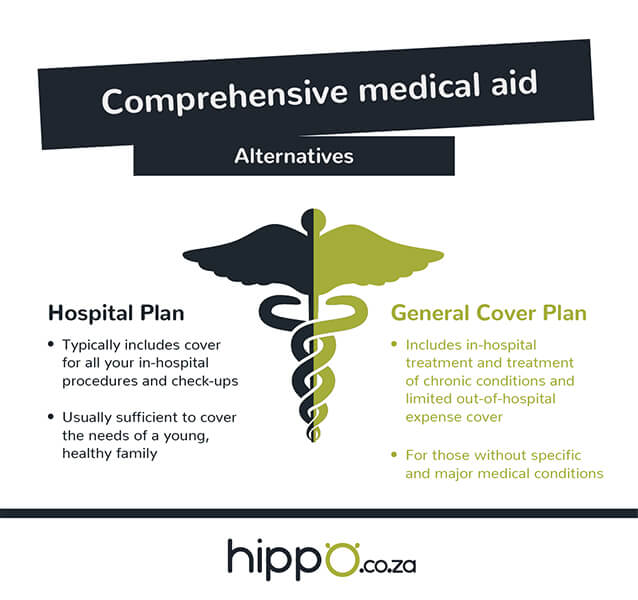 Who should not consider comprehensive cover?
Everyone's needs differ based on health conditions, life stage and affordability. However, if you do not have specific major medical needs, or benefit more by self-funding the shortfalls of standard medical aid cover, comprehensive medical aids are likely not for you.
What to consider when reviewing your medical aid
Alexia Graham advises: "Always keep appropriate cover and hospital access top of mind when choosing your medical aid. Many medical aid schemes adopt preferred provider hospital networks and network specialists to save costs. This makes it important for you to identify which hospitals and specialists are in the network of your chosen plan for planned procedures in hospital and decide whether they meet your needs and preferences."
When you pay your premiums a portion goes into your savings account for you to use to pay for out of hospital costs. Essentially this means that most people pay for their out of hospital expenses themselves and thus you can save money by:
Paying those providing you with medical care directly, for example, using a bank savings account taken out for this purpose.
Choosing medical aid options with defined out-of-hospital benefits, paid for by the medical aid and not from a medical plan savings account.
Who can I ask for advice?
Medical aid choices are extremely important as they impact your life. Be financially wise and speak to your financial advisor and tax consultant to understand the financial implications of your choices. Hippo helps you with quick and easy to understand comparisons online and follows through with advice and expertise when you need it.
Disclaimer: This article is for informational purposes only and should not be construed as financial, legal, or medical advice.