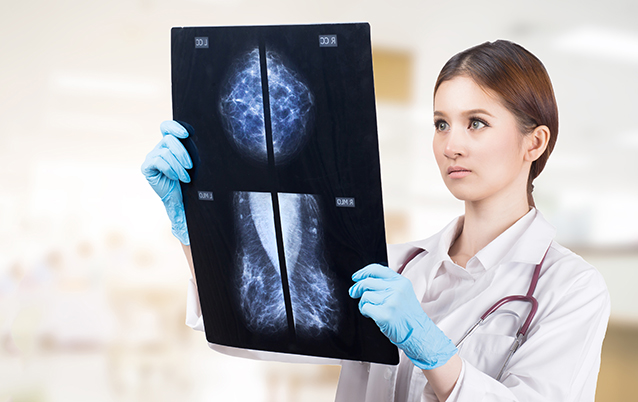 Breast cancer, followed by cervical cancer and cancer of the uterus, is one of the most common cancers among South African women and the number of incidences are increasing.
Statistics in a recent medical journal published by Lancet predicts drastic increases of up to 78% in the incidence rate of cancer diagnosis in South Africa by 2030.
The World Cancer Research Fund ranks South Africa as 50th in the world for cancer prevalence.
Breast cancer affects approximately 27 in 100,000 women in South Africa, and accounts for 16% of cancer deaths amongst women.
According to the National Cancer Registry, 1 in 27 women are at risk of being diagnosed in their lifetime.
Screening for breast cancer – Mammograms
Aside from self-examination, regular clinical examinations and screening for early detection are key to early diagnosis. Breast cancer can develop as a lump, calcification, or distortion of the tissue. To detect signs of breast cancer, a mammogram is a minimally invasive and effective x-ray method that is used to indicate any abnormalities in the breast tissue. Early detection allows you to have effective treatment and could save your life. The survival rate is extremely high after diagnosis when breast cancer is detected in the early stages.
The risk of breast cancer increases with age but lifestyle and diet is believed to play an important role. The average recommendation is to have a mammogram every one to two years, but this is a personal decision and one that you should speak to your doctor about.
Screening for cervical cancer – Pap smears
The South African HPV Advisory Board recommends that women begin having pap smears when she becomes sexually active, or turns 21, until the age of 30. During this age an annual check is recommended and from age 30 onwards every 3 years.
HPV (human papillomavirus) is the most common sexually transmitted infection and some types can lead to cancer or genital warts.
A pap smear test checks the health of your cervix – it can detect sexually transmitted infections as well as early cell changes in the neck of the womb which could progress to cancer.
Do medical aids cover preventative tests?
Medical aids generally like to encourage members to have regular check-ups to ensure prevention or early detection of a serious health issue. With the advancement in technologies and new age drugs, early detection can result in a treatable diagnosis.
Most medical aids offer preventative or screening benefits that they pay for which does not come out of your medical savings account. These mostly include mammograms, pap smears, bone density scans, TB, and HIV assessments as well as general screening tests like body mass indexing, cholesterol and blood pressure.
Make sure you understand what the terms and criteria are in order to access these benefits, such as age and preferred network provider rules. Always check with your medical aid on whether you need pre-authorisation to obtain these benefits.
In summary
Poor diet, obesity, unprotected sex with various partners, and smoking are all possible triggers for both breast and cervical cancers. Along with early detection, the importance of healthy lifestyle habits are another aspect that medical schemes are reinforcing. Not only does this benefit members' physical overall health, it is also more cost effective for medical aids to provide cover for early detection and preventative treatments than it is to provide benefit for a much more expensive cancer treatment plan.
Disclaimer:
This article is for informational purposes only and should not be construed as financial, legal, or medical advice.