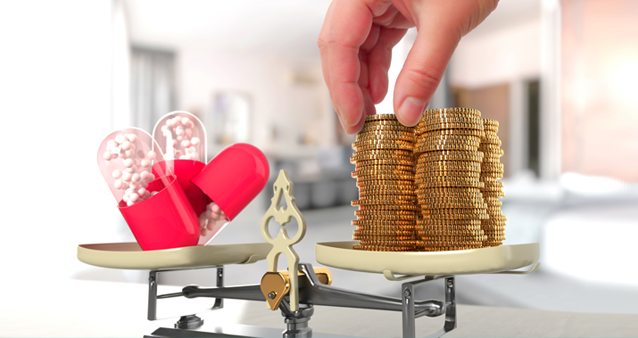 If you're an ordinary member of the public, you have 20 open market medical aid schemes to choose from. (The others only being open to certain professional organisations or companies.) So how can you effectively compare them to find the one that's just right for you? Let's take you through it.
When choosing a medical aid plan, you are faced with the following three high level product types and choices:
1. Hospital plans (network or free choice) – mainly offer access to private in-hospital cover, subject to the benefit rules of the plan.
a) Network options – you need to use the medical facilities prescribed by the scheme for elective procedure admissions, or make a co-payment when using a hospital outside the network.
b) Free choice – allows you the freedom to use the hospital of your choice. You are not bound to specific hospital networks.
2. General cover plans – provide you with in-hospital and some out-of-hospital benefits.
3. Comprehensive plans – deliver in-hospital and extensive out-of-hospital benefits, including doctor visits, prescribed medication, optometry, dentistry, radiology and certain pathology benefits.
Free or restricted access to private hospitals and out of hospital benefits are also options within General cover and Comprehensive product structures. A restricted access product is generally more affordable than a free access product.
'When making your medical aid choice, make sure that you are able to compare like for like across schemes to determine which plan best suits you,' says Alexia Graham, Director of Hippo Advisory Services.
10 important considerations when taking out medical aid
When comparing medical aid schemes and deciding which to choose:
1. Understand your budget – Most people would like the very best medical cover, but you should be realistic regarding what you can afford. Medical aid premiums range from around R1,000 for a basic plan to comprehensive options that can cost as much as R10,000 a month. If you aren't sure, draw up a monthly budget and identify how much you can spend on medical aid before making a decision about which plan to apply for.
2. Ensure value for money – Look out for good value for money rather than premium costs. Some medical aid schemes manage their costs by limiting payouts on certain costly procedures, such as certain cancer treatments and elective joint replacement procedures. When choosing your medical aid, don't be blinded by cheaper premiums. Be aware of your scheme's limitations and whether these shortfalls negatively influence your cover and the value you derive from your scheme.
3. Evaluate your medical needs – All plans have specified benefits and exclusions. Consider these together with the state of your health and that of your dependants. Although it's impossible to predict future health problems, it is important that your plan adequately covers your current medical requirements and also caters for unplanned high risk events.
4. Understand the impact of your demographics – The following two aspects are particularly important:
Age – Generally speaking, you need more medical cover the older you become. Most people develop more health concerns with age and may require greater amounts of chronic medication and in-hospital care. Benefits such as oncology, hip and knee replacements as well as back and neck treatments should be considered.
Products are designed to attract different age groups. The market offers products that provide virtual consultations and are more technologically oriented and therefore more cost effective, that appeal to the younger generation.
Family size – The more members you place on your medical aid, the more expensive it could be. It is also important to assess the impact of adding family members to your medical aid.
5. Confirm co-payment amounts for specialists and hospital procedures – Medical providers often charge more than what your medical aid will cover, thus certain amounts need to be funded from members' own pockets as co-payments, using rates determined by the medical aid scheme. Co-payments often catch members unawares as they can be expensive, no matter your choice of scheme.
Most medical aid plans have defined co-payments and sub-limits. Members will more often than not need to pay the difference between what a specialist charges in hospital to what the medical aid covers. It's important to look into medical aid gap cover. This is a short-term insurance product which pays the difference between the medical aid rates and the higher actual cost charged, by visiting a specialist, for example. Depending on your choice of gap cover, you could be covered for up to 500% of the medical aid rates through your gap cover policy.
6. Look at the certain hospital sub-limits – Hospitalisation procedures often cost more than you would expect. It is important to understand hospital limits and assess whether your scheme sufficiently covers the potential needs of your family. Gap cover is a separate insurance product that can supplement shortfalls incurred during hospitalisation or other major medical expenses.
7. Investigate the medical aid's payment record – Certain medical aid schemes offer a better client service experience than others. Do some research on the scheme's service track record when choosing a plan.
8. Study the benefits – Although they can be confusing, it's important to read and understand the benefits offered, what is excluded, and how these relate to you and your family's medical needs. Hippo's clever medical aid technology considers your family size and needs and provides quick quotes across a broad range of the most suitable options.
9. Investigate underwriting implications – Ensure you understand how medical aids underwrite a new application. Understand how this applies to you as a first-time buyer or when switching medical aid plans. In particular, check the waiting periods during which you are not able to claim.
10. Study the plan's HIV Cover – It's important to assess the benefits and cover provided for HIV as it is extremely prevalent in South Africa and makes the person more vulnerable to other diseases and infections.
Should I keep all my financial products with one company?
When comparing and choosing medical aids, consider your other financial products and investments. Some medical aid schemes are aligned with insurance companies and provide medical aid products, car insurance, life insurance and investment products. Legally, medical aids are not allowed to reduce their monthly contributions through product bundling or integration. However, certain companies discount life insurance products when members' health benefits are with the same company and certain health outcomes are achieved.
Further financial tips
When taking out medical aid for the first time or if you are thinking about switching plans, consider speaking to a Hippo consultant. Our financial specialists are able to understand your unique requirements and provide you with unbiased advice, at no cost.
To reduce monthly contributions, choose in-network hospitals for planned procedures rather than a choice of private hospitals, or select a scheme with exclusions and co-payments on certain in-hospital procedures. Just remember, co-payments can be costly so it's best to add gap cover. Gap cover covers co-payments but not exclusions.
Managing your medical aid
Before you become a member, you should already have a good idea of what to expect from your medical aid. All medical aids need to abide by the same underwriting policies but some administration processes may differ. Make sure you know what the requirements are for the application process.
Keep a file for medical aid admin which should contain application forms, certificates of membership from previous and current schemes, your medical aid membership number, copies of ID's, customer service contact number and other relevant details. When the time comes, you should be able to dip into the file and easily access any information you'll need for the various processes. Your file should contain categories with information such as:
Emergencies – This lists the emergency assistance benefits your plan offers as well as hospital authorisation contact numbers and procedures.
Claiming – A) Who submits a claim? Depending on the medical scheme, you may be responsible, or your medical practitioner may submit directly to the medical aid. B) How and where should you send your claim? This could be a hard copy of a form that is scanned or posted, an online form that is emailed or submitted through the website, or an app that, for example, lets you take a photo of your claim. C) How long do you have to submit your claim? While your medical aid may likely give you a few months (usually not more than 3 months), it's best to submit your claim as soon as it is convenient after you've seen your medical practitioner.
Reviewing – Medical aids change annually, and you need to review yours too. Check that the plan you are on still meets your changing needs.
Complaints – Follow the steps that your medical aid scheme requires you to do. If your complaint is not resolved to your satisfaction, you can approach the Council for Medical Aid Schemes (CMS) for assistance by emailing [email protected] or contacting the customer care centre: 0861 123 267.
Cancelling – Check the notice period that your medical aid requires in order to cancel your health plan. Generally, you need to submit an instruction to cancel in writing and most medical aids will accept an email notification. It's always advisable to ensure that your new cover is in place before cancelling your old plan.
The true value of loyalty programmes
Many members are influenced to take out a particular medical aid because of its related loyalty programme. However, Graham explains, 'The true value of a loyalty programme is in changed behaviour that results in a healthier lifestyle. The positive consequences of achieving defined goals to earn discounted prices or free rewards is healthy behaviour, including physical activity, healthy eating, healthy lifestyle habits and regular medical screening for early detection of illnesses.'
Calculate the rand value of the rewards you derive from belonging to a loyalty programme during the year or at year-end by adding up all the discounts you receive and make use of. Loyalty programmes are of little value if a member is not engaged or does not understand how to optimise the benefits of the programme.
Does comparing medical aids feel like homework, and too much of it? Our medical aid comparison tool puts all this information at your fingertips, in an easy-to-navigate format, so you can compare medical aid needs and find the policy that fits your needs, and your pocket.
Disclaimer:
This article is for informational purposes only and should not be construed as financial, legal, or medical advice.