What would your loved ones do if you're no longer there to provide for them financially? If your family relies on your income to make ends meet or if your income helps your family maintain their standard of living, you might want to invest in Life Insurance.
There are, however, a few things you'll need to know before choosing a Life Insurance policy. You'll need to determine what type of Life Insurance policy you need, i.e., Term Life Insurance or Whole Life Insurance. It's also important to be aware of the various factors that could determine your Life Insurance premium. In the infographic below, we take a closer look at some important Life Insurance facts. And, remember if you're looking for a Life Insurance provider in South Africa it is advisable to do your research before making a decision. Luckily, you can easily compare quotes from a range of Life Insurance brands on Hippo.co.za.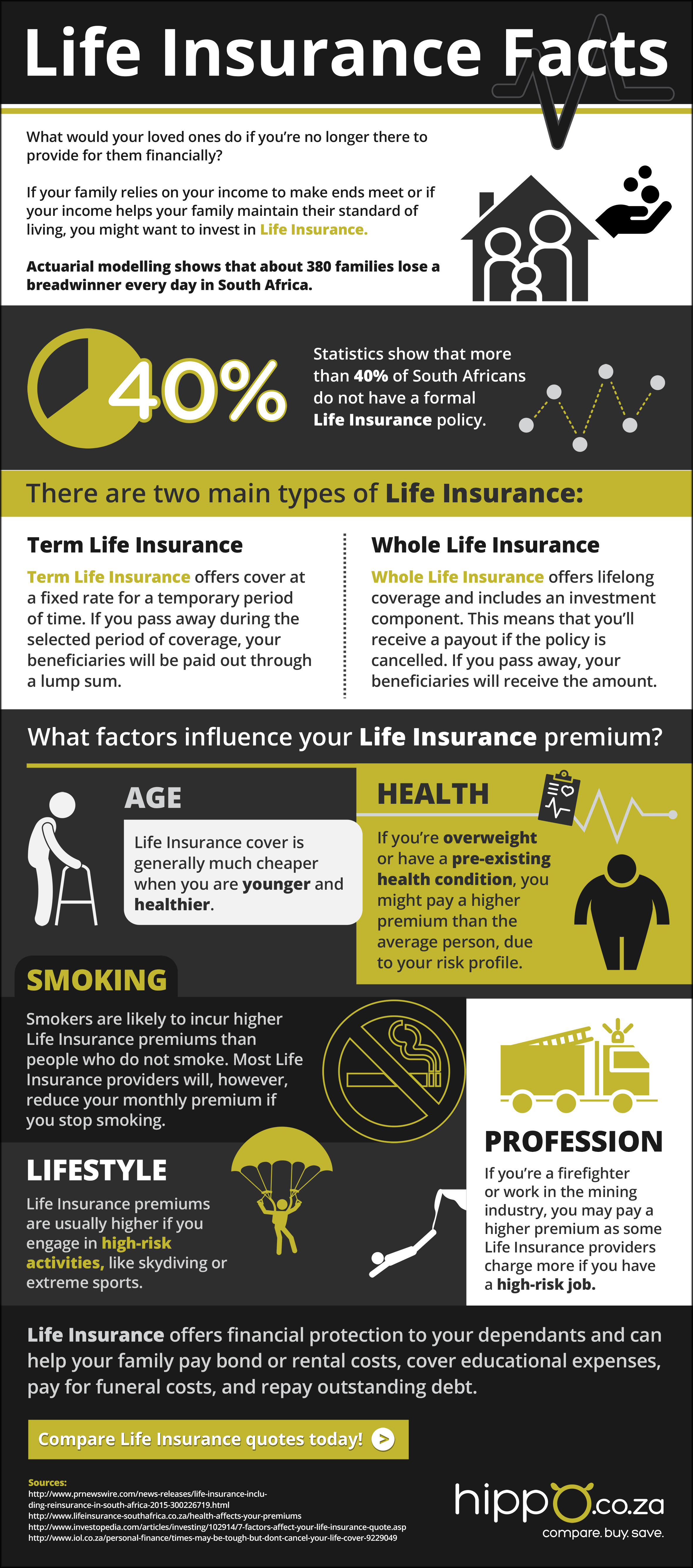 Life Insurance Facts
Actuarial modelling shows that about 380 families lose a breadwinner every day in South Africa.
Statistics show that more than 40% of South Africans do not have a formal Life Insurance policy.
There are two main types of Life Insurance: Term Life Insurance and Whole Life Insurance.
Term Life Insurance offers cover at a fixed rate for a temporary period of time. If you pass away during the selected period of coverage, your beneficiaries will be paid out through a lump sum.
Whole Life Insurance offers lifelong coverage and includes an investment component. This means that you'll receive a payout if the policy is cancelled. If you pass away, your beneficiaries will receive the amount.
What factors influence your Life Insurance premium?
Age
Life Insurance cover is generally much cheaper when you are younger and healthier.
Health
If you're overweight or have a pre-existing health condition, you might pay a higher premium than the average person, due to your risk profile.
Smoking
Smokers are likely to incur higher Life Insurance premiums than people who do not smoke. Most Life Insurance providers will, however, reduce your monthly premium if you stop smoking.
Profession
If you're a firefighter or work in the mining industry, you may pay a higher premium as some Life Insurance providers charge more if you have a high-risk job.
Lifestyle
Life Insurance premiums are usually higher if you engage in high-risk activities, like skydiving or extreme sports.
Life Insurance offers financial protection to your dependants and can help your family pay bond or rental costs, cover educational expenses, pay for funeral costs, and repay outstanding debt.
Compare Life Insurance quotes today!
Sources:
http://www.prnewswire.com/news-releases/life-insurance-including-reinsurance-in-south-africa-2015-300226719.html
http://www.lifeinsurance-southafrica.co.za/health-affects-your-premiums
http://www.investopedia.com/articles/investing/102914/7-factors-affect-your-life-insurance-quote.asp
http://www.iol.co.za/personal-finance/times-may-be-tough-but-dont-cancel-your-life-cover-9229049