South Africa is, without a doubt, one of the most beautiful countries in the world – a fact that in the hustle and bustle of everyday life we often forget. Even if you haven't made the trip yourself, you probably have a friend or family member who's taken a road trip across country and over the border into Mozambique, Limpopo or Zimbabwe.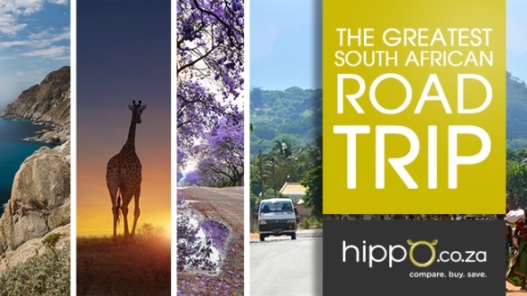 Since it's one of our specialities (and because everyone agrees) it's worth mentioning that travel insurance is a must. Beyond that, however, today we're going to help you prepare for your first (or just your next) SA road trip. We'll take you through a particular route from Cape Town to Mozambique, as told by people who have actually travelled it, and detail how to prepare and even what paperwork you'd need for a border crossing. Ladies and gents, pack your bags and rev your engines – it's road tripping time!​
Preparing for a road trip
Some of what you'll need will depend on who's going with you. If you're hitting the road with friends, then your prep will differ from a family trip somewhat. The general rule of thumb is that kids will need added security and entertainment, but let's break it down.
The checklist:
General
Cooler bag
Packed snacks and sandwiches
Cruising tunes that suit everyone
Phone chargers
Cameras
Video recorder (optional)
Cash and a card
Map and travel app
ID
Driver's Licence (for everyone, just in case)
Sleeping bags (in case)
Flashlight
Travel insurance documents
Disposable eating utensils and plates
Enough clothes and hats


Toiletries
Toothbrush
Sunscreen
Feminine hygiene products
All-purpose body wash (in case a BB happens to be missing soap or shampoo
Make-up kit
Eye mask and ear plugs
Mosquito spray
Security
First aid kit
Child car seat
Cell phone hands-free kit


You'll also need all your paperwork for crossing the border into Mozambique but we have an expert who'll go into detail on that later. So, let's break down the route and get a few well-travelled and well-known voices to fill you in on the highlights, and lowlights, along the way. There are several routes to choose from but, for better or worse, we'll be detailing the journey from Cape Town taking the N1 towards Bloem (picking up our readers from there) up into Johannesburg and then onto Mozambique via Nelspruit. We have chosen this specific route because of the dynamic scenery along the way…
Cape Town to Welgemoed
Jason Acar - web editor at Africa's biggest football publication, Soccer Laduma. An experienced writer, Jason has written for newspapers, magazines, blogs and websites, covering a range of topics.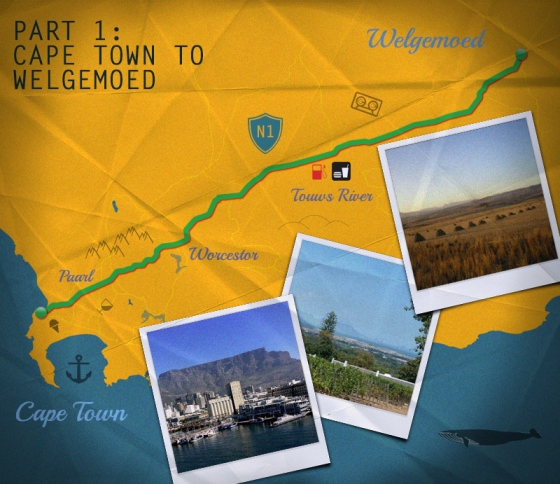 Cape Town is one of the most popular tourist destinations in South Africa for good reason. Most activities must be done before starting your trip down the N1. Taking the cable car to the top of Table Mountain is a must – while adrenaline junkies should try abseiling off the giant rock, which is a truly exhilarating experience.
With so much focus on the flat mountain, many people also don't realise that there is a stunning view on offer from Signal Hill, which is also a great place to picnic - and at most times can be a little more intimate than the bustling Table Mountain, especially out of season.


History buffs should check out the Castle, while Long Street is also a great stop with its plethora of shops, restaurants, bars, clubs and coffees shops along the famous stretch. Though the V&A Waterfront also offers some incredible shopping and dining opportunities – along with boat rides!
If you're running low on fuel, it's advisable to fill up before getting on the highway, as the next petrol station without having to detour off of the N1 is well on the way to Paarl. Also plan your travelling time between peak hours, as traffic out of the city can be a nightmare.
Welgemoed to Colesberg
Lucy Corne - freelance travel writer and Lonely Planet author. She originally hails from the UK and has travelled to almost 50 countries, but her heart belongs to South Africa. She moved to Cape Town in 2010, where she writes on travel, food and beer.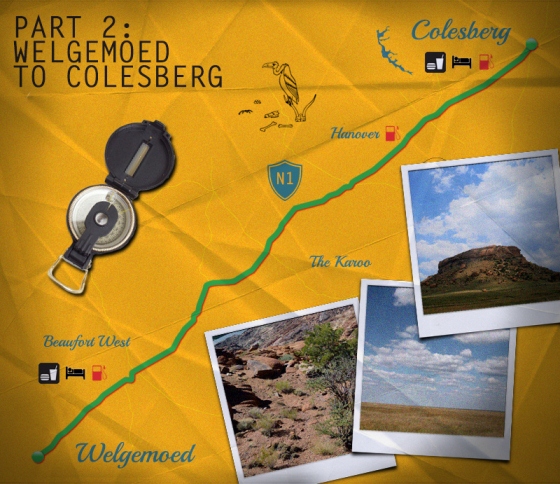 The scenery on this section of the journey starts dramatically and, when you emerge from the Huguenot Tunnel, you find yourself enveloped in the Du Toitskloof Mountains. Soon though, things start to flatten out and, by the time you're likely to make your first stop, you're squarely in the semi-desert Karoo.
It takes two and half hours to reach Matjiesfontein from the tunnel, a miniscule place sitting just off the N1. Don't ignore the turnoff though – this is not just another South African small town. It's like a living museum/historical theme park, a Victorian town clinging to its past, with waitresses donning bonnets and a pub that looks like it's straight from a western film.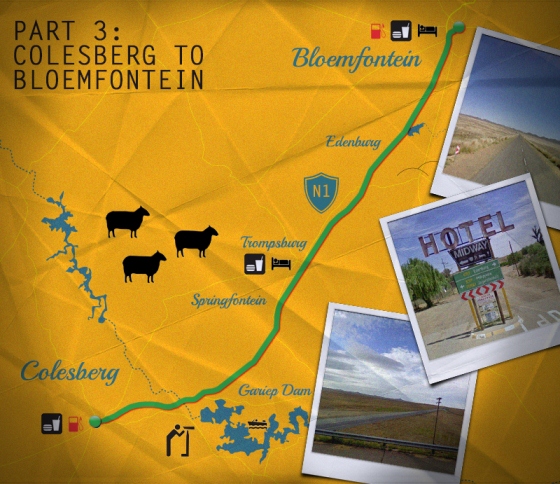 Further north you drive through the stopover town of Beaufort West, but I'd recommend passing on the admittedly well-priced accommodation here, staying instead at the Karoo National Park. Lions have been reintroduced to this overlooked reserve and you might also spot black rhino, zebra and a wealth of antelope on a blissfully unbusy game drive.
Finally, you'll cross into the vast and largely empty Northern Cape and arrive in Colesberg, a cute little place that's a popular stop for travellers. Make sure you eat some Karoo lamb here – and pack warm if you're travelling in winter!
Bloemfontein to Joburg/Pretoria
Andrew Alexander – The irrepressible author of the popular autobiography 'Fly Fishing for Sharks' is also an avid traveller who has been known to pack it all up and take to the national road since overcoming his challenges with driving.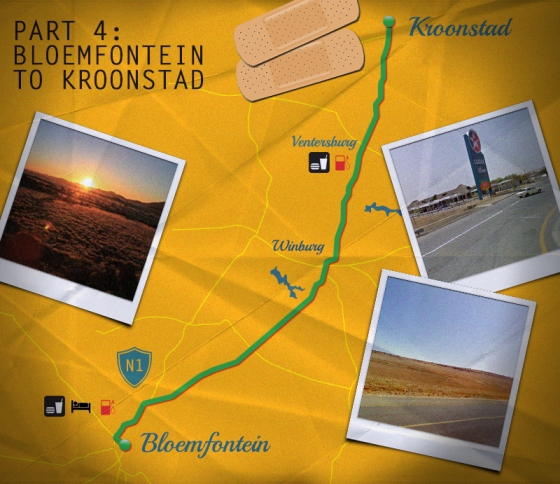 The trip from Bloemfontein to Kroonstad is 215km of tailor-made, tour guide-testing country. This is because it's not literally featureless but perhaps the next best thing. Aspirant tour guides would have to fill the unforgiving kilometres with steady flows of historical, cultural and socio-economic data to keep intrigued foreigners intrigued.
Promotional pamphlets written by unscrupulous members of the Free State bureau of tourism would describe it as "big sky country", but a more accurate ascription would be "only sky country." Bloemfontein is well worth a stop-over. It has all the amenities of a city and all the charms of a town – including no traffic. Sevens is an "haute cuisine" oasis in a rather chain-food heavy culinary milieu and perhaps the only place in town where you could wine and dine a svelte divorcee without having to worry that her husband will barge in armed to the teeth with brandy and farm equipment.
By the time you reach Kroonstad, you'll be safely in the maize and sunflower belt – the latter conferring a healthy – and not-a-moment-too-soon – aesthetic contribution, particularly in late afternoon. The territory covered is largely dry which makes for safe motoring but, in summer, the chance of watching a cumulonimbus thunderstorm brew in the sky offers a consoling distraction from the boredom. (Tip: take audio books.)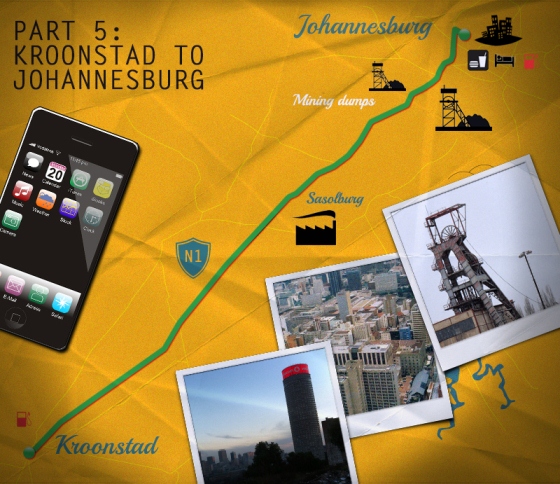 Joburg/Pretoria to Mozambique
Meruschka Govender is an African travel activist, experience seeker, tourism and social media thinker as well as unofficial South Africa ambassador. She's a popular travel writer and blogger for AfriTravel. Visit her blog at http://www.mzansigirl.com/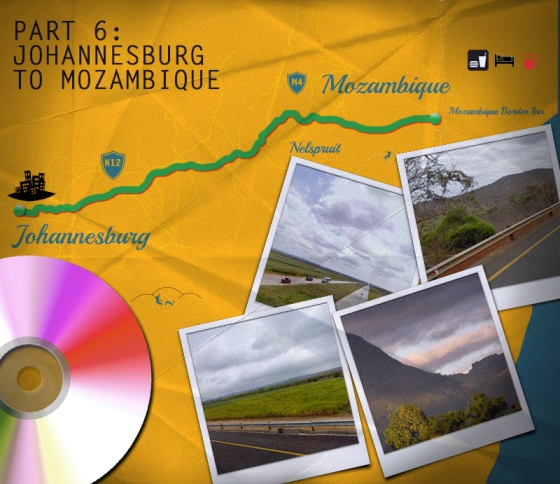 Being an avid road-tripper, I've driven the stretch from Pretoria to Mozambique a few times. My biggest tip is your timing. Weekends (Fridays / Sundays) and especially month-end weekends tend to be particularly busy, so avoid driving during these times if possible. Also be very cautious on the N4 around Witbank (Emalahleni) – notorious for people running across the highway.
The N4 stretch until Machadorop isn't that picturesque, so my first stop would be the Alzu Middleberg. More like a mini-mall than a road stop, the Total Alzu petroport just outside Middleberg, is one of the best in the country. Not only are their bathroom facilities excellent, they have a range of fast food options and game on the property. You can actually watch buck and zebra from the washrooms!
Another great lunch stop is the Millies Caltex Starstop on the N4 near eNtokozweni (Machadodorp) which is famous for its trout. Stop for a divine lunch overlooking the trout dam the burgers and cakes are to die for, and the coffee probably the best on the N4. If you don't have time for a sit- down lunch, grab a fresh trout pie from the pie shop. They also have a great padstal here, selling all sorts of delicious local goodies. Grab some trout for the braai, or their moreish trout pate.
Just before you reach the Komatipoort, you can fill up and grab some last-minute supplies at the Komati Oasis which is a good place to fill up on fuel and grab supplies for the road. There's also a small supermarket, ATM and you can change currency here.
Don't forget to have the correct paperwork for your border crossing. When driving in Mozambique vehicles are required to carry two red warning triangles and a reflective jacket in case of an accident.
Paperwork for the border crossing
Submitted by: Ana Camacho is professional travel expert with over 22 years in the industry. She runs her own travel business which offers 24/7 assistance.
A: What legal paperwork would be required?
For a South African passport holder, no legal documents are required except for a valid passport, if flying in to Mozambique as they require no visa for up to 30 days. SA Passport holders travelling to Mozambique for holiday or business for less than 30 days do not require a visa. Those staying for longer than 30 days do require a visa.


B: Tips for getting paperwork as quickly as possible.
In my experience, there's no such thing as getting visas done quickly as we are at the mercy of the Mozambique consulate. However, I recommend that if you do require a visa that you apply with ample time to avoid disappointment. The various visa types that can be applied for would be the standard holiday visa, work permit visas and study visas, and these all have different requirements.


If you need a visa for Mozambique ensure that you have a valid passport with a validity exceeding six months and, when applying, you'll need the application form, one photo, an invitation letter from Mozambique if going for business or an itinerary if going for tourism and you require a visa. The great news is that the visa is done the same day.


C: Precautions to take while travelling the route
If travelling by car you need to ensure that you are aware of the following:
Never give your passport to anyone and avoid using locals to assist with border assistance
Look out for speed traps when travelling back to SA
Carry copies of your passport and driver's license
Valid passport of the driver
Certified copy of vehicle registration papers in the name of the driver
Letter of authority from the registered owner if the vehicle is not owned by the driver


If vehicle is still being financed, carry a letter of authority from the bank (must include dates of travel) together with the vehicle license papers.
Valid driver's license
Temporary Import Permit for vehicle: Compulsory
Third-Party Insurance: Compulsory
Red Warning Triangles: 2 triangles required (does not need to be displayed on car)
Reflective Jacket: If more than two people are travelling in the car, then two jackets will be required (to be used when changing a tyre, at an accident scene, or if loading)
Declaration Form for Vehicle
Yellow and Blue Mozambique Warning Triangle: Two stickers required if towing a trailer; one in the front of the vehicle (on the bumper) and one on the rear of the trailer
ZA Sticker when travelling from South Africa
International Driving Permit Important Notes


Health requirements: Yellow fever certificate if coming from affected area, recommended vaccinations: Typhoid, Hepatitis A & B, Tetanus, Polio, Typhoid, Malaria precautions to be taken.