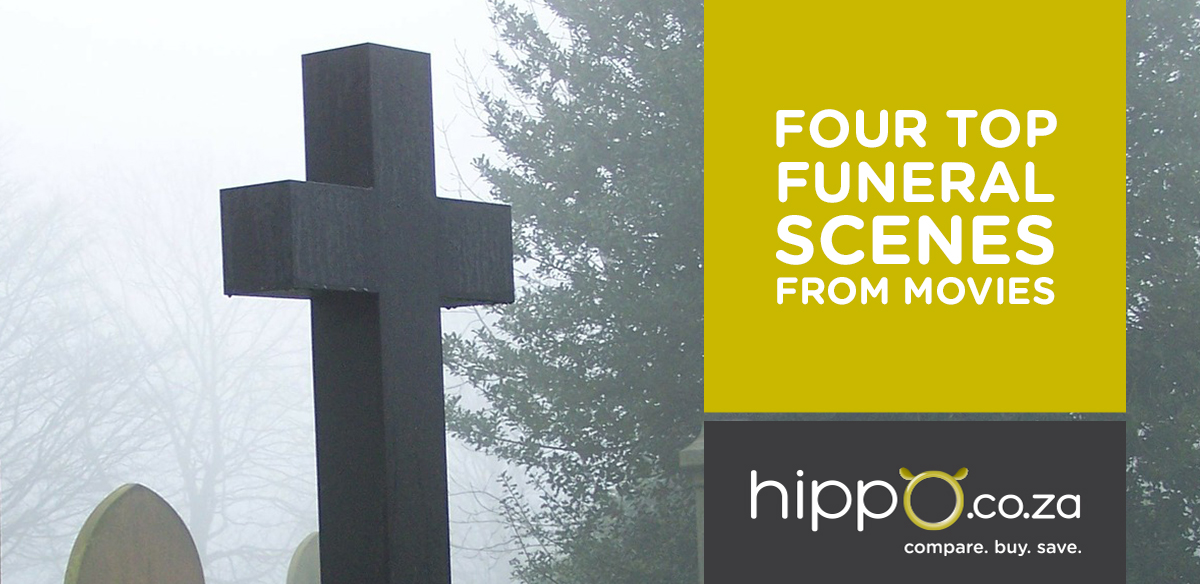 Great filmmakers move us because they splice together the joy and heartache of life. Nowhere is this emotional rollercoaster more apparent than in comic portrayals of funerals. As the playwright George Bernard Shaw so aptly put it: "Life does not cease to be funny when people die any more than it ceases to be serious when people laugh."
To remind us that sometimes a bit of laughter can make the sadness of death a little more bearable, we've gathered the opinions of film and entertainment experts to find their best funeral scenes from movies.
1) The Hangover Part III
Contributor: Sean Evans, CEO and founder of Back to the Movies
"I think the funeral scene from The Hangover Part III when Alan's dad passes away deserves a place in the top funeral scenes list for its comedy factor alone. Alan singing "Ave Maria" at his Dad's funeral and then improvising an untrue funeral speech just adds to the comedic balance of a sad situation. You don't feel as though you are watching a funeral, it's just a comedy piece in full flow and it's hilarious to watch.
In this particular scene, Alan feels a sense of loss but wrapped within the story is a sense of relief too as he and his father never really got on. So, the loss and grief end immediately after Alan finishes singing the song.
The mood of the scene before the singing is dark and depressing, but the moment Alan's strange singing begins, the mood lightens up instantly. It's a very nice introductory shot that is cut short with immediate comedic relief."
2) Trainwreck
Contributor: Anja van der Spuy of Glitz and Grammar
Often in death, we tend to glorify the deceased. It is human nature to want to speak only good of someone who has passed away. But, absolutely no one is perfect, and Trainwreck is the first movie I've watched that's addressed this in a goosebump-inducing funeral scene. When Amy speaks about her deceased father, she mentions all his flaws in a way that makes everyone smile through their tears.
Amy starts her speech off with: "Gordon David Townsend [her dad]: not that great a guy." This is definitely not the way most daughters would start a eulogy to their dad. She goes on to say, "He was kind of racist, and homophobic. He was a drunk. He once apologized to me for missing a volleyball game that he was at."
After listing a few more character flaws, she asks the crowd to raise their hands if her father had ever offended them. About 90% of the crowd raises their hands, which brings us to the part of the eulogy that really stood out to me.
"I know he probably hurt everyone here. But raise your hand if he was one of your favourite people." Everyone raises their hands.
To me, what made this scene so incredible was how it paid tribute to her dad without turning his life into something it wasn't. He was a drunk, yes. He left their mom when Amy and her sister were little girls. But, he was her dad and she loved him, and everyone else at the funeral also loved him regardless of his flaws. At the end of her speech, Amy says: "He was my favourite person." She doesn't glorify his behaviour, and she doesn't attempt to apologise for it. But this one sentence reveals how deeply she loved him.
The biggest message to take from this scene is that no one is perfect, and in addressing that at a funeral you aren't taking away from that person's life; in fact, you are celebrating their life in the most beautiful way – with honesty, a hint of humour, and most importantly, love."
3) The Big Chill
Contributor: Stefan Blitz, editor of Forces of Geek
"One of the most honest and memorable funeral scenes comes from director Lawrence Kasdan's 1983 film, The Big Chill. The funeral happens minutes into the film as a group of old college friends make their way to the service of their mutual friend, Alex, who has recently killed himself.
As they arrive one by one at a church in Beaufort, South Carolina, their grief is unmistakable. They are no longer the people they were in college and being friends when they were younger was all they had in common. They all seem to acknowledge that none of them were who they set out to be in life, and for whatever reason, that was Alex's undoing. As Harold delivers Alex's eulogy, there seems to be an understanding that their friendships have been changed by both history and time. Then, Meg, another friend, takes a seat at the organ to play one of Alex's favourite songs.
Suddenly the church is filled with the inimitable opening chords of "You Can't Always Get What You Want" and each one of the friends is able, for the first time, to smile to themselves, suddenly dismissing all of the baggage and embracing the mutual love they have for Alex and one another. Meg's performance blends into the Rolling Stones' original recording as we head to the burial and the future."
4) Steel Magnolias
Contributor: Herman Eloff, Channel 24 editor
"No list of iconic, cinematic funeral scenes would be complete without mentioning Steel Magnolias. The melodramatic scene features M'Lynn Eatenton (Sally Field) having a complete meltdown at her daughter's funeral. M'Lynn bursts out in a fit of anger over the fact that her daughter, who has a young child herself, has died before her. "I was ready to go first," she shouts whilst clutching her fists. The scene punches right in the feels and takes the viewer to the brink of tears before perfectly and rather unexpectedly flowing into a hilarious cry-with-laughter moment.
The Steel Magnolias funeral scene delicately balances the scale between absolutely devastating and heartwarmingly beautiful. Fields gives a powerhouse performance that so perfectly captures the sadness and unfairness of death. It nails the frustration that overwhelms a person when they realise that their loved one is gone forever and there's nothing they can do about it.
It shows that life is short and we're really never totally in control. It also shows the power of friendship in a time of grief, and beautifully illustrates that even in times of overwhelming sadness it's okay to laugh again.
Conclusion
Of course, in reality, lightness and laughter alone can't take away the painful loss of a loved one. However, experience has taught us that there are a number of emotional and practical steps we can take to ease the turmoil and tragedy of losing someone close to us. To find out more about affordable solutions, get free Funeral Cover quotes from us today.
DISCLAIMER: All rights reserved. Hippo.co.za claims no ownership of any of the copyrighted imagery and videos featured in this article. Each character and their image is sole property of their owners and partners, respectively.