South Africa often seems like a really dangerous place with protests, high assault statistics and the kind of driving you might expect to see en route to a concert. Honestly the reason why we enjoy TV series so much is probably because we're after a little escapism. The funny thing is that the characters we look to are often in even more danger than we are. Somehow most of them seem to make it through though, against all odds, which just makes us love them more.

Some of them have clear goals and every move is made for a reason (say my name – Heisenberg!), others are just trying to make it through the day (poor Tyrion) and some are Dr House, who really doesn't care how your day is going. We invited some of the greatest South African film and game critics from around the country to pick their favourite TV series lead character, and vote on why their hero was so deep in hot water that he or she would need life insurance more than anyone else if they lived in the real world.

Let's see what our SA experts had to say.
Rated 'S' for Spoilers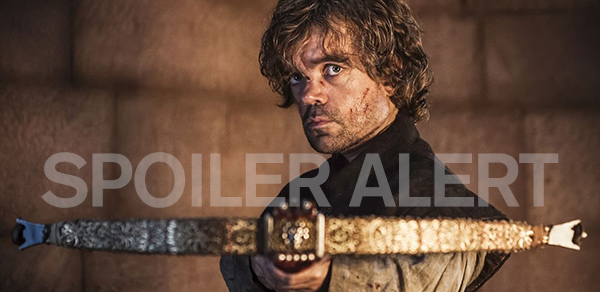 You have been warned

Film & Event Media is a media solutions company that specialises in business-to-business
publications, networking events, and digital media. The Callsheet is Africa's most widely read film-industry magazine.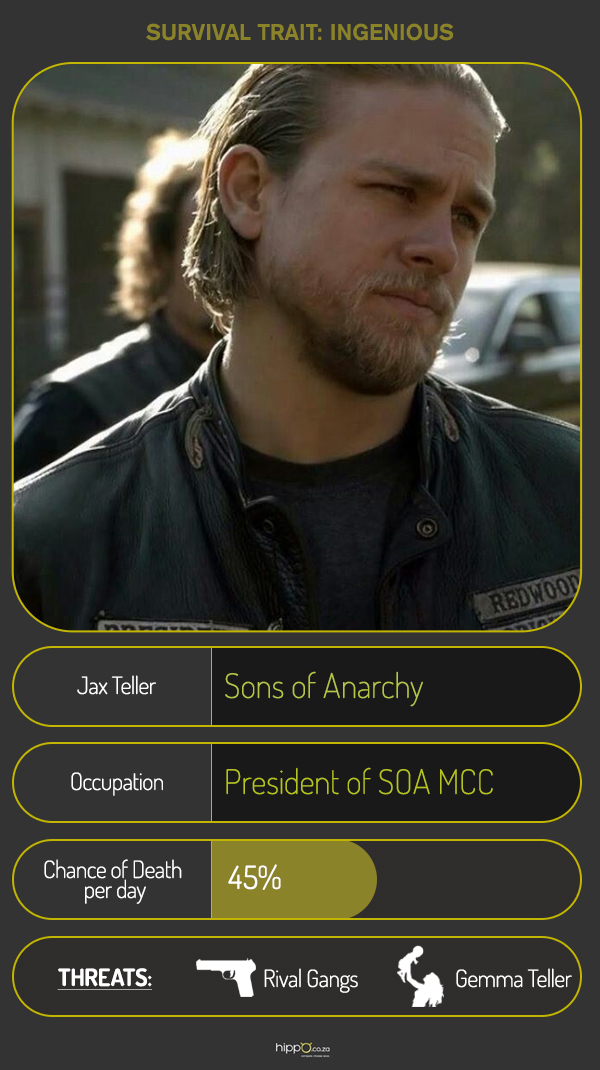 When you think of a drug-dealing, gun-toting motorcycle maniac, does a gorgeous young man with a poorly-executed American accent come to mind? Nope. Jax Teller wouldn't survive for five minutes in the real world because real meth dealers and gun runners would take one look at his perfect face and smack him. Jax is the quintessential bad boy, but he's just too damn hot to be authentic.

Yes, he's not afraid to get his hands dirty. Yes, he has eliminated opponents and friends alike in cold blood. But, even after he has performed these atrocious acts, I, as the viewer, just want to cuddle him to my bosom. Imagine dodging bullets and lusty women all day? Actually, I think he has more to fear from jealous husbands...






NAG Online is the evolution of NAG magazine, which stood proud as South Africa's premier gaming and technology publication for over 17 years. NAG Online upholds the magazine's tradition of informative, high-quality games writing.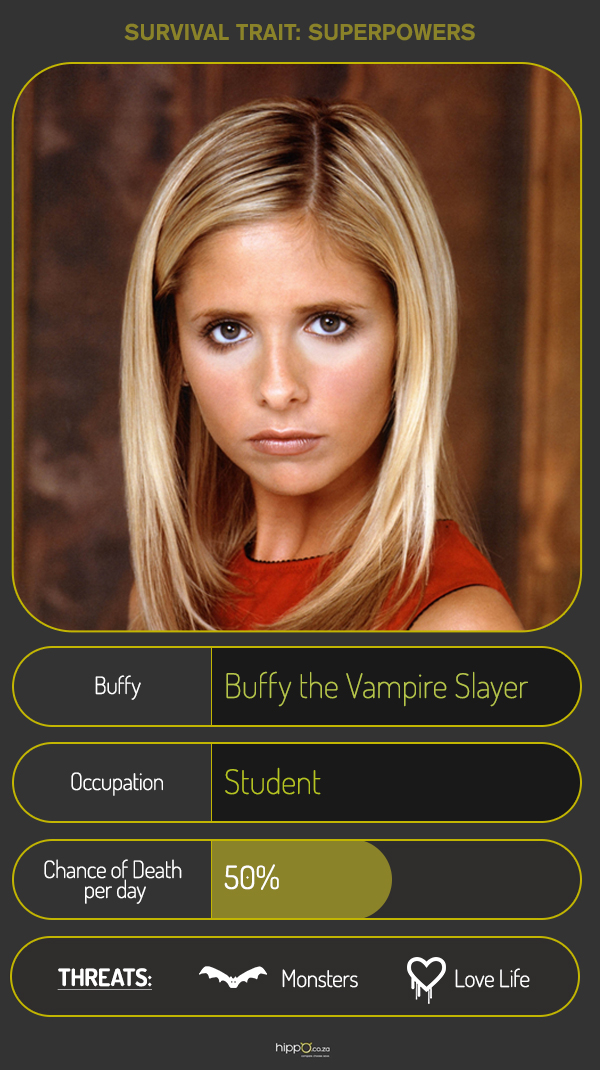 Out of all the characters on offer here, Buffy is the only one who's died and come back to life at least once. If that doesn't put her in a higher league than the rest of the rabble, I don't know what does.

When she's not staking vampires and saving Sunnydale from whatever crawled out of the Hellmouth last, she's falling in love with the undead, burying family members, and generally getting into trouble. There's not a day that goes by that Buffy's life is not in danger, but every day she gets up, packs her holy water, crucifix and trusty stake Mr. Pointy, and sets off to do her job. She's a hardworking, ass-kicking, never-say-die type of person, and for that reason, nobody needs risk coverage more than her.
TheMovies.co.za is your one-stop site for all the best news, reviews and interviews on movies and beyond, updated daily.

Small town, small life. That's what you'd expect if you visited Cabot Cove, home to amateur sleuth Jessica Fletcher, a warm community and some great beaches. It's also home to the highest body count in human history since a World War One general desired to relocate his brandy cabinet a few meters closer to enemy lines at the expense of his troops. Cabot Cove was essentially an extinction-level event confined to one small village of 3500 inhabitants, with one part-time detective finding herself in the thick of all these cases.

You couldn't take a single step without risking being shot, stabbed, poisoned, strangled, run over or framed for murder. Death was but a week away during the twelve years that Jessica Fletcher spent writing novels and catching crooks, with a new victim chosen every single week as if Cabot Cove was home to a supernatural force that desired regular sacrifices. And somehow, somehowJessica Fletcher managed to remain out of harm's way by the skin of her teeth. With an official murder rate of 1,490 per million citizens, Cabot Cove ranks higher than its closest real world equivalent, the Honduras… times fifty.

But, when your part-time job consists of tracking down murderers who could easily drop an anvil on you in broad daylight and get away with it; you know that your luck is bound to run out in a town where one wrong corner can result in you being fitted with a piano wire necktie, you just can't take that risk. With a death-ratio usually reserved for endangered Amazonian wildlife, the odds are massively stacked against Fletcher, and it's only a matter of time before somebody figures out that removing her from the Cabot Cove equation would equal better a criminal retirement plan.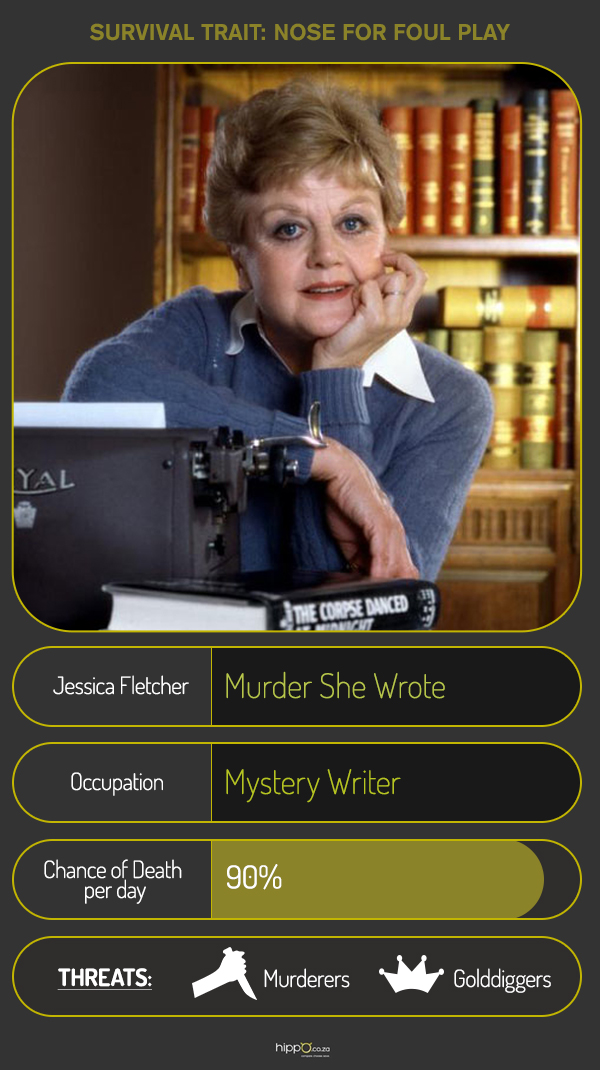 #3 & 4 Jessica Fletcher

Courtesy of TechSmart
TechSmart.co.za brings together all the latest technology, games, comics, cars, photography, anime, science, gadgets and other Geek related delights. Going since 2003, it is one of the largest tech lifestyle sites in South Africa.

Forget Sherlock Holmes, Poirot and Columbo. Jessica Fletcher's got them all beat. Although a best-selling mystery novelist, her real skills lie with her highly tuned 'BS radar' and bloodhound-like ability to sniff out foul play. Some might say that Death follows her around considering all the murders she 'stumbles' across, so maybe inviting her to the dinner party might not be the wisest of choices.

Mrs. Fletcher's age (mid-60s) might not be the only determining factor that picks her as a prime candidate for life insurance. With an enviable number of best-selling books to her name, this part-time sleuth has more than a few bucks in her savings account. She also happens to be a widow, with no kids, making her a prime target for would-be shysters. Last, but not least are her continued tangles with murderers, many of whom would love to get some revenge on this sweet old lady for putting them in the slammer.
#5 Tyrion Lannister

Courtesy of Nerdipop
Superheroes, villains, collectibles, Disney characters, movies, fantasy creatures, Easter-eggs, video games and sci-fi TV shows…can you think of a better way to spend your day? NerdiPop.co.za focuses on all things geek, comic, game and pop culture related.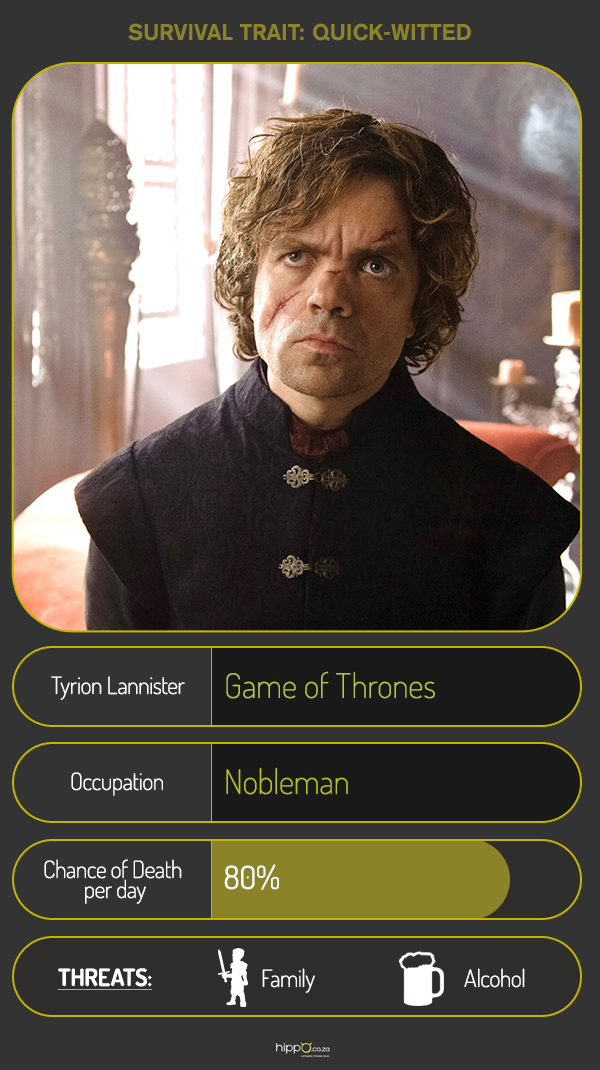 Tyrion Lannister has been able to survive the intrigue and backstabbing in King's Landing, the never ending play for the Iron Throne to be the king of the seven Kingdoms of Westeros. He survived the battle of Blackwater Bay, his own family's assassination attempts and will most likely be able to survive liver-failure from all the alcohol he consumes.
But, even being able to survive such daunting odds against him, if he were real and here, would he be able to survive a congested highway in Jozi? Without his sellsword Bronn at his side, South Africa and Jozi might be too much for Tyrion Lannister. From the congested traffic, load-shedding and his penchant for alcohol, we think perhaps not. Even with his quick wits and slogan that Lannister always pays his debts, his chances of survival in the real world would be slim. Then again, knowing the Little Lion of Casterly Rock, he might have some tricks up his sleeve (and most likely a bottle of wine) to survive South Africa!
#6 House

Courtesy of G3AR
G3AR represents gaming, electronics, entertainment and equipment, all of which are fully reviewed. G3AR runs daily news stories from these industries.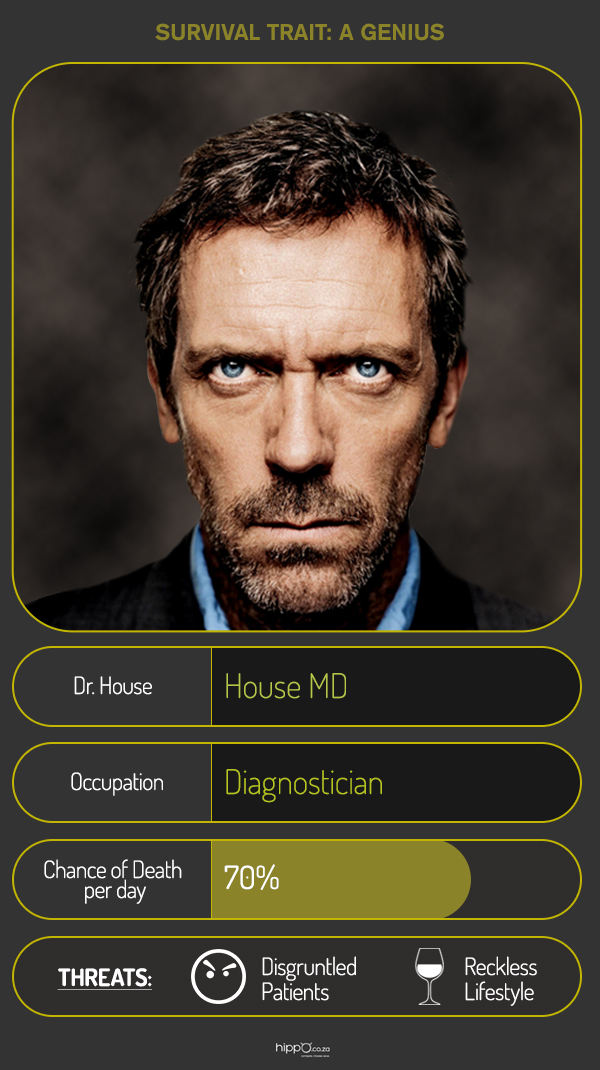 House, or Dr Gregory House MD, leads arguably the most dangerous life possible. When he isn't towing the line between jobless and genius, or over medicating to soothe both his physical and emotional ailments, he's driving a car into his boss' dining room. With his best friend Dr James Wilson trying to help him stay out of the pot of hot water his daily antics inevitably land him in, he constantly has to stave off depression and a general disregard for his own safety, to save his patients.
If he doesn't die from the stress he puts on himself, there's a good chance he'll die from a patient or colleague he's treated with disdain taking a swing at him, possibly with a baseball bat. His unconventional methods and an absolute disregard for authority may land him in jail (again), while his drinking problem only aggravates his depression and reckless behaviours. As compulsive as he is brilliant, Dr House faces death on an almost hourly basis, and as such has been awarded a 70% chance of death per day.
We (both as individuals and a horde) are exactly what it says on the tin – gaming zombies. Or humans pretending to be zombies, and then pretending to be good at playing games and writing about them. We also host gaming events. But that's just an excuse to meet more humans…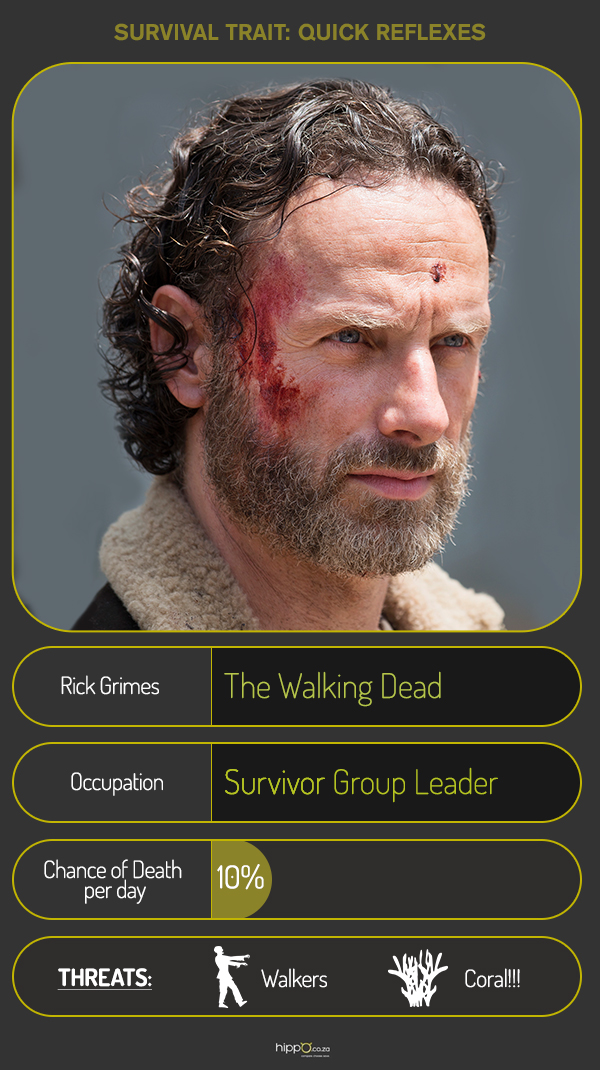 Rick Grimes… you really don't deserve to still be walking… dead or alive. You have killed way too many of our brethren, and for that we wish you all sorts of disturbing mishaps. But we also admire your steadfast belief in looking after your (extended) family – in much the same way as we do.
And yes, you're pretty cautious when there's a zombie apocalypse at hand; but remove that constant danger and we're willing to bet our last remaining good eye that your guard will be lowered. Maybe then your mundane trip for milk and bread may turn into something a lot more dangerous than facing the ravenous undead.
And that danger is humans. Lots of humans. And believe us when we say that they're a lot more dangerous than the undead. But then again, you know that. You have had to deal with the selfishness and volatile nature of humanity in almost every episode of every season – and you're still standing. So when the world does end and we're the ones left standing (or crawling or shambling on broken limbs), we're pretty willing to bet that it will be you who is the last human standing…
The definitive PlayStation, Xbox, Nintendo, PC, Mobile and Retro games community in South Africa. SA Gamer contains up-to-date news and reviews, as well as friendly forums and an active marketplace.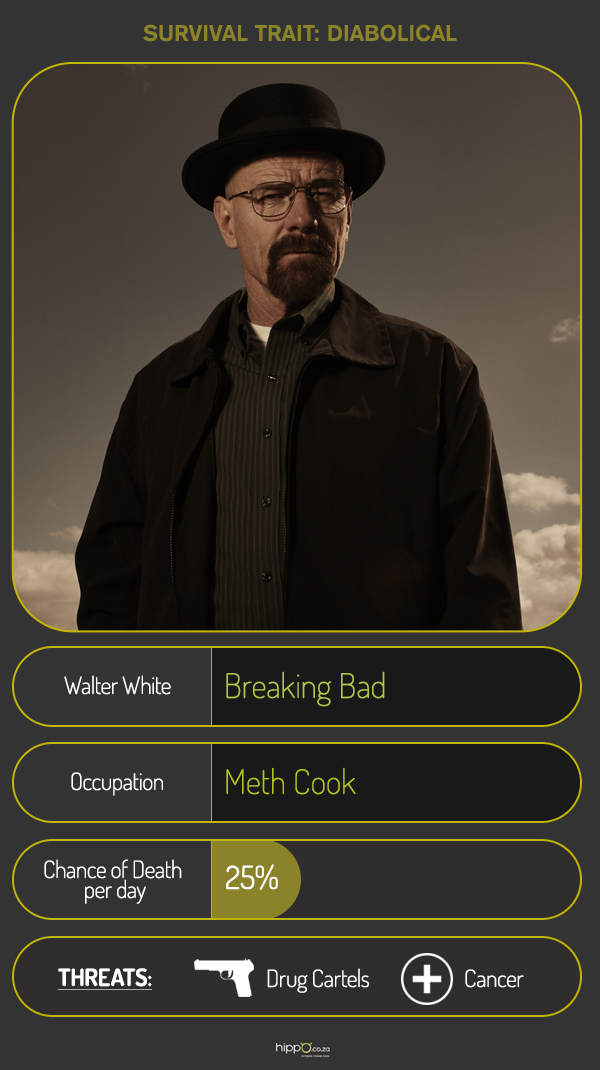 Walter White, originally a teacher, is a caring father suffering cancer... as well as a drug kingpin. You can see where this success story is heading right? Your 'everyday family man' right there. No, not really. Take a look at all real-life drug lords and you'll find drugs, money and, ultimately, death. If ever there was anyone who needed life insurance it would be Walter White. Also, we're sure that his black pork pie hat would benefit from this insurance.
Should it be damaged or *GASP* lost in a gang shootout he'll require backup funding of some sort to pay for his trademark look and style. After all, you're really insuring Heisenberg Pty (Ltd). With his partner in crime, a hip hop-loving meth head sidekick, and his dealings with the underworld --including a fried chicken distributor and other cold-hearted Mexican killers, Walt is in nearly every instance knocking on heaven's door... and we're not sure heaven will open up. He really needs that life insurance.
The Verdict
When all is said and done all of our favourite heroes are in series-ly deep trouble, some have even actually died -but we don't hold that against them. What matters in the end is if their average chance per day of not being able to fight the odds would make them more likely to buy the farm if they were real. Given that, and that she had two entries, our vote goes to the basically helpless and aged Jessica Fletcher who - let's face it - only made it through her series alive because in those days it was ok to kill your husband for cash, but definitely not morally sound to try and take revenge on an old lady who looks kind of like your gran.
We think that no one needs life insurance more than Jessica Fletcher - what do you think?
Disclaimer: All rights reserved. Hippo.co.za claims no ownership of any of the copyrighted imagery featured in this article. Each character and their image is sole property of their owners and partners, respectively.