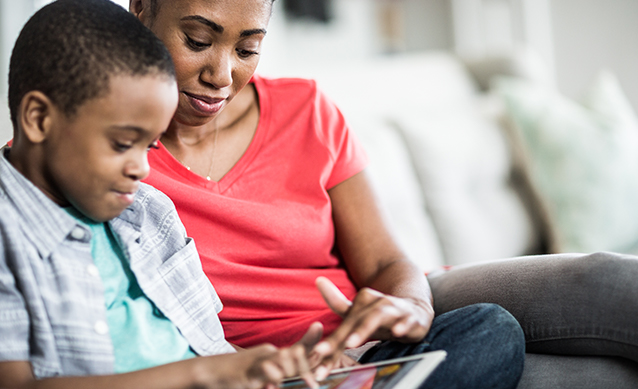 Routines that were once so important – going to school, playdates – are no longer part of your children's everyday lives. This sudden change in daily structures could be a source of uncertainty for them, making tasks such as learning more difficult. Introducing a new and manageable routine is a way to help them cope. And even though the whole family might be at home every day, you can break up the days and give your kids something new to look forward to.
Mix up routines to create variety and change during the week
Before lockdown, routine was set. Mondays to Fridays were about going to school and extramural activities, and weekends were for fun with friends and family.
Consider how you can mix up the routine of their lockdown days to give weekends that little bit of longed-for fun. Perhaps the family can set aside weekend mornings for doing fun exercises and going on walks together. These could also be done at home, and there are plenty of videos online showing you how to make it fun for kids. This is a great way to not only keep active, but also inject variety and fun into their weekends.
Also try TikTok. This video social network, famous at first for dance videos, has become a treasure trove of easy recipe ideas that you can use to turn cooking from a chore to a fun weekend activity for the family.
Partying online can be fun!
Managing your kids' screen time is important, especially with so much of it now necessary for school. So setting aside weekends for online gaming can work to give those two days that special feeling.
If you're worried about finding age-appropriate online games your kids can play with their friends, you'll be happy to know that it's not all shooting games out there! Mario Kart Tour is a great option, and popular games like FIFA 20 (soccer) have an online component too.
Schools will reopen soon, but won't be like before
Basic Education Minister Angie Motshekga announced in May that certain grades would reopen in June, though the option of keeping your kids at home would still remain. But that doesn't mean things are back to normal. Have a conversation with your kids about what school will be like by showing them what schools that have reopened in some countries have had to do to try and keep learners safe.
Use online school resources to keep up to date with schoolwork
In the meantime, there are plenty of online resources to help your young ones keep up with their schoolwork. Use WorksheetCloud for free resources for Grades 1 to 9, and Via Afrika for learners' books and eBooks, as well as teachers' guides to help you help them with their lessons.
DStv has also launched packages to help ease that learning-from-home burden. Subscribing to the premium package will give you access to its streaming platform too, so you don't have to have arguments about who controls the remote!
We've also provided tips on how to make working from home easier for you, parents.
Upgrade your fibre/LTE to keep up with all that extra streaming
All that online learning and entertainment means you will need as much bandwidth as possible. Even if you already have a fibre connection at home, you should still look into upgrading, as activities such as online streaming – whether it be school or multiplayer video games – mean you'll need a larger bandwidth to handle it all.
The free comparison tool on Hippo.co.za allows you to compare fibre and LTE deals side by side, which means you can easily find a deal that suits your needs in just a few clicks.
This article is for informational purposes only and should not be construed as financial, legal or medical advice.