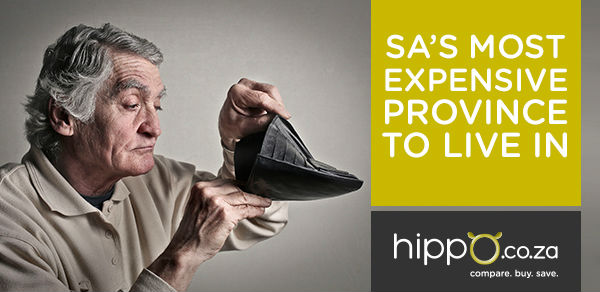 Whether you're happy in your city, wanting to move, or needing to move, you've probably heard all the stories about the expenses of living in certain SA cities. Before you take out that personal loan, get the inside story from some experts and stats which compare our provinces.
Quality of life
Quality of life is perhaps something that is more felt than measured and one might have to live for a little while in a city before commenting on its quality of life.
One measureable indicator of quality of life might be the amount of money people need in a city to spend on luxuries like movies, restaurants and bars. Marvin Leugering is the founder of Food-Blog, a site that features current restaurant news, upcoming wine and dine evenings and the latest specials in Johannesburg, Cape Town and Durban. He says:
'It's not cheap living in South Africa—that's a fact. And prices seem to be going up all the time. With the rise in things like fuel costs as well as production and labour costs, this is a reality that restaurant owners have to face as well, and the customers usually feel those costs the most.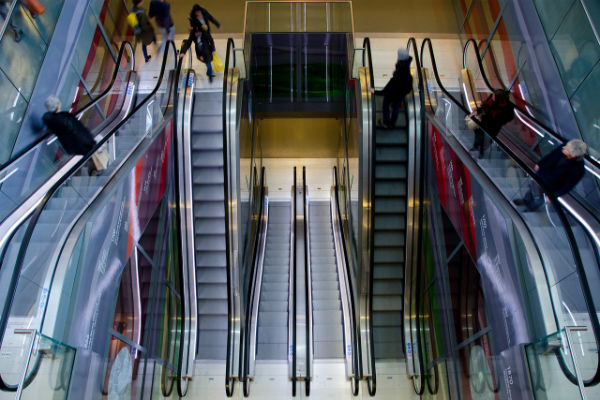 While very similar, there are subtle differences in the prices when comparing restaurants in Cape Town, Johannesburg and Durban. Eating out and ordering a three course meal at a nice restaurant will set you back around R190 in Cape Town with Durban being a little cheaper at R170. Johannesburg residents are feeling it the most with the average three course meal available for around R225. The differences stop when looking at your average (inexpensive) restaurants, where main courses in all three cities can range between R80 and R100.'
Cost of living
While quality of life is pursued by many, everyday expenses are something that cannot be ignored. Both these factors are important to consider when choosing a place to live.
At ImmigrationSouthAfrica.org, you can find out what you need to know to immigrate successfully. Buy an immigration guide or ask for help on their website pages and read updated information about South Africa. According to ImmigrationSouthAfrica.org:
'The main expenses one faces in South Africa, excluding those attributed to children, are rental and grocery spending. In May 2015, retail prices grew 2% on 2014 figures. The price of petrol not only directly affects consumers but also raises retail prices because input and transport costs increase for the manufacturers and retailers.'
Intergate Immigration is a leading South African visa application and immigration services company that helps families, individuals and companies with their immigration to South Africa. They have researched the topic of the cost of living in South Africa and had this to say:
'South Africans all across the country are having to cope with higher fuel prices, increasing food prices and electricity price hikes. This hits consumers hard, as big parts of households' budgets go towards these three categories.
Statistics South Africa found in their 2011 Income and Expenditure Survey, done every five years, that 32% of overall household consumption expenditure went to housing, water, electricity, gas and other fuels. Food and non-alcoholic beverages accounted for 13% of household expenditure.
Comparing the different provinces, according to Expatisan, living costs in Durban are 21% lower than in Cape Town and 27% lower than in Johannesburg.'
Doing business
While quality of life and cost of living seem to indicate that Johannesburg is the most expensive city to live in and Durban the cheapest, another factor to consider is salaries and business. Intergate Immigration revealed the following:
'The Quest Salary Survey and Staffing Trends 2014/2015 report compares white collar salaries across all provinces in South Africa. The researchers surveyed employees with less than five years' experience and employees with more than five years' experience.
In Gauteng, the salaries for employees with less than five years' experience are 7% higher than the national median level. Western Cape salaries are 5% lower than the national median and the salaries of other provinces are on average 14% lower. KwaZulu-Natal salaries, however, are 16% lower than the national median level.
Looking at more than five years' experience, Gauteng employees again fare the best. Their salaries are 6% higher than the national median level. Salaries of provinces other than the Western Cape and KwaZulu-Natal are on average 5% higher than the national median. Western Cape salaries are 3% lower and KwaZulu-Natal salaries are 21% lower than the national median level.'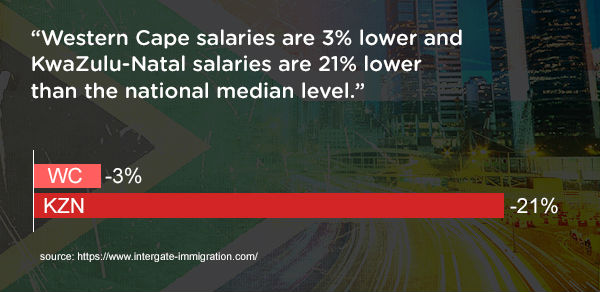 The World Bank's Doing Business series measures the unique financial challenges businesses face across cities and economies worldwide. The Doing Business in South Africa 2015 report shows that getting an electricity connection for your business costs the most in Johannesburg followed closely by Cape Town then Port Elizabeth. Durban is one of the cheapest cities in which to get an electricity connection for your business—its sits lowest with Bloemfontein.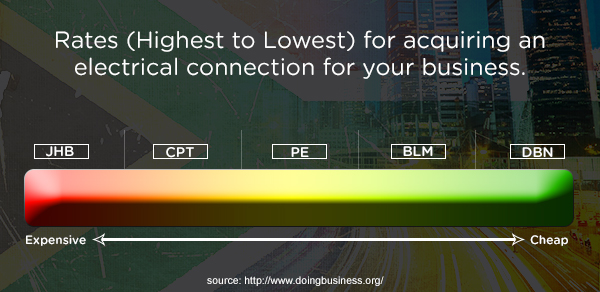 However, the report also shows monthly consumption of electricity costs and these change the picture somewhat. Monthly electricity consumption prices are lowest in Johannesburg and Cape Town and highest in Bloemfontein.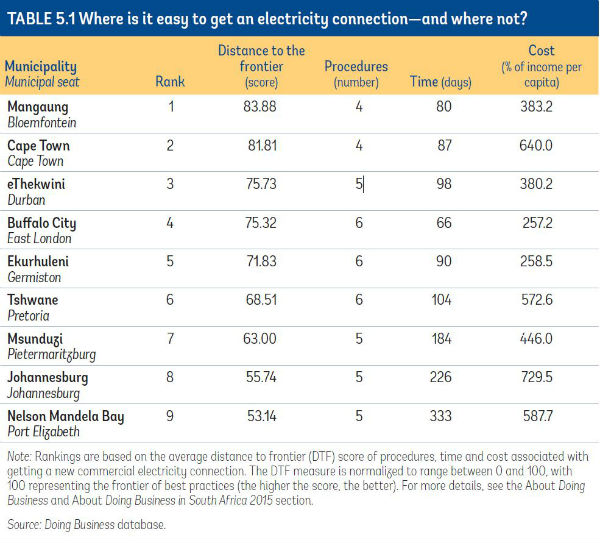 Electricity tariffs are set by municipalities, with 60% of electricity distribution handled by municipalities (and 40% by Eskom). Businesses rely on the metropolitan municipalities to function and are affected by the level of skills and the revenue available to the municipalities.
Nicholas McDiarmid is associate publisher at 3S Media, and editor of IMIESA Magazine and www.infrastructurene.ws and has followed infrastructure development in southern Africa for over a decade, with special interest in the relationship between public infrastructure and economic development. He says that skills and revenue are not spread evenly over the nine provinces of South Africa.
According to McDiarmid, the larger metropolitans of Gauteng, the Western Cape and KwaZulu-Natal have the greatest demand for things like electricity and there is therefore a concentration of skills in those provinces. The secondary metropolitan municipalities—like Nelspruit in Mpumalanga, McDiarmid says—are not getting the skills they need for industry to develop. This presents an economic issue that cannot be confined to particular provinces. Investors in a country are looking for a better spread of capital throughout the country. In essence, poor infrastructure in any province restricts growth for the nation as a whole.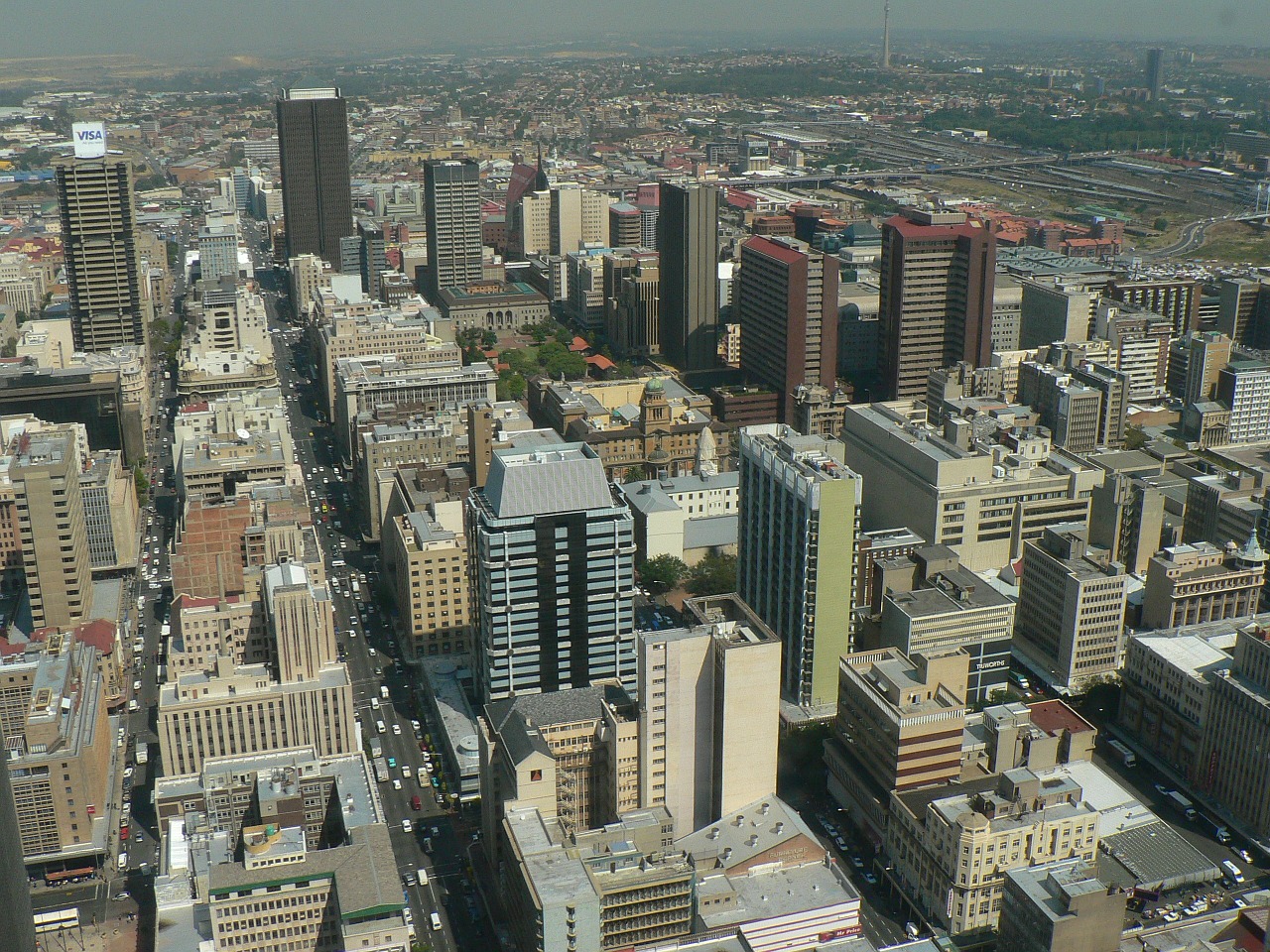 Reducing the expense
It is not all doom and gloom. According to Marvin Leugering of Food-Blog, spending money on quality of life—particularly the luxury of eating out—does not have to be expensive:
"2-for-1 promotions, half-price discounts or value set menus—that is the norm at most restaurants especially during the winter months. But if you know where to look, you will find great restaurant deals even in summer. Don't go to a restaurant just for the sake of taking advantage of a special though. You might save some money but there is no guarantee you will enjoy your dinner experience. I always look for deals that compliment my taste at the time. As I mostly order a starter and have a glass of wine with my main course, a discount on a set menu is always a sure way to get me hooked!"
Intergate Immigration suggests ways that people living in South Africa can manage the cost of living:
"Do comparative shopping: Don't accept your current insurance instalments, medical aid payments or bank charges as the cheapest. Get quotes, compare prices and negotiate with existing suppliers if necessary. Even a R50 saving here and there will make a difference.
Use budget apps: There are hundreds of very handy budgeting apps and tools available, so use them for your monthly household budgets."
People doing business in South Africa can use similar strategies and tools to minimise business expenses, and can be prepared for trying times with business insurance.
To encourage local and foreign investment in South Africa, Nicholas McDiarmid advocates for better administration of skills in the larger metropolitans and more of a focus on rural and secondary development so that more people in these areas participate actively in the economy.
A closing thought
It turns out that the inside story on the expense of living in SA's different provinces is not as clear-cut as the rumours. By and large, the cost of living and of starting a business is compensated for by the average salaries and availability of skills and infrastructure. Quality of life is important and, while the expense of luxuries will always vary, some quality of life can surely be found anywhere if you give the city a chance. If you find yourself in a tight corner, however, remember that a small personal loan may be just the right move but always consult a financial expert.