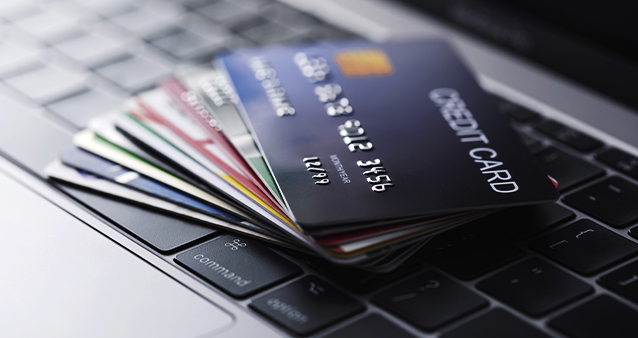 Why is it important to shop around when deciding on or upgrading a credit card? Well, interest rates differ from bank to bank and profile to profile, as do the terms and conditions of each product.
South Africans love credit cards. A recent report from GlobalData shows our region as one of the fastest-growing credit card markets in Africa. But it's amazingly easy to buy yourself into trouble with that little piece of plastic, advises Gerald Mwandiambira, an award-winning certified financial planner (CFP), entrepreneur, author and international speaker.
Credit cards have benefits, but beware of the risks
"There are benefits to having a credit card, but there are some risks, too. When used with understanding, credit cards can help you establish a solid credit history, and earn rewards on everyday purchases. Credit cards are also useful when travelling on holiday as they are the preferred payment method for car hire, hotels and many other services," says Mwandiambira.
"As with any financial contract, though, it is important to understand the terms and conditions of your credit card, and there is no shame in running these by your CFP so you are poised to select the best option for your needs," he says.
Credit cards as a payment facility offer a variety of benefits: safer online and in-store purchases (rather than doing an EFT or carrying cash around), free travel insurance and great reward programmes. Credit cards can also help you build a credit score for those future big-ticket purchases – like a home or car – and the interest is less than what you'd be charged on a personal loan.
What to check before getting a new credit card
When assessing whether a particular card is right for you, there are a few basics you need to check, says Mwandiambira.
"Before choosing a card, you need to understand the annual fees charged and, most importantly, the interest rate you'll pay when you have used some of the available funds. Many South Africans are paying the maximum interest that you can be charged on a credit card each year – currently 17.5% (the formula, as per regulations, is the repo rate plus 14%). However, many banks offer lower rates, so if you shop around, you can save thousands! And if you are paying more than 17.5%, please query this with your card issuer or the National Credit Regulator."
Higher-end credit cards could also give you access to benefits like a personal banker, which could come in really handy if you're a small-business owner or entrepreneur in need of some bridging finance. There's a big "but" before all these benefits, though: a credit card can only work in your favour if you use it responsibly. Those who don't become what TransUnion calls the "average South African", who owes at least R18,292 on their card!
How about the rewards some offer? Mwandiambira's take is that while rewards programmes, as just one potential benefit, offer many savings to members, these cards often have higher annual fees, too. "If you are not actively participating and using all that the programme is offering you, you may be better off with a basic credit card without those fancy bells and whistles," he says.
And a last note on responsible usage: "The interest on a credit card for positive balances is usually more than [what you'd earn on] a basic savings account, so the combination of a credit card and an emergency fund account can work nicely in your favour. And then, because a credit card is a debt instrument, it will serve to enhance – and even double – your overall credit score when you're starting out and use it to buy basic necessities such as groceries, then pay off the full amount each month. This approach to boosting your credit score is far less expensive than taking out a clothing-store card or signing up for an expensive smartphone contract," he concludes.
It's not rocket science, luckily. Read any correspondence you receive from your bank, keep up with the repayments and don't spend what you can't afford to pay back. So, as you can see, the best credit card for you really depends on your personal needs, uses and circumstances.
Now that you have a better idea of what to look out for, read on for a better understanding of the fees and benefits of a few of the most popular credit cards in South Africa.
Comparing credit card deals side by side works great for finding the one that makes the best sense for you. Our credit card comparison tool is there to help you find the best deal for you by showing you products from South Africa's leading banks.
Read more: Banking Fees Guide 2020/2021
Capitec Global One Credit Card
Initiation fee

R100

Monthly fee

R40

Maximum credit facility

R250,000

Minimum income

R5,000 per month

Interest rate

7% to 17.5%, based on credit profile

Benefits

• Earnings of 2.25% per year on a positive balance

• Up to 55 days interest-free period

• Cashless payments, with zero fees

worldwide

• No currency conversion fees for card purchases overseas

• Useful app to manage your card
FNB Gold Credit Card
Initiation fee

R175

Monthly fee

From R89

Maximum credit facility

Higher credit limits and a personalised credit limit of between R10,000 and R60,000

Minimum income

Between R84,000 and R359,000 per annum

Interest rate

Personalised, competitive

Benefits

• Unlimited free card swipes

• Earning of eBucks Rewards on card purchases (up to 1.5% back in eBucks on local shopping, up to 3% back when shopping online or internationally, and up to 15% back on fuel, airtime, and Checkers/Shoprite and domestic Uber spend)

• Free comprehensive global travel insurance

• Free automatic debt protection

• Easy-to-use app

• 55 days interest-free
Absa Premium Banking Credit Card
Initiation fee

R166.45

Monthly fee

R59

Maximum credit facility

R138,000

Minimum income

R25,000

Interest rate

17.5% (from 6 May 2016 onwards)

Benefits

• Minimum payment of 3% on outstanding balances

• 57 days interest-free period

• Tap and pay technology

• R3 million automatic basic cover for international travel

• Free access to the Bidvest Airport Lounge for four domestic and two international visits per month

• Dedicated 24/7 Premium Line

• Cashback rewards when you pay with your card locally and internationally
Nedbank Greenbacks Credit Card
Initiation fee

R189.65

Monthly fee

R20 to R26 (depending on whether a Gold or Platinum card is selected)

Maximum credit facility

Personalised

Minimum income

R100,000 (Gold) or R350,000 (Platinum)

Interest rate

Preferential

Benefits

• Earn Greenbacks and other Membership Rewards

• Up to 55 days interest-free period

• Secure online purchases

• App uses very little data

• Automatic basic travel insurance of R2-million (Gold) or R3-million (Platinum)

• Free access to Bidvest Premier airport lounges for 12 domestic flights each year (Platinum card holders only)
Standard Bank Titanium Credit Card
Initiation fee

R180

Monthly fee

R74

Maximum credit facility

R250,000

Minimum income

R25,000 or have a post-grad degree

Interest rate

Personalised – ranging from a minimum of 7.25% (prime) to a maximum of 17.75% (repo rate + 14%)

Benefits

• Free basic travel insurance when purchasing a flight ticket with your credit card

• 10% off spa treatments at health spa retailers

• 15% off your AA subscription

• 10% discount on appliances at Hirsch's

• Up to 33% off Wine-of-the-Month Club online purchases

• 15% off car rental at Avis
This article is for informational purposes only and should not be construed as financial, legal or medical advice.