You're already watching Ignition religiously on DStv, while Top Gear magazine has become your very own motoring Bible – but as a petrolhead you also like to experience all the action in the flesh. You want your ears to ring following the sound of revving engines and spinning tyres; you want to smell the burning fuel yourself. Or perhaps you simply want to feast your eyes on the variety of sports cars on display. It's been a good year for motoring events so far and as we race into the winter season, more awesome car shows await you. So set some reminders on your mobile devices, make a note in your diary, or circle the dates on your calendar: just make sure you don't miss the following events.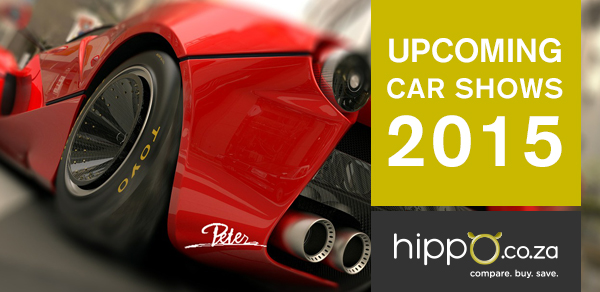 Knysna Speed Festival
Knysna will once again play host to the popular Speed Festival this year at the The Knysna Waterfront. Entries for participants are already closed but if you're a car enthusiast or someone who thinks a voltage regulator is an employee at Eskom, nothing should stop you from attending.
This year's festival will include
'Classic Car Friday' on 15 May, during which cars from the pre-war era to the 1980s will take to the track between 8:30 am and 3 pm;
the Town Parade during the car show;
'King of the Hill' competitions on Thursday and Friday respectively; and
The final 'King of the Hill Shootout' on Saturday and Sunday, where the country's fastest set of wheels will battle it out.
Entry fees are R80 per person per day for adults, R50 per person for children between 3 and 11 years old and free admission for children under 3. A portion of the proceeds will be donated to local charities.
Cars in the Park
Let The Pietermaritzburg Vintage Sports Car Club lure you away to a bygone era with their annual 'Cars in the Park' on 17 May at the Ashburton Training Track in Pietermaritzburg. If your interest in cars doesn't include a lot of noise or goes no further than anything produced in the 70s, then this is for you. The event features a display of vintage and classic cars, motorcycles, trucks, and tractors. Members of the public who wish to exhibit their classic vehicles or relevant motor vehicles should contact the Vintage Sports Car Club with details on the number and type of vehicles they want to show. Things will kick off at 7 am and finish at about 4:30 pm. During this time, if you find your stomach roaring louder than those engines, you can visit any of the food and beverage stalls present.
Outdoor X
On the 23rd and 24th of May, make sure you're at the Malonjeni Guest Farm between 9 am to 5 pm for the Outdoor X Festival. The Malonjeni Guest Farm is located on the R42 between Vereeniging and Heidelberg. The show includes attractions such as
motocross stunts
a 4x4 track for the public
the Maxxis National 4x4 X-Track Racing
helicopter flips and quadcopter demonstrations
a come-and-test station for the new Merida/Titan bicycle
and a variety of other exciting activities
Some of the other activities include scuba diving in action, a beer garden and live performances by Lianie May & Thys die Bosveldklong. Ticket costs: R70 for adults, R20 for children 6 – 12 years and free entrance for children under 6 years.
Strut Your Stuff Horsepower Motor Showcase
Buckle up: the Strut Your Stuff Horsepower Motor Showcase will take you on an adrenaline fuelled ride on the 29th to the 31st of May from 9 am to 11:30 pm at the Greyville Racecourse in Durban. Whether you prefer to cheer in the crowd or sit behind the wheel, this shows promises non-stop action for the whole family. Main arena acts such as the Terry Grant Stunt show, the Kevin Carmichael Motorbike Stunt Show, hourly vehicle parades, suicide rides, and exotic car parades amongst many others, will make your adult (R150) or child (R50) entry fee worth the while.
Clarkson, Hammond and May Live
The 2015 Top Gear Festival may have been cancelled but fans can now catch Richard Hammond, James May and Jeremy Clarkson live at The TicketPro Dome from the 12th – 14th June 2015. With four arena shows, the trio will rivet audiences with ingenious car sequences, fantastic car displays and some colourfulhumour. This show is guaranteed to be a highlight on the motoring show calendar and R395 per person will ensure you don't miss out on any of the stunts, fire and smoke.
Dragon Fly Rally
The 2015 Dragonfly Rally will once again transform Kleinplasie in Worcester into a fantasy world for bikers and motorcycling enthusiasts. Scheduled to take place from the 3rd to the 5th of July at 12 am respectively; the event promises a line-up of live music shows, games, DJs, a bike concourse and more. Food and drinks stalls will be available for refreshments. Pre-entries of R80 close on the 14th of June, while late entries will cost you R120.
If you intend to compete in a motor show, remember to find the best car insurance provider to make sure the only damage you will have to worry about is the participation fee.