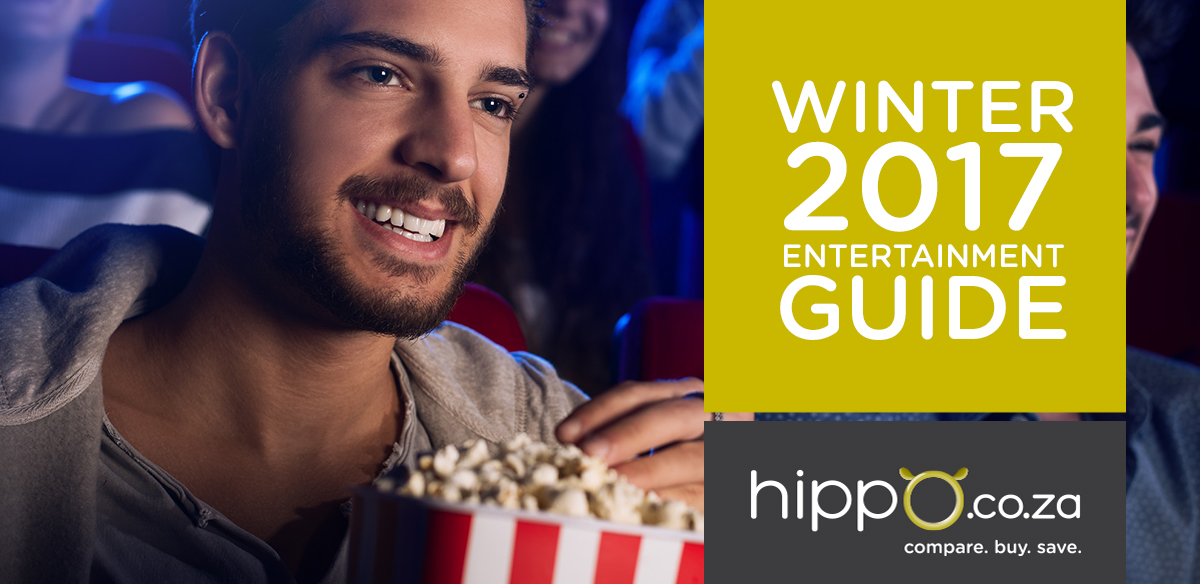 Winter is the time most of us prefer to just cuddle up under blankets and switch to hibernation mode. But, for entertainment junkies, being trapped indoors on those drizzly days provides plenty of opportunities to catch up on new movies, books, series, and video games.
With the overwhelming influx of new titles, as well as the older titles you've been meaning to get to, how do you figure out what to spend your leisure time on? Hippo.co.za assembled four in-the-know entertainment bloggers to narrow the big crop down to a fun guide that will keep you occupied for the next couple of weeks. So, for those days when you just have to stay inside or are planning a day out at the cinema, have a look at our bloggers' top recommendations on what to watch, read, stream, play, and download this winter.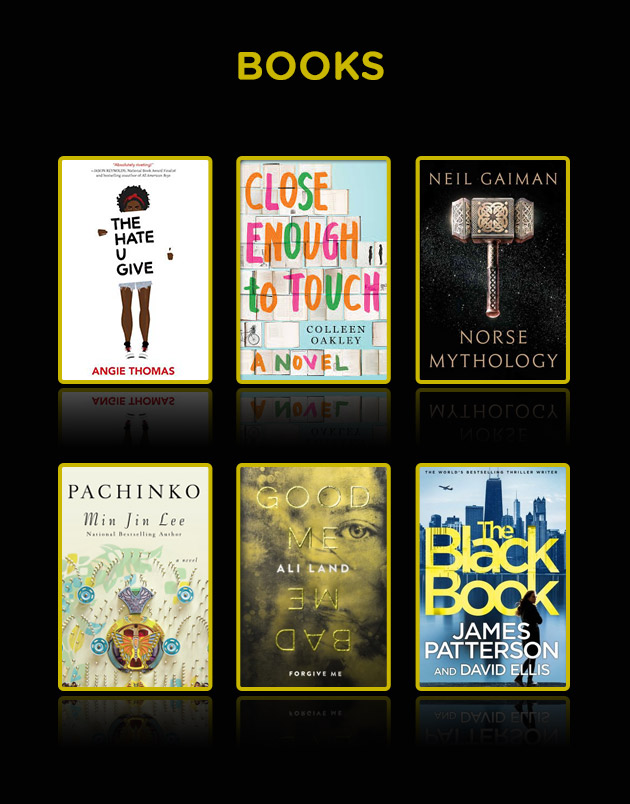 We asked Nihaad Gamieldien, blogger at Read and Seek, which books she would cuddle up in front of the fireplace with this winter. Here is her pick of the page-turners that would make for an enjoyable read.
The Hate U Give by Angie Thomas
The Hate U Give (aka THUG), tells the story of sixteen year-old Starr who witnessed her unarmed friend being gunned down by a white policeman. Inspired by the Black Lives Matter movement in the United States, THUG is one of the most topical books currently in the young adult genre as it deals with police brutality, racial profiling and oppression.
Close Enough to Touch by Colleen Oakley
After a humiliating near-death experience in high school, Jubilee Jenkins discovers that she has a rare medical condition: she's allergic to other people. Enter Eric Keegan, a father and divorcee with a pile of baggage, who finds the mysterious Jubilee to be quite endearing. This unconventional love story is the perfect winter read for fans of Jodi Picoult and Jojo Moyes.
Norse Mythology by Neil Gaiman
This compelling reimagining of Norse mythology breathes new life into the stories of Odin, Thor and Loki while staying true to the ancient legends.
Pachinko by Min Jin Lee
Pachinko follows the story of one Korean family through generations, starting in the early 1900s when Sunja, the daughter of a struggling yet proud family, falls pregnant out of wedlock and threatens to bring shame to them all. Abandoned by her lover, Sunja is found by a young minister who proposes marriage if she returns to Japan with him.
Good Me, Bad Me by Ali Land
Fifteen year-old Millie used to be Annie, the daughter of a serial killer whose victims were children. Good Me, Bad Me is a bone-chilling debut thriller that deals with the psychological effects of an abusive childhood and the scars it leaves behind.
The Black Book by James Patterson
When Billy Harney is left for dead alongside his former partner and assistant district attorney, he miraculously survives but cannot remember anything about the events leading up to the shootout. After being charged with double murder, Billy is desperate to clear his name and goes about discovering what actually happened when he discovers a black book with all the answers he seeks."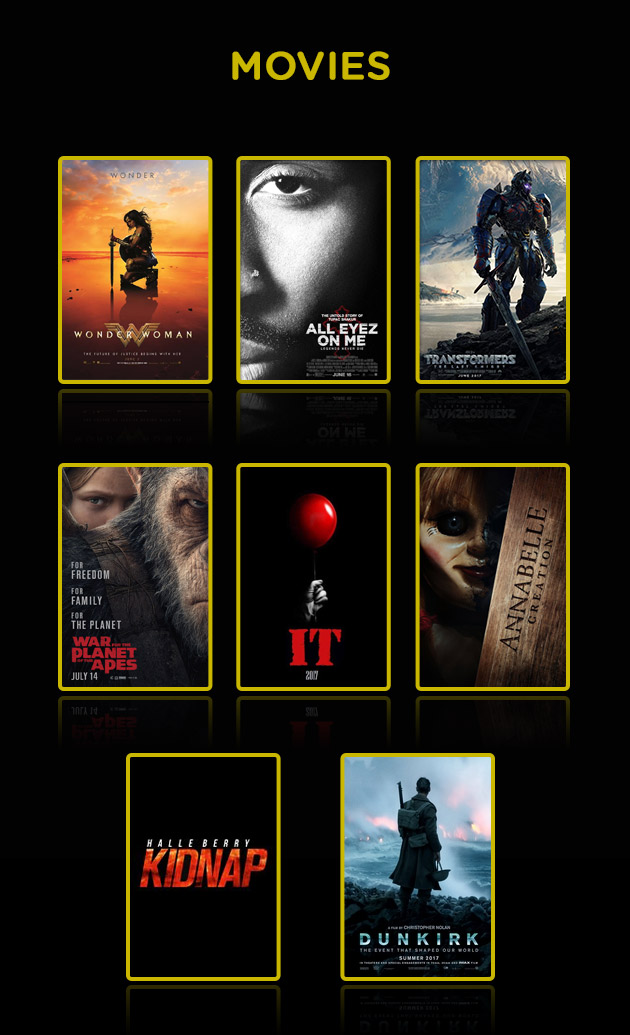 Jarrod Saunders, editor and founder of Fortress of Solitude, gave us a glance at the 2017 movie calendar, and highlighted some of the most anticipated titles coming to the big screen this winter.
"Wonder Woman
It's clear to see that Warner Bros has a big hit with the upcoming Wonder Woman film. It could be the world's most popular superhero heroine lead in the DC Extended Universe, in terms of winning the praise of the critics and fans. Not only does the story look solid, but the visuals and the action match it perfectly.
All Eyez On Me
Although there have been many documentaries about the life and death of the rapper Tupac and his feud with Notorious BIG, there haven't been many films based on their encounter. All Eyez On Me focuses on Tupac's darker side as he rises to fame and fortune. Rapper The Game was treated to a private advanced screening of the film and offered a review: "The Tupac movie is the real deal," he said.
Transformers: The Last Knight
Stop the train. Hold your horses. Crash your spaceship. Megatron is returning in Transformers: The Last Knight. You just can't keep a bad robot down. At least that's what Megatron would have you believe. The film seems to focus on Isabela Moner's character, Izabella – a young girl with a no-nonsense attitude and a special hate for sexist baddies. She even tries to take on Megatron and his army all on her own.
War for the Planet of the Apes
Andy Serkis reprises his role as Caesar, the leader of the Apes, as they battle to live in peace with humans in War for the Planet of the Apes, the final film in the trilogy. War for the Planet of the Apes promises many things, including action and tons of emotion. Prepare yourself to cry a lot.
It
Your childhood fear of clowns is about to be awakened. Back in the 90s, the horror miniseries Stephen King's It, caused quite a stir at my primary school. It caused many kids to develop an unusual fear of clowns. King hopes to bring that same fear back to life with a new film, It: Part 1 – The Losers' Club.
Annabelle: Creation
That other scary doll, that isn't Chucky, is getting a sequel, or rather a prequel, with Annabelle: Creation. Directed by Lights Out's David F. Sandberg, it already looks way better than the first film. The Conjuring universe continues to expand with more Annabelle films and a spin-off based on the creepy nun from The Conjuring 2 on the way. While the first Annabelle film, based on the evil doll we saw in The Conjuring, was a big disappointment, Annabelle: Creation hopes to improve and fix all the previous film's shortcomings.
Kidnap
Halle Berry gender swaps roles with Liam Neeson's Taken in Kidnap, a high-speed action film about a woman determined to do just about anything to get her kidnapped son back. Kidnap casts Halle Berry as an angry, avenging-mom. She races the wrong way on an exit ramp, is chased by cops and bashes through SUVs in an effort to save her son. The first trailer ends with Berry staring down her son's kidnapper and growling: "You took the wrong kid."
Dunkirk
Everything from the casting to the tone and music in Dunkirk is exactly what you'd expect from a Christopher Nolan WWII action-thriller. The film centres on the British military evacuation of the French city of Dunkirk in 1940, one of the biggest battles during the war. Nolan, who also wrote the screenplay, is producing alongside Emma Thomas."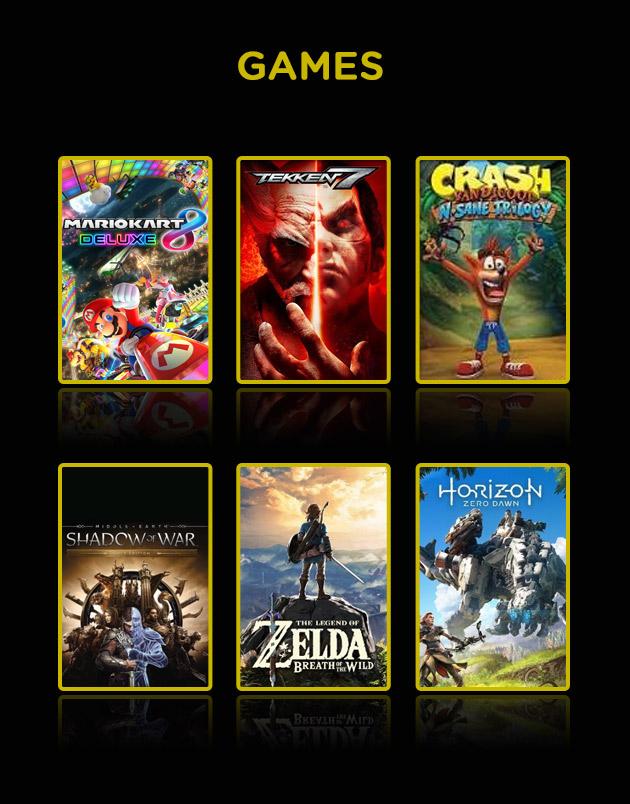 "It's not even half-way through the year and 2017 is already shaping up to be one of the best years for gaming," says MJ Khan, senior writer at Geek Node. "Whether you game casually, on the move or plonk down five hours in front of your screen every night, there's something for you. Here are six must-play games for South African gamers."
"Mario Kart 8 Deluxe (Nintendo Switch)
Releasing what is essentially a "Game of The Year" edition of 2014's critically-acclaimed Mario Kart 8 on their shiny new console instead of a new Mario Kart might seem like a strange choice, however, Nintendo has made enough tweaks and upgrades to warrant the purchase. It's a masterclass in the multiplayer experience and an essential purchase for Nintendo Switch owners.
Tekken 7 (Windows, PlayStation 4, Xbox One)
With 38 characters and graphics so good they drizzle like warm honey, Tekken 7 is shaping up to be a worthy contender for fighting game of the year (if it can beat Injustice 2 that is). Bandai Namco promises a conclusion to the Mishima clan saga, which should satiate long-time fans.
The Legend of Zelda: Breath of the Wild (Nintendo Switch and Wii U)
The launch title for the Nintendo Switch, Breath of the Wild offers a refreshing approach to the world of The Legend of Zelda by allowing players to create their own path to conquer the kingdom of Hyrule. There is tons of opportunity for experimental gameplay that is sure to convert many new gamers to the series.
Crash Bandicoot N. Sane Trilogy (Playstation 4)
Coined a "remaster plus" by developer Vicarious Visions, Crash Bandicoot N. Sane Trilogy is a remaster of the first three titles in the hugely popular Crash Bandicoot series. The overhaul is more than a simple graphics resolution bump and is sure to attract a new generation of fans to the series.
Middle Earth: Shadow of War (Windows, PlayStation 4, Xbox One)
Closing off a bumper winter is the sequel to 2014's smash-hit Shadow of Mordor. Gamers can expect more action, complex enemy types and lots more orc-slaying in the latest chapter based on Tolkien's world.
Horizon Zero Dawn (PlayStation 4)
Earlier this year, Guerrilla Games and Sony Interactive dropped the action-roleplaying game Horizon Zero Dawn that immerses players in a world filled with interesting mythology, mighty mechanical beasts and enough mystery to keep the pulse pounding for hours. As the skilled machine hunter named Aloy, players must navigate a post-apocalyptic landscape to discover their purpose and destiny in an evolving new world."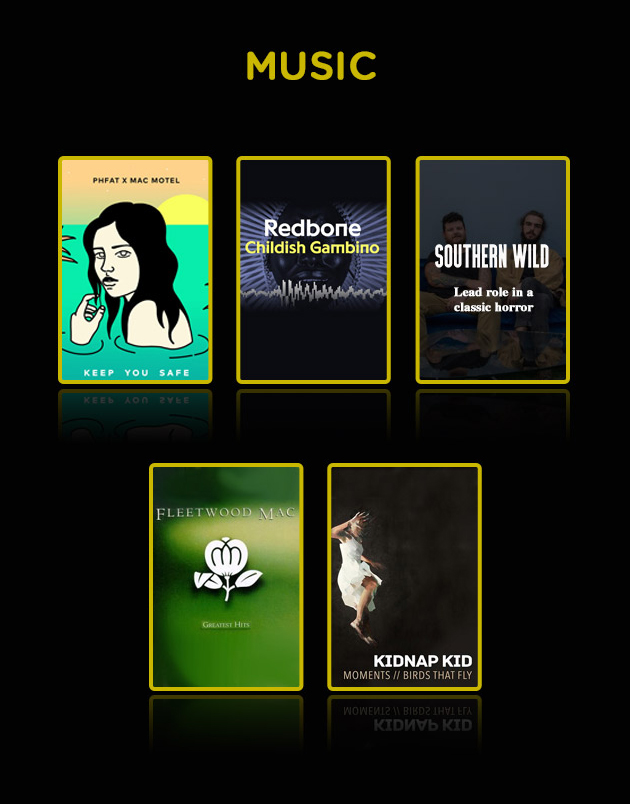 Whether you need to update your winter workout playlist or need a selection of songs to keep you company when the temperature has taken a plunge outside, Ashley Brown, co-founder and owner of SA Music Scene, knows exactly which tracks you might need to warm the cockles of your heart.
"Fleetwood Mac - 'Greatest Hits' Album
Fleetwood Mac is a legendary, old school rock act and their Greatest Hits album/vinyl is definitely a must-have item, especially if you're a music collector. The album is, of course, also available as a digital download if you're more tech-savvy. There's a track on the album that has personal meaning to me so I had to grab the vinyl release.
Kidnap Kid - 'Moments' Single
I was honoured to be able to attend AfrikaBurn 2017 where I was introduced to new artists that enabled me expand my music taste. Kidnap Kid's 'Moments' was such a huge part of my experience at the AfrikaBurn festival that I feel it's the kind of song that will stay with me for a long time.
PH Fat & Mac Motel - 'Keep You Safe' Single
'Keep You Safe' is PH Fat's brand new track he made with Mac Motel. The new song is quite different from their older music and features more singing than rapping. I would advise every rap lover to go have a listen. I've probably listened to the track at least twice a day for the past ten days.
Childish Gambino - 'Redbone' Single
I have to admit, I've been slow getting onto Childish Gambino's music but the track 'Redbone' is the most raw soul track and I've been listening to it every morning during my run. There's nothing more motivating to me, somehow it reminds me of Survivors' 'Eye of the Tiger', probably because it motivates me to keep my eye on my current goal.
Southern Wild - 'Lead Role in a Classic Horror' Album
Southern Wild's debut album 'Lead Role in a Classic Horror' is an all-round amazing South African rock album, fronted by David van Vuuren, winner of SA Idols in 2011. The album is only available on Deezer at the moment, but you can pre-order it from their website www.southernwild.co.za."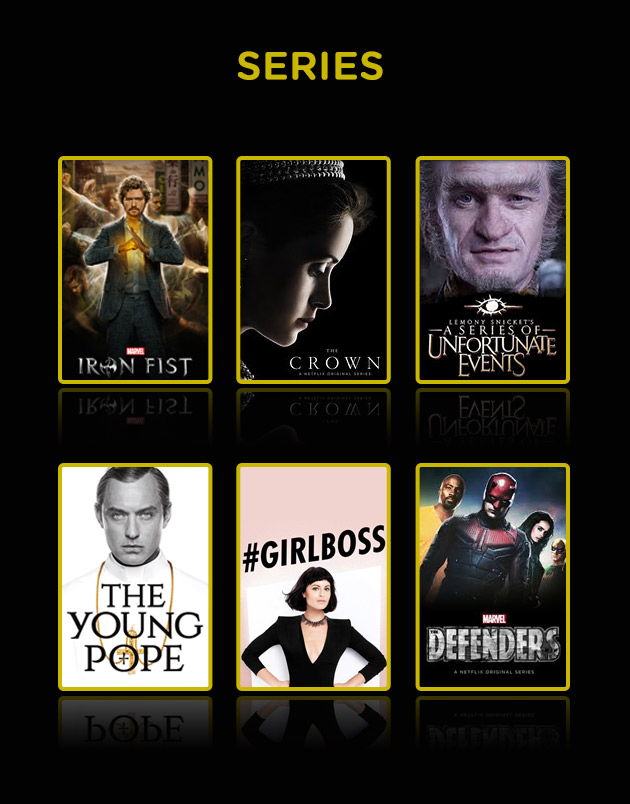 During the first half of 2017, streaming and video-on-demand services have updated their catalogues with an impressive range of original and network series that are both entertaining and thought-provoking. Here are some of the top rated shows currently available to stream online.
Marvel's Iron Fist (Netflix)
Iron Fist follows the return of Danny Rand who, as a child, was taken in by the inhabitants of the mystical lost city of K'un-Lun after his parents were killed during an expedition. Now back in New York City with an alter-ego, the Iron Fist – wielder of a mystical force – Danny is out to reclaim his parents' company and keep New York safe from an order of evil mystical ninjas.
Lemony Snicket's A Series of Unfortunate Events (Netflix)
Daniel Handler's steampunk series gets a second screen treatment, with the first four books adapted over eight episodes. While the narrator warns you that the story is filled with misfortune and despair, the three Baudelaire orphans' plans to outsmart the cunning Count Olaf will leave you with a heartwarming feeling in the end.
The Crown (Netflix)
A peek into the early lives of the British royal family. This biographical drama explores the reign of Queen Elizabeth – from her rise to the throne at age 25, her marriage to Philip, Duke of Edinburgh in 1947, to her sister's romance with Peter Townsend. There's also plenty of political challenges that would define the Second Elizabethan era.
The Young Pope (Showmax)
Jude Law stars as the young Pius XIII (born Lenny Belardo), the first (fictional) American Pope in history. As a newly elected leader of the worldwide Catholic Church, Lenny has to come to grips with the conventions of the Vatican, which is at odds with his own controversial beliefs.
Girlboss (Netflix)
This comedy series is based on Sophia Amoruso's best-selling book and tells the story of how she transcended the fashion industry and built a multi-billion brand, Nasty Gal. Britt Robertson stars as Sophia, a stubborn and bankrupt anarchist who ventures into eCommerce, selling vintage clothing online.
Marvel's The Defenders (Netflix, release date 18 August 2017)
The Defenders brings together a group of Marvel superheroes, Daredevil, Jessica Jones, Luke Cage, and Iron Fist. Taking place a few months after the events of Daredevil season two and the events of Iron Fist, the team joins forces to combat a supervillain organization.
In Closing
And there you have it: our bloggers' top picks of books, movies, games and music perfect for seeking solace in the heated confines of your home. Remember that these pleasures simply would not be possible without your trusted devices i.e. your laptop, tablet, Kindle and cellphone. Therefore, we encourage you to consider taking out Household Insurance to cover these devices, especially during winter when the risk of damage to your home contents is greater due to wind, water, hail and maybe even snow. Winter is also an important season for Car Insurance since driving hazards can increase in adverse weather, even making a short trip to the movie theatre a daunting task.
On a final note, Hippo.co.za would like to thank our entertainment gurus for contributing to this guide.
DISCLAIMER
The opinions expressed in this article are those of the individuals quoted and do not necessarily reflect the views of Hippo.co.za and its affiliates. Hippo.co.za claims no ownership of any of the copyrighted imagery featured in this article. Each image is sole property of their owners and partners, respectively. Release dates are subject to change.