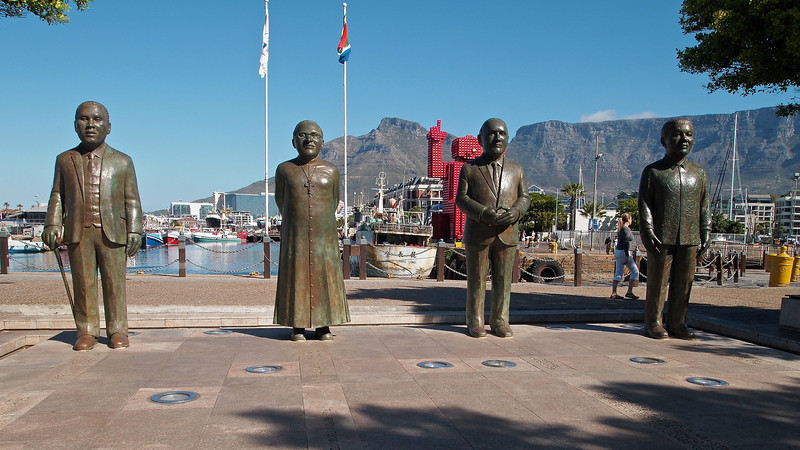 South Africa is rich in ecological and cultural diversity, and you can find almost any kind of holiday experience you can imagine throughout the country. From beaches to forests to bushveld, here are nine provincial holiday experiences worth having.
Eastern Cape
Eastern Cape is an unpolished gem and was also the birthplace of Nelson Mandela. While it does have major metropolitan cities (Port Elizabeth and East London) much of its wilderness is still untouched.
In the interior is the vast Karoo, a semi-desert area that sees extreme temperatures in summer and winter. Ironically, in this arid region, you'll find our country's only ski resort, Tiffendell.
Hike through the Valley of Desolation in Graaff-Reinet and take in the incredible views of this immense region, with sheer cliff faces and plentiful wildlife including black eagles, buffalo, and the endangered mountain zebra.
Visit Addo Elephant National Park, the third largest national park in South Africa. When the area was proclaimed a national park in 1931, only 11 elephants inhabited it. Today, it holds one of the densest elephant populations in the world – over 600.
Book accommodation at Away with the Fairies, home to the famous Cliff Edge Bath overlooking the Auckland Nature Reserve in Hogsback. From there, trek to the area's magnificent waterfalls such as Bridal Veil Falls, Kettlespout Falls, and Swallow Tail Falls. Private rooms at Away with the Fairies start from R600 per night for the room.
Along the coast, you'll find gorgeous beaches, like at Jeffrey's Bay, which is renowned as one of the best surfing beaches in the world.
The Tsitsikamma National Park forms part of the Garden Route and is bursting with proteas, fynbos, and other indigenous plant life. If you are daring, cross the 77 m suspension bridge across the Storms River Mouth. You might even get lucky and spot dolphins and whales further out in the ocean.
Free State
Often seen as a drive-through on the way to other destinations, Free State has turned into a top holiday spot in its own right. In recent years, it's become famous for its annual beer festival, held in the quaint town of Clarens. The hotspot of the town is the Clarens Brewery, which serves craft beer and German-style food. Clarens is packed with charming Airbnbs, art galleries, and stores selling handmade wares.
Nearby, the Golden Gate Highlands National Park rests at the foot of the Maluti Mountains and hosts a diverse range of fauna and flora. Historically, the area was home to San people, evident in many old cave paintings discovered there. Visitors to the park usually explore it on day-long game drives. For the fit and adventurous, a multi-day hike provides a memorable and intimate exploration of the park.
If you want to stay in the park, you can choose between chalets, cottages, hotel rooms, caravan sites, and camping spots. Prices range from R250 per night for camping to around R2,500 per night for a family cottage.
In November, when the weather is warm and the year is winding down, Ficksburg is perfect for a weekend away during the annual cherry picking festival. It's been running for over 50 years and offers cherry-everything, like jam, beer, liqueur, and infused spices.
Gauteng
Gauteng has cultural and natural history in abundance; learn about the country's social and political heritage and the origins of all of humankind.
The Constitutional Court is at the heart of Johannesburg, where the country's hard-won freedoms are upheld every day. Constitution Hill is home not only to this Con Court, but is also a museum of a prison where numerous freedom fighters were detained, including Nelson Mandela, Albertina Sisulu, and Mahatma Gandhi. It's a haunting look at the horrors of apartheid, but well worth the visit to understand South Africa's difficult journey to democracy.
For adrenaline-junkies, a trip to Orlando Towers is a must. Not only are the towers graffitied in incredible artistry, but there is a variety of daring adventures such as bungee jumping, freefalling, base jumping, paintballing, and wall-climbing.
The Cradle of Humankind is one of the world's richest fossil locations. You can explore excavation sites and a hominid exhibition in the Sterkfontein Caves, and visit the interactive exhibits at the Maropeng visitors' centre and entertainment complex.
For a truly luxurious stay, check-in to the four-star Maropeng Boutique Hotel. Rates start from R1,525 per night for two people and includes breakfast.
KwaZulu-Natal
With its humid summers and mild winters, KwaZulu-Natal is a popular destination year-round. It offers a multitude of activities – enjoy a swim in the warm ocean, drive through the rolling green hills of the Midlands, or camp in the imposing shadow of the Drakensberg Mountains.
Located on the coast, the iSimangaliso Wetland Park is a little-known UNESCO World Heritage site. It's surrounded by the Indian Ocean on one side and several small lakes on the other. What makes it totally unique is the number of different ecosystems protected in it – wetlands, coastal forests, grasslands, beaches, coral reefs, and swamps.
Stretching for approximately 1,125 km, the Drakensberg comprises sheer sandstone cliffs, valleys, and clear mountain waters, and is one of our country's most peaceful locations. You'll never get bored there; there's plenty to do such as hiking, fishing, mountain biking, bird watching, and navigating the nearby Midlands Meander.
Speaking of which, the Midlands Meander is a leisurely trail of sights, stalls, and shops, all offering an eclectic mix of hand-crafted local wares, food, and drink. It's located in the emerald-green hills of KwaZulu-Natal. If you know where to look, you can find some excellent luxury accommodation at a reasonable price in the Midlands, such as at Curry's Post B&B. A full English breakfast, ultra-comfortable bedding, and spectacular views come standard. Prices range from R1,300 per night for two people.
Durban, also known as eThekweni, is the urban hub of KwaZulu-Natal and is South Africa's third largest city. It has a lot to offer, not least of which are its laid-back and friendly people. You can laze away your days on warm beaches, learn about our aquatic life at uShaka Marine World, or swing from the arch of the Moses Mabhida Stadium if you want some adventure.
Limpopo
Largely unspoilt, Limpopo is a treasure trove for adventurous holidaymakers. Visit secluded waterfalls, bathe in hot springs, and see our wildlife up close in Mapungubwe National Park.
In fact, Mapungubwe National Park is a UNESCO World Heritage site and is home to our country's most important Iron Age site; 1,000 years ago, Mapungubwe was at the centre of the largest-known kingdom in Sub-Sahara Africa at the time. It's also home to elephants, black and white rhino, and numerous bird species. Stand at the Confluence Lookout Point and see where South Africa, Zimbabwe, and Botswana meet at the Limpopo and Shashe Rivers.
If you want to take full advantage of the area's untouched beauty, the Magoebaskloof Pass is highly recommended. The steep, winding slope is ideal for motorcyclists and hikers, with multi-day adventures available. The area is teeming with waterfalls, fertile plantations, and thick forests. You can stay in hotels, lodges, and guest houses, with prices ranging from between R600 and R2,500 per night for two people.
Mpumalanga
It might be one of our smallest provinces, but Mpumalanga has plenty to see and do. Take a bush break in the Kruger National Park, drive along winding roads that overlook magnificent passes and valleys, or visit pilgrim towns frozen in time.
Blyde River Canyon, now officially known as the Motlatse Canyon, is the world's third largest canyon. It presents a view over the Klein Drakensberg and houses numerous viewpoints and sights; with names like God's Window and Wonder View, it's no surprise this is one of South Africa's most popular natural wonders. Visit the phenomenon known as Bourke's Luck Potholes, the massive cylindrical potholes ground into the base of the rock over millennia, and the Three Rondavels, three huge dolomite rocks rising into the air.
The Kruger National Park is the country's foremost game reserve and spans an impressive 19,485 km². It's home to the Big Five, scores of antelope, reptiles, birds, and trees. As far as accommodation goes, there are 21 rest camps and 15 private lodges. As always, depending on your budget, accommodation will set you back between R360 and R6,000 per night, ranging from a basic campsite to a luxury eight-person sleeper.
Northern Cape
In Northern Cape, you'll see things you won't see anywhere else in South Africa, such as the clearest night skies and a spectacular annual floral explosion. It's inhabited by only 1 million people, making it our least populated province.
Augrabies Falls National Park is home to the waterfall of the same name. Augrabies Falls is 56 m high and drops into an 18 km-long gorge. Within the park are hiking trails, self-drive trails, and nocturnal creatures like the African wild cat, aardwolf, and free-tailed bat.
In the heart of winter, visit the town of Sutherland. Due to its remote location, you can enjoy some of the clearest night skies in the world. In fact, it's home to the South African Astronomical Observatory, which houses the Southern African Large Telescope (SALT). Take your warmest clothes with, because Sutherland is the coldest place in the country.
Despite its small size, the town still offers luxury accommodation at a reasonable price. At the Sutherland Hotel, you're looking at R400 per person per night including breakfast. Other than this, your accommodation options include small B&Bs and cottages, all within a similar price range.
Just before springtime, the semi-arid Namaqualand is transformed from a dry landscape into an explosion of colour, with wildflowers blanketing the region. The window of time to see this phenomenon is quite small, lasting from around July to September. If you time it just right, you could experience the best of Sutherland and Namaqualand in one trip.
North West
North West is a mixture of nature and entertainment. It's home to the country's most well-known holiday resort, Sun City. Just down the road is the Pilanesberg National Park, set in the crater of an extinct volcano.
Sun City offers a lively nightlife, a family water park with an artificial beach, a casino, and a world-class golf course. There are also activities for the adventurous such as jet skiing, zip-lining, parasailing, and navigating a large maze.
There are six accommodation options at Sun City, including self-catering units, cosy chalets, and a range of hotels from 3 to 4 stars. Price ranges are anywhere between R1,500 and R35,000 per night.
Just down the road is the Pilanesberg National Park, home to more than 300 bird species, numerous buck species, giraffes, hippos, caracals, and the Big Five. You can take self drives or book a morning or evening game drive with a professional game ranger.
Also in the area, is the Magaliesburg mountain range. Take a quick trip in a cable car to the top of the mountain and enjoy the vast views, dine at the restaurant there, explore a short walkway, and even do a bit of shopping.
Western Cape
There is so much to do in Western Cape, you'll need at least a week to fully experience everything there.
The Winelands is a long stretch of valleys and mountains that make for excellent grape-growing terrain. Grapes have been cultivated here since the 1600s and the industry has only grown; there are now hundreds of wine producers in the region.
From the humble beginnings of producing timber to being the most popular stop on the Garden Route, Knysna is a spectacular little haven. While there are still stores selling handmade wooden creations, Knysna is also known for its beautiful lagoon, lush forests, and the rare Knysna loerie bird. The town bustles in peak season and has every amenity for an easy vacation, but it's just a quick drive away from total wilderness.
Cape Town is perfect for adventurers. Table Mountain dominates the skyline and to reach the top, you can use the cable car or hike up. You can abseil to get back down from Table Mountain, tandem paraglide off Lion's Head mountain, take a ferry to Robben Island, or walk through the pristine Kirstenbosch Gardens.
So you see – in South Africa, you can get a local holiday that's as good (or better) as an international one, but at a fraction of the cost with hippo.co.za. Compare travel packages today and discover the wonders of our gorgeous country.
Sources: SA-Venues; Lonely Planet; Away with the Fairies; SA History; Homes of Africa;
Prices quoted are correct at the time of publishing this article. The information in this article is provided for informational purposes only and should not be construed as financial, legal, or medical advice.