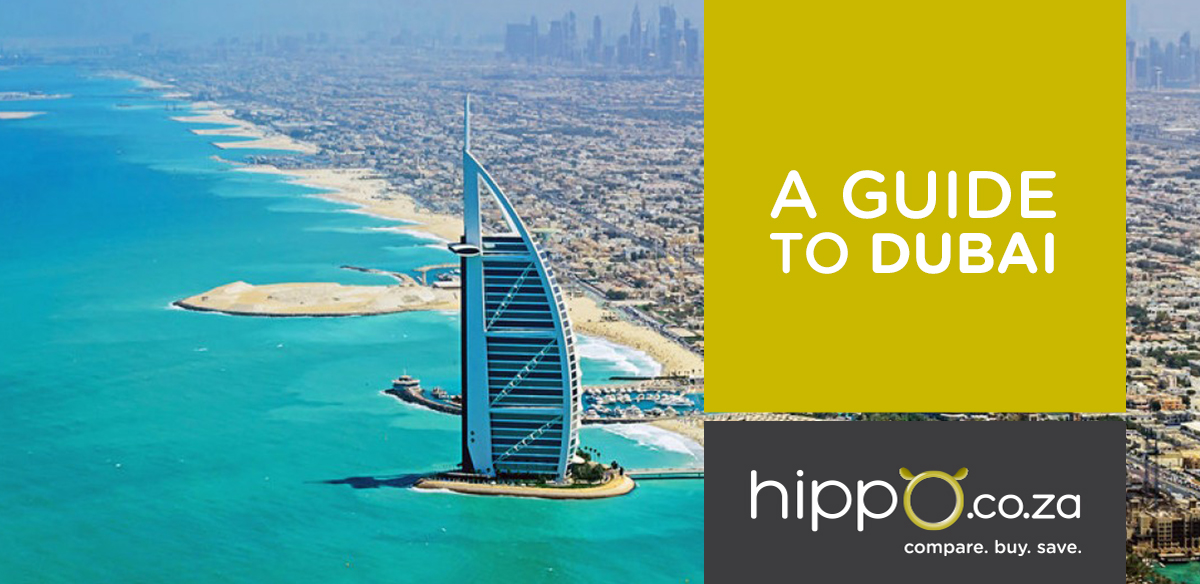 A tighter budget shouldn't hamper South Africans' desire to travel. We can still leave the African plains to follow those moments of wanderlust and experience the wonders of the world. The truth is, there are a number of countries that offer South Africans memorable and well-deserved holiday options without costing an arm and a leg. The first on our list of affordable countries for South Africans to travel to, is Dubai.
Located on the Persian Gulf coast of the United Arab Emirates (UAE), Dubai has become one of the world's must-see destinations. Having started as a small fishing village with only 6 000 people, to a large city built around the Middle East's biggest marina, today it offers an eclectic mix of old and new - old city charm in its surrounds and the hustle and bustle of modern life in the centre of town.
As one of the fastest-growing cities in the world, Dubai is known for offering unique attractions, from one-of-a-kind architecture and man-made islands, to indoor ski slopes, and camel ride in the Arabian Desert.
Getting to Dubai
According to Cheap Flights, the cheapest international flight from OR Tambo International Airport to Dubai costs around , at R5 000 with Emirates Airline. A flight to Dubai from Cape Town International Airport or Durban International Airport costs a bit more at around , and R7 000.
South Africans require a visa to enter the United Arab Emirates (UAE). A 14 and 30 day both cost R1 370. Don't forget to also enquire about Travel Insurance before departure, in the event your luggage is lost or you become ill during your stay. Travel Insurance prices vary depending on the provider and type of cover you choose.
Money
The exchange rate is currently R1 to 0.28 United Arab Emirates Dirham (AED). The currency comes both in notes and coins, which you can exchange your Rands for at Dubai International Airport, or at any of the shopping malls around the city. As English is widely spoken in Dubai, Dirham notes are conveniently written in Arabic on one side, and English on the other. If you decide not to convert your cash and rather used a card, Mastercard and Visa credit cards are widely accepted. Traveller's cheques are also widely accepted, so the choice is all yours.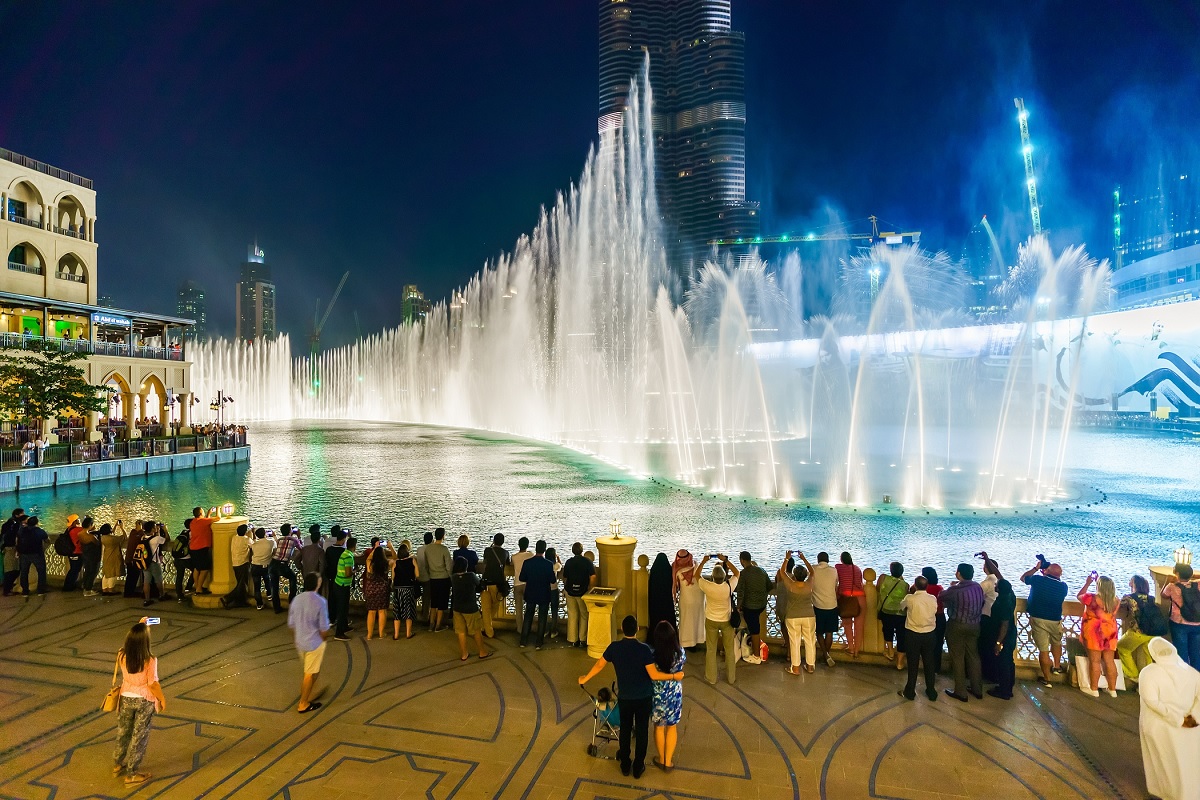 Food and Drink
While Dubai is known to cater for luxurious diners, it most certainly also caters for travellers on a budget. Dubai offers global cuisine to cater for any taste, from local Middle Eastern, to Italian, Vietnamese Chinese, and Indian. You can also opt for a budget-friendly meal at well-known fast food franchises from the likes of KFC and McDonalds. As the region is predominantly Muslim, keep in mind that you are not likely to find pork in any of the restaurants.
As with any city, the cost of a meal depends on the type of establishment and the area where it is located. A basic lunch or dinner at a local pub can cost on average, 191 AED (R680) for two people. If you're interested in trying out the local street food, a simple falafel or shawarma from a sidewalk restaurant can cost anywhere between 11 and 34 AED (R39 - R120). Due to alcohol restrictions, tourists can only purchase alcohol in licensed hotel bars and night clubs. Alcohol is relatively expensive in Dubai, with a beer costing on average 42 AED (R149.07) and a cocktail costing on average 78 AED (R276.85). Soft drinks are budget-friendly, with a 2 litre Coca-Cola costing 4.76 AED (R16.87).
Accommodation
Dubai centres around one long, main road, andaccommodation that caters for all budgets can easily be found throughout. For those travellers looking for a reasonable stay, mid-range accommodation starts at about 41 AED (R143.69) per night, and can reach about 400 AED (R1 419.73). High season for Dubai is September to May, and prices are likely to escalate during this time. If you are planning to travel to Dubai during this time it is advised to book accommodation in advance to avoid higher costs, otherwise travelling within the low season will help ensure a cheaper stay.
Entertainment
There are a large number of activities available, and it wouldn't be a visit to Dubai without a trip to the famous Burj Khalifa - the world's tallest building. From the observation deck on the 124th floor, this modern architectural marvel provides a bird's eye view of the entire city and desert. Day tickets to enter the building start at 125 AED (R438.08). Dubai also offers a wealth of water parks for water sport and ride enthusiasts. Dreamland, a family focused water park costs around 160 AED (R560.74) to enter.
If these activities are a bit out of your entertainment budget, Dubai offers a number of cheaper and even free activities to partake in during your stay. Dubai Museum offers a historical look into the city's creation for only 3 AED (R10.51), while the Dubai Fountain offers the world's largest water display synced to lights and music for free. There is also a wealth of white, sandy beaches to relax on.
Last, but not least, shopping in Dubai is a must. Due to the reduced import taxes and no added sales tax, you're sure to pick up some items that fit into your budget. The Dubai Shopping Festival is not to be missed, and takes place in January every year.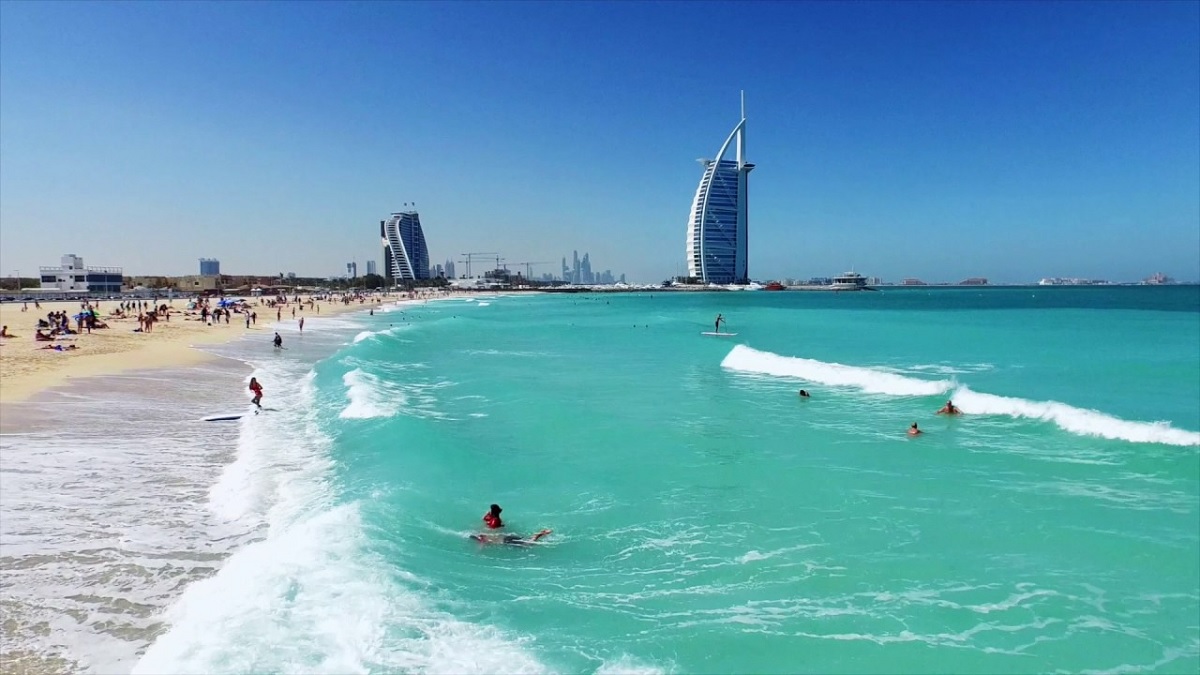 Travel
Getting around Dubai is relatively simple and cost effective. While the city is still dominated by private car travel, the public transport system is one of the best in the Middle East, offering metro, tram and bus operations. Taxis are easy to spot around malls and hotels during off-peak times at 09:00 – 16:00 and 19:00 onwards, but can be difficult to find during peak times at 07:00 – 09:00 and 16:00 – 19:00. Taxis charge around 1.75 AED (R6.20) per kilometre. It is also important to note that the weekend is on a Friday and Saturday – as Sunday is the start of the working week in many Muslim nations.
The metro offers a service that cuts out the hassle of traffic, and runs from 05:50 – 12:00 everyday except for Thursdays and Fridays. Thursdays it runs from 05.50 – 01:00, and Fridays it runs from 13:00 – 12:00. Trains arrive every 3 – 5 minutes and cost between 2 and 8.50 AED (R7.05 - R29.79) for a single ticket, depending on the route you take.
The bus system offers an extensive network throughout various districts of Dubai, but can be quite inconsistent with regards to its schedule. Tickets for the bus can be bought from all bus stations, and start at 2 AED (R7.05), but can go up depending on the route you take.
Another option is the tram, which links Dubai Marina to the Burj Al Arab and the Jumeirah Beach Residence. A tram arrives at each station every 6 minutes, from 06:30 – 01:38 daily. On Fridays the service only starts at 09:00. A ticket costs a flat 3 AED (R10.51), no matter how long your trip is.
When to go
The best time of year to visit Dubai would be during the winter months of November to March. Temperatures during this time range between a mild 23 – 25° C, compared to the summer months which average a scorching 45° C when it is most likely too hot for most tourists. It may also be sensible to avoid travelling to Dubai during the month of Ramadan, as fasting will limit your access to food and drinks. Ramadan occurs in the 9th month of the Islamic calendar, which is a lunar calendar, meaning it occurs at a different time each year once the crescent moon has been sighted.
Culture
While Dubai residents are mainly Sunni Muslims very much devoted to their religious beliefs, they are open and welcoming to tourists, and English is widely spoken. A large number of men choose to wear traditional clothes, but the dress code for tourists is quite liberal, in comparison to other states in the Middle East. That being said, it is advised to be respectful of the UAE culture. Women are advised to dress more conservatively as spaghetti tops, short skirts and very tight and/or low-cut t-shirts are considered offensive. Tourists must also adhere to more conservative attire and cover their feet, legs and shoulders while dining in restaurants at the Burj Khalifa and Burj Al Arab. Women are also expected to wear a traditional hijab (traditional veil) and abaya (traditional dress), when visiting mosques.
Experience a mix of ancient and modern, Middle Eastern and Western, as you explore one of the most advanced cities in the UAE. From beaches, malls and museums, to water parks and skyscraper views, Dubai has an activity to suit anyone and everyone.
DISCLAIMER: The information listed above was correct at the publication date of this article. The dates and ticket prices listed above are subject to change. Hippo.co.za cannot be held responsible for any losses or inconvenience that may arise from the use of information obtained from this article.