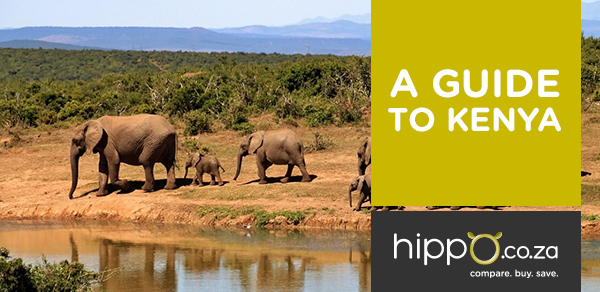 The East African country of Kenya is well-known for its vast wildlife, acacia trees located on enormous plains, and epic safaris encompassing the annual wildebeest migration. The country offers unrivaled views of the big five, Mount Kenya, neighbouring Tanzania's famous Mt. Kilimanjaro, the Great Rift Valley and a sneak peak into the lives of the nomadic Maasai tribe in southern Kenya. Kenya is the third country in our series of affordable countries for South Africans to travel to, and if you're thinking of taking a holiday within Africa's borders, Kenya is not only affordable but full of breathtaking landforms and wildlife.
Getting to Kenya
One of the cheapest international return flights from OR Tambo International Airport to Kenya's Jomo Kenyatta International Airport in Nairobi, costs around R6 400 with Rwandair to Nairobi and with Ethiopian Airlines return. A return flight to Nairobi from Cape Town International Airport costs around R7 600 with Ethiopian Airlines and Emirates Airlines, and a return flight from Durban International Airport costs around R6 800 with Ethiopian Airlines.
Fortunately, South Africans do not require a visa to enter Kenya as long as the stay is 30 days or less, but it is recommended that you purchase Travel Insurance before entering the country to protect yourself financially in the event of a cancelled flight or if you become ill during your stay.
Money
As of Mid October, the exchange rate was R1 to 7.74 Kenyan Shillings (KES). Rands can be exchanged at all major banks, foreign exchange offices, and hotels authorised to exchange currencies. The main areas of Nairobi and Mombasa, as well as hotels accept international credit cards in the form of Visa and Mastercard. The further away from these city centres you travel the less likely these cards will be able to be used. It is advised to carry cash on days spent outside of the main cities or tourist hotels.
Food and Drink
Kenyan cuisine is as diverse as its many tribes and cultures, but staples include maize meal and rice paired with vegetarian or meat stews. Popular street dishes include, Mishkaka, meat skewers cooked on an open flame, samosas, an Indian inspired meat or vegetable parcel that South Africans are well acquainted with, and crisps, made from the plantain banana. Kenya is also well-known for its large variety of flavourful fruits, such as mangoes, orange, bananas and granadillas to name a few. The country is a large producer of tea and coffee, and varieties are found throughout. Tourists are known to take these beverages home with them as they are so well liked.
A simple meal for two in Nairobi can cost between 2 537.68 KES (R328) and 3 891 KES (R503) depending on the area and type of establishment you go to. A beer in a local restaurant will cost tourists roughly 247 KES (R31), and a cup of coffee will cost roughly 306 KES (R39). These prices are based on what people expect to pay in expat related areas, and can be lower in less expat central areas.
Accommodation
Kenyan accommodation varies from camping, youth hostels and self-catering, to game lodges and hotels. While camping in the African bush sounds fantastic, it is restricted to formal campsites in game reserves because sleeping in the bush can be dangerous, as you will be surrounded by wild animals. Each accommodation type has basic versions and luxurious versions to suit any type of traveller. The more amenities the accommodation has to offer and the better the location, the more expensive it becomes. According to Lonely Planet, a room in a budget hostel or camp can cost between 1033 KES (R132.88) and 2065.93 KES (R265.75) per night, whereas a mid-range room in a hotel or game lodge can range between 7 747.36 KES ( R996.58) and 25 824.44 KES (R3 321.92).
Entertainment
Kenya is full of must-see adventures, expeditions and sights. But at the top of anyone's to-do list has to be the one-of-a-kind annual wildebeest migration. The migration includes not only wildebeest, but also antelope and zebra which migrate south from the north-eastern Serengeti in Tanzania, where the herds prepare for calves to be born. Once the last calf is born, the animals prepare to head back north through the central and western parts of the Serengeti. The main sight to behold is the crossing of the crocodile-infested Mara River in the Maasai Mara Nature Reserve, around August every year. Depending on which company you choose, a 3 day safari in the Masai Mara reserve can cost around 31 123.73 KES (R4 242.63), plus an entrance fee of 8 266.87 KES (R1 065.94) per person per day if you're staying outside of the reserve, and 7 233.50 KES (R932.70) if you're staying within the reserve.
Giraffe Manor in Nairobi is another must-do on a trip to Kenya. The manor serves as accommodation, and its grounds a conservation site and sanctuary for the endangered Rothschild giraffes of Kenya. Guests can expect a morning, breakfast and evening, dinner visit from the resident giraffes who poke their long necks inside to say hello or with the hopes of getting a snack. While a standard room does cost 56 834.54 KES (R7 328.34) per person sharing per night, the manor does allow day visitors to come for lunch, afternoon tea or dinner if the manor is not fully booked. Lunch will cost 7 750 KES (R999.32), tea will cost 5 166.75 KES (R666.21) and dinner 9 300.17 KES (1 199.18).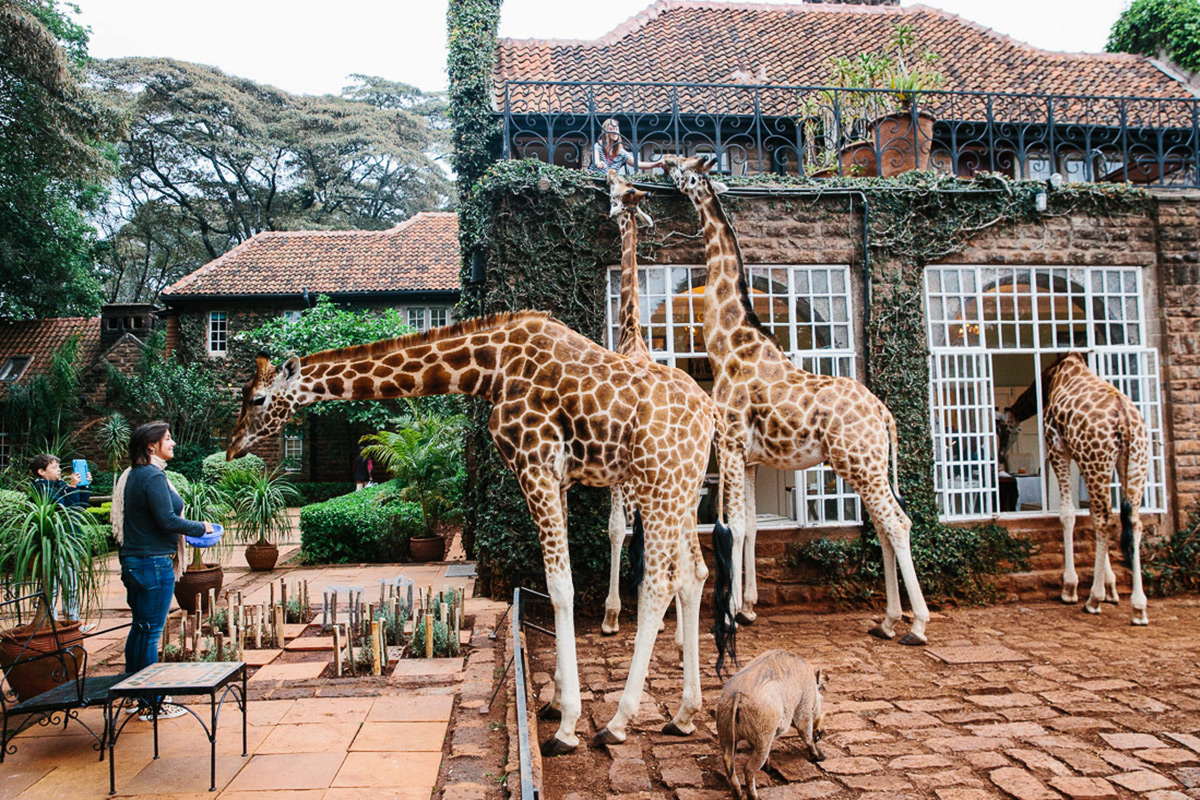 Travel
Getting around Kenya is best done via local buses or private car. Public taxis, known as matatus can be risky due to poor driving. Privately run local buses have various, regular routes that travel in and out of Nairobi and its surrounds. The routes are split into identifiable colours and cost an average of 0.66 KES (R0.10). If you plan on staying within Nairobi or another major city for some time, another reliable option is to rent a car from a reliable, international brand. As many roads in Kenya are not maintained, a 4x4 vehicle is recommended. Prices will vary according to the type of vehicle you choose and amount of time you need it for. Sign posts are not a common feature on Kenyan roads, so if you're driving yourself to a new town or game reserve, it is advised you keep a map or GPS system on you.
When to go
Kenya's dry, summer season is from November to April, with peak temperatures experienced in January and February. This is a good time to go as there are numerous opportunities to see vast numbers of wildlife gathering at watering holes. Being the peak season, this does mean that game reserves and city centres will be packed with visitors, which may make the experience unpleasant to some. While the wildlife is more difficult to spot during the rainy months of October to December, it does mean your visit will be less crowded. The best time to visit Kenya if you want to spot an array of wildlife, but also avoid the hottest months of January and February, is between April and August. During these months visitors can experience the wonder of the annual migration as well as mild temperatures.
Culture
The majority of Kenyans are Christian, with a small population of Muslim Kenyans living along the coast. Kenya is also home to a number of tribes such as the well-known Maasai, who live along the Great Rift Valley and are nomadic, subsistence farmers. English and Swahili are spoken throughout the country, and residents are always pleased to hear tourists attempting to converse in Swahili. The dress-code is mainly conservative, but informal. Kenyans are generally friendly people, who are polite and accommodating to tourists.
This is just a sneak peak into what this African country, rich in outdoor adventures, has to offer. Kenya is bursting with game reserves to explore, a coastline that boasts some of the best snorkelling and diving experiences, and a magnificent contrast of flat plains, former volcanic mountains, lush forests and extensive lakes. With a favourable exchange rate for South Africans, Kenya is an African destination perfect for any budget.
DISCLAIMER: The information listed above was correct at the publication date of this article. The exchange rate, dates and ticket prices listed above are subject to change. Hippo.co.za cannot be held responsible for any losses or inconvenience that may arise from the use of information obtained from this article.