As a young, married couple, when taking out medical aid you should focus primarily on your health needs. First, bear in mind the major medical concerns as well as chronic medication requirements, then consider your lifestyle and finances and how they fit into the structure of the medical aid plan.
Here we look at three different types of young, married couples and what they should
be considering when selecting the best medical aid option for their needs.
Types of young married couples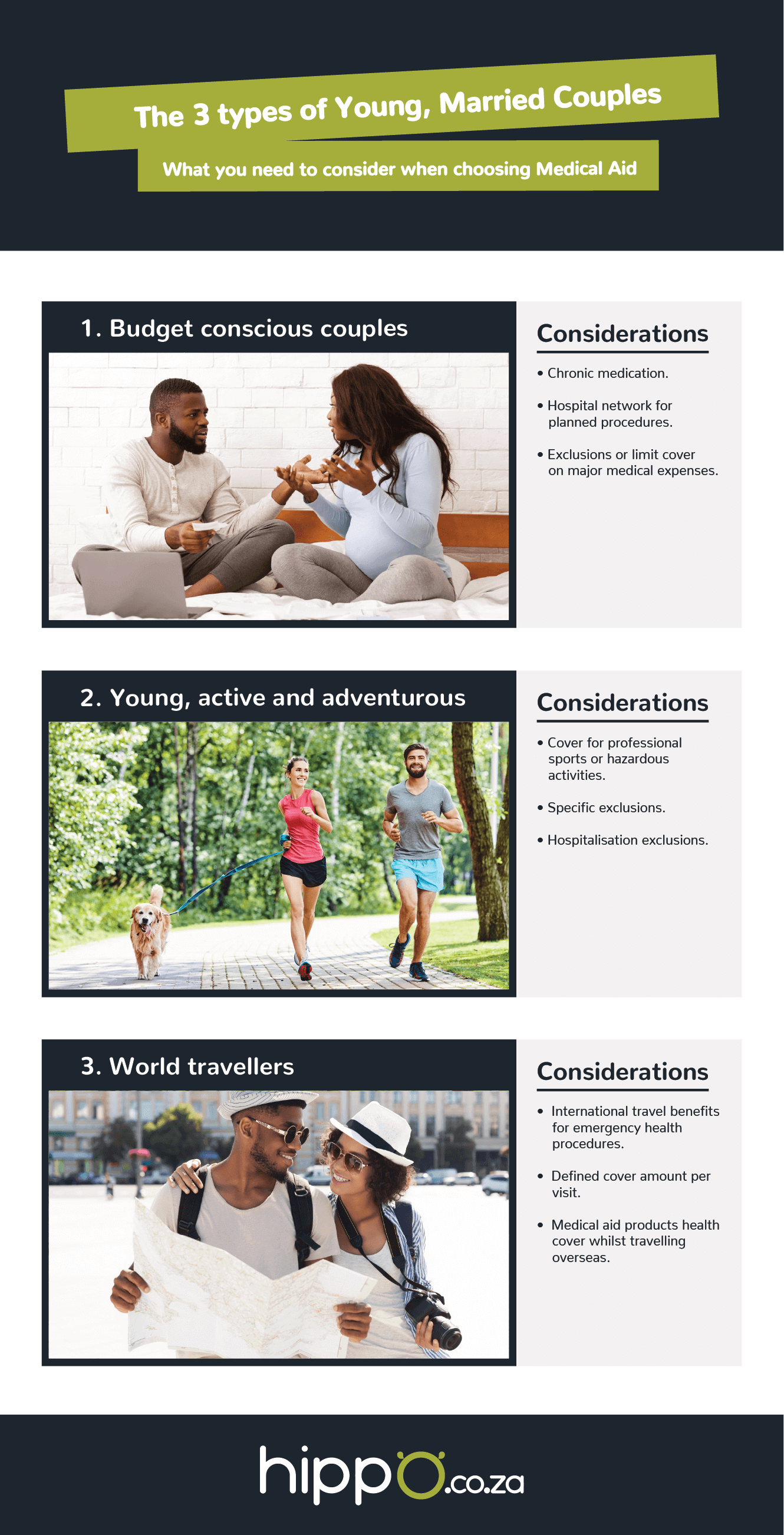 Budget conscious
Certain medical aid products are designed to attract mostly young, healthy, budget
conscious customers. As a young, married couple you are in the phase of building a
life and a family which makes these medical aid products suitable for you.
While you may prefer cheaper medical aid plans including those stipulating hospital
network usage for planned procedures, you should remember that they may exclude
or limit cover on certain major medical expenses, such as joint replacements and oncology. However, at this stage of your life this may not be a deterrent.
If you're a young newlywed and have opted for a hospital plan over a comprehensive
plan, it may be a good idea to save the money or pay off your debt and ensure that any high cost medical needs are taken care of.
Your medical aid needs change as you grow older and your family size increases, so
it's advisable to review the medical aid choices available and identify one that better suits you over time, which may change from a standard hospital plan to a comprehensive plan.
Young, active and adventurous
If you are an extremely active, young married couple, it's extremely important to check whether you are covered when involved in professional sports or hazardous pursuits if these are of interest to you.
Some plans exclude hospitalisation and treatment for injuries sustained in potentially dangerous physical pursuits like caving, professional cycling, sky-diving or, abseiling. It's best to check if the plan that you are interested in has no specific exclusion relating to this before buying.
World travellers
If you're a young and adventurous couple who travels overseas frequently, it's an advantage if your medical aid policy provides international travel benefits for emergency health procedures; especially if planning daring adventures.
A few schemes provide cover up to a defined amount per visit provided the member
returns to South Africa within 90 days from their date of departure. Always check your medical aid product's health cover whilst travelling overseas and supplement with travel insurance, where needed.
Maternity benefits
Building a family is often a high priority for young, married couples. But, it's critical to
have the correct medical aid in place before falling pregnant as few medical aid schemes will cover you after you are pregnant.
All medical aid products offer maternity benefits. An important consideration is understanding the difference between what's covered during your stay in hospital, the rules that apply, and the benefits offered out-of-hospital such as scans and ante-natal classes or visits to the paediatrician.
Depending on budget, young married couples can select an appropriate medical aid with the following range of benefits:
● Entry-level usually provides cover for the confinement in hospital subject to a limited number of days but with minimal cover for out of hospital expenses.
● Mid-level caters for families requiring comprehensive in-hospital and out-of-hospital cover and usually allows you to use private hospitals of your choice.
● Comprehensive plans cost much more, provide more cover for out-of-hospital maternity benefits but should be carefully assessed in terms of value for money.
Reward programmes
While you can reap the benefits of a medical aid plan with a rewards programme, you shouldn't choose your medical aid purely based on these. Their benefits and value adds include:
1. Helping young, married couples adopt a healthy lifestyle which will serve them well for the rest of their lives.
2. Providing a range of discounts for healthy choices, not limited to but including:
a) Deductions on local or international flights according to dependants' health status achieved on the reward programme
b) Reductions on gym membership fees at leading gyms
c) Cash-backs on healthy food items at leading retailers
d) Discounts on membership fees for eating programmes such as Weight Watchers or Weighless.
Efficiency and convenience
Certain South African medical schemes provide the following benefits, particularly
popular amongst younger members, due to their technological developments:
1. Mobile applications providing claims information and benefit availability
2. Digital cards
3. Doctor and specialist search facilities
4. Member maintenance functionality like changing your plan and accessing standard forms.
Marriage can be exciting but ensure you have the right medical aid to support you on this
journey.
Disclaimer:
This article is for informational purposes only and should not be construed as
financial, legal, or medical advice.