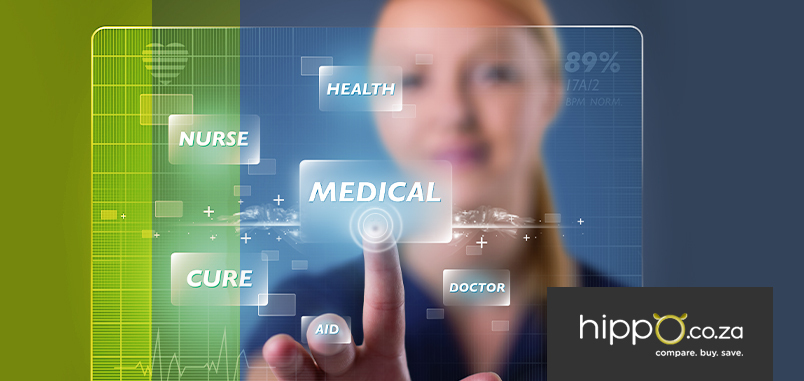 Sometimes living in South Africa can feel like a serious gamble. Just prior to this publication, we posted a detailed article on the state of South African roads which didn't paint a rosy picture. In this article we look at the leading causes of natural and unnatural death. We then examine your estimated risk and your potential need for insurance cover based on your profile. Is it all bad news then? No, but most people are already more aware of why they enjoy living in their country than the risk they're under for events they haven't experienced yet.
The hard truth is that South Africa is one of the most dangerous countries to live in – which is a stark contrast to how attractive a country it is. Just like an insurance company, the reasonable person weighs risk VS expenditure to determine when and in what form insurance cover should be acquired. To make an informed decision on this you need to know what your particular risks are.
Natural death in South Africa
Although the table below shows that our average life expectancy has been increasing in recent years (either linked to the government finally getting some handle on the HIV epidemic or simply to improved statistical gathering), the odds that a healthy 15 year-old will reach the age of 60 are not encouraging. According to the Medical Research Council or 'MRC' (and fairly noting their own disclaimer on the veracity of their figures) from their 2011 (most recent) Rapid Mortality Report, the average 15 year-old male has a 46% chance of making it to the age of 60 – whereas for females it's only 34%.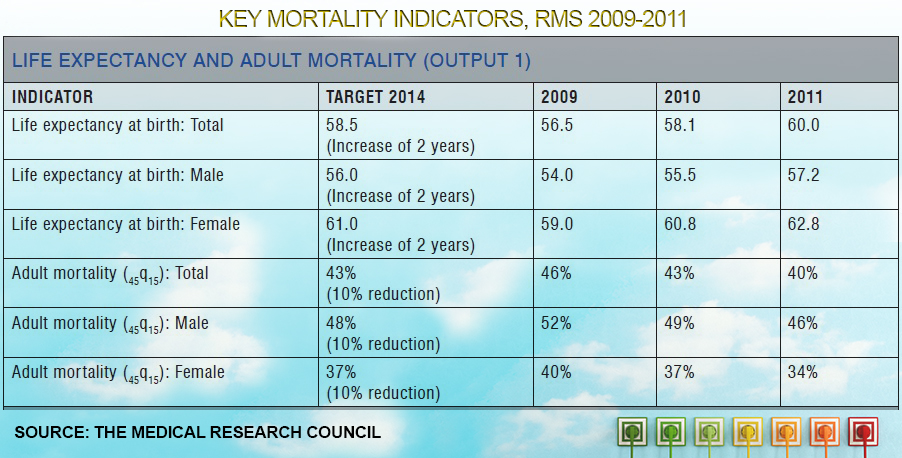 According to the same MRC report, and using the figures from their Rapid Mortality Surveillance (RMS) numbers, South African fatalities per year 'increased from 359 470 in 2000 to a peak of 555 081 in 2006 and declined to 485 023 in 2011.' They do note, however, that this seemingly rapid decline in the death rate could indicate holes in the data of previous years and measurement systems.
So what's killing us if it's not all old age? There are only really two things that we hear about on the news – HIV and homicide. HIV is only one example of 'natural' death while homicide is only one example of 'unnatural death' and neither is necessarily the biggest killer in either group. Before we get into a breakdown of the kinds of registered fatalities in each group, let's examine the MRC's breakdown of the total fatalities in each bracket VS those of Stats SA.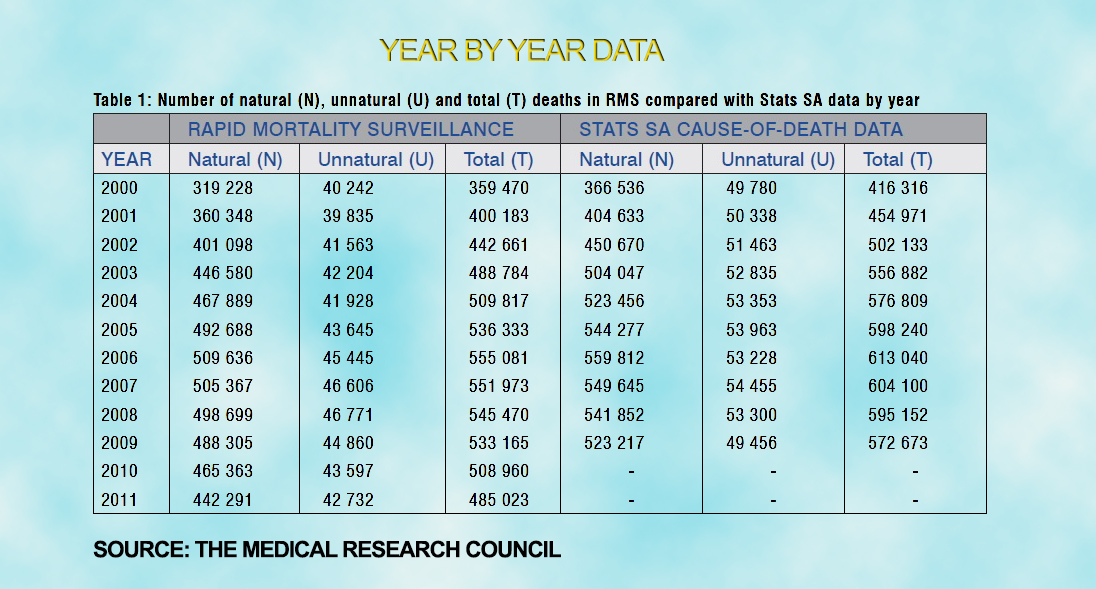 From this we can see that natural death accounts for, roughly, around nine to 10 times the amount of fatalities as unnatural death each year. Since a lot of people aren't making it to the age of 60, this could mean that you're more likely to pass away from complications arising from an illness. This raises a question about South Africa's level of care in the public health sector. Did most of the victims of illness suffer from a terminal condition (such as HIV) or did they simply not receive the level of care they required? If the average lifespan in Canada is 80.93 years and 81.80 years in Sweden and ours is barely 60 years, is HIV alone enough of a factor to make all that difference?
Although still of critical concern, HIV/AIDS is only listed as the fifth leading cause of death in the Stats SA report below.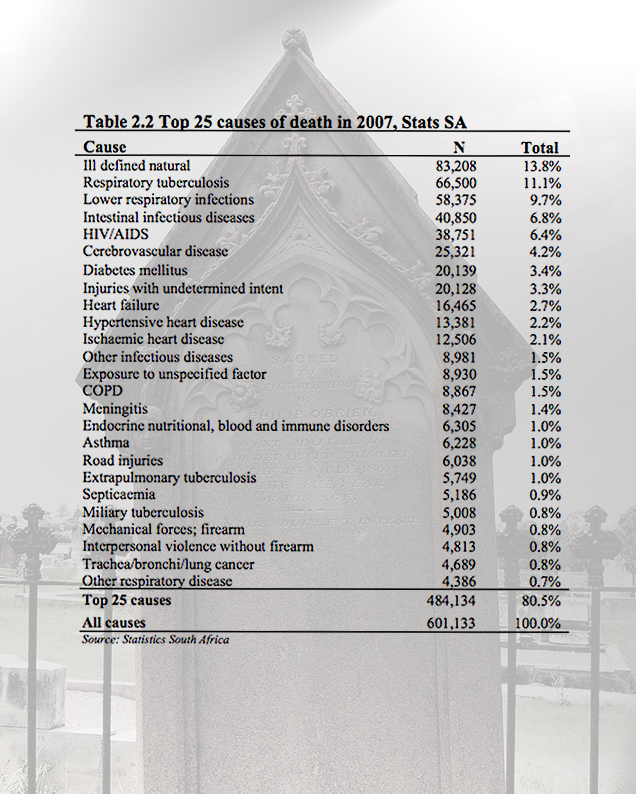 Unnatural death in South Africa
To explain more about unnatural death in South Africa, we spoke with MRC senior scientist, Dr Anesh Sukhai from the Violence, Injury and Peace Research Unit.
As a scientist of the MRC examining unnatural death in South Africa, what are your duties?

I work as a senior scientist with the Violence, Injury and Peace Research Unit (VIPRU), which is a joint research initiative by the South African Medical Research Council and University of South Africa. My work includes descriptive epidemiological research on the nature and extent of violence and injuries, analytical research on injury determinants, and initiatives that seek to translate research to policy and evidence-based interventions.
How does the MRC source or generate unnatural death statistics?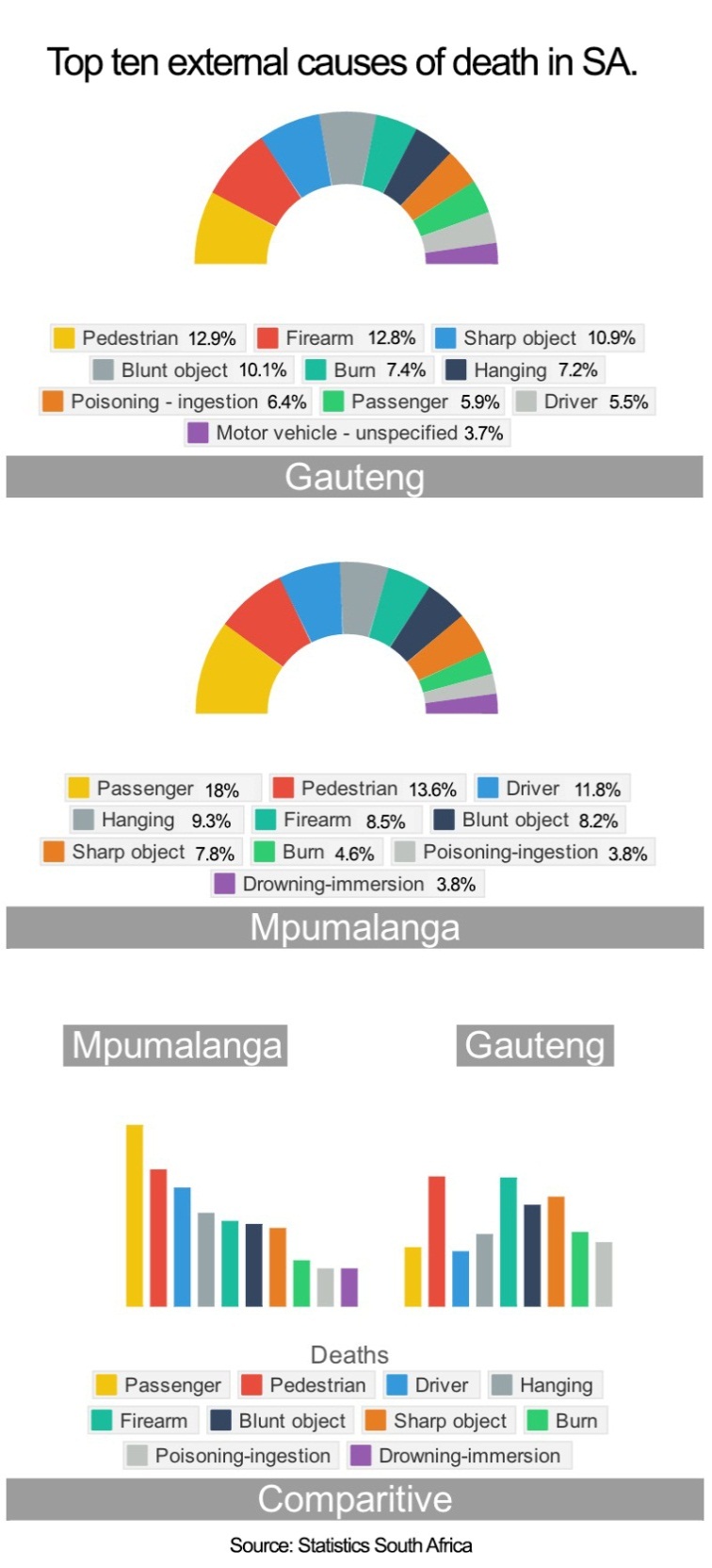 Data on non-natural or injury-related deaths arises from the National Injury Mortality Surveillance System (NIMSS), which the VIPRU coordinates. The NIMSS is a mortuary-based surveillance system and data is obtained from post-mortem investigations. All non-natural deaths are subject to medico-legal investigations, as required through the Inquest Act, 1959 (Act No. 58 of 1959). In addition, police data on the circumstances of death and forensic toxicology investigation data including blood alcohol testing, where available, is also collated. However, not all facilities across the country participate in the NIMSS. The NIMSS currently has full coverage of all fatal injuries in the provinces of Mpumalanga and Gauteng (except Pretoria), allowing for comparisons to be undertaken in rural versus urban settings, respectively.
According to your research what are the current top 10 leading causes of unnatural death in Mpumalanga and Gauteng?

Causes of death may be defined by "apparent manner of death" (e.g. violence, suicide, transport) or "external causes" (the specific mechanisms regardless of intent or manner of death e.g. firearm or sharp object injury). Based on our last year of reporting in 2011, the leading apparent manner of death for Gauteng was violence (30.5%) followed by transport (28.7%), and for Mpumalanga it was transport (43.3%) followed by violence (23.1%).
In terms of external causes of death, the top 10 injury deaths in the respective provinces are:
Gauteng

1. Pedestrian (12.9%)
2. Firearm (12.8%)
3. Sharp object (10.9%)
4. Blunt object (10.1%)
5. Burn (7.4%)
6. Hanging (7.2%)
7. Poisoning - ingestion (6.4%)
8. Passenger (5.9%)
9. Driver (5.5%)
10 Motor vehicle unspecified (3.7%)

Mpumalanga

1. Passenger (18.0%)
2. Pedestrian (13.6%)
3. Driver (11.8%)
4. Hanging (9.3%)
5. Firearm (8.5%)
6. Blunt object (8.2%)
7. Sharp Object (7.8%)
8. Burn (4.6%)
9. Poisoning - ingestion (3.8%)
10. Drowning/immersion (3.8%)
Are there any notable trends forming from this data across the last few years?

For the leading apparent manners of death i.e. violence and transport, cases peaked in the evening and at night, and on Saturdays, followed by Sundays. A notable change has been the emergence of pedestrian-related injury as the leading external cause of death in 2011, as compared to the two previous years when firearm injury was the leading external cause.
From your research can we identify specific age groups and genders more at risk from specific dangers?


Based on 2011 data for Gauteng:
Violence-related injury was the leading apparent manner of death for the 15-24 and 25-34 year age groups while transport-related injury was the leading apparent manner for the 45-54 and the 55-64 year age groups. For the 35-44 year age group, violence and transport related injury were equally the leading apparent manners of death. The leading apparent manner among males was violence and among females, it was transport.
Based on 2011 data for Mpumalanga:
Transport-related injury was the leading apparent manner of death across all age groups, and also for both males and females.
To what extent does the level of poverty impact South Africa's violent crime?

Based on some of our analytical research, we have shown the important influence of both social and area level deprivation along with rurality to be important predictors of road traffic deaths and, in addition, the co-morbidity between traffic and violence-related deaths, which is likely to be due to generally high levels of aggression that underpin both types of injuries. For example, high levels of aggressive road behaviours (and resultant crashes and injuries) may be seen as a manifestation of generally high levels of aggression in society.
Could you hypothesise on challenges we'll face over the coming years based on statistical patterns?

With road traffic injuries (RTIs) and based on burden of disease projections, RTIs are predicted to increase from the 11th to the sixth leading cause of death, and from the ninth to the third leading cause of disability in the absence of novel approaches to intervention.
Based on these findings, do you have any advice for South Africans?

In terms of road traffic injuries, DUI, excessive and inappropriate driving speeds, and the non-wearing of seatbelts are leading behavioural factors leading to crashes and injury. So simply, it is not worth increasing one's risk of death by engaging in these dangerous and high risk driving behaviours. We have also found road rage and aggressive driving to be particularly prevalent in the South African setting which also interplays with the above high risk driving behaviours.

Medical cover in South Africa
If you read our recent article on the national road safety situation, then you're already aware that this state of affairs isn't isolated to Mpumalanga and Gauteng. So the question remains, how many of these South Africans are receiving the level of medical care that they require to stand a chance of recovery (if possible)?
In South Africa roughly 17% of people currently have some form of medical insurance policy, to ensure that they get the best medical care available. A larger percentage still pays out of their own pocket for private care, but the vast majority rely on overstrained public facilities.

Courtesy of the Council for Medical Schemes, this infographic categorises the amount of South Africans who belong to a medical aid by province. These were the results for 2012.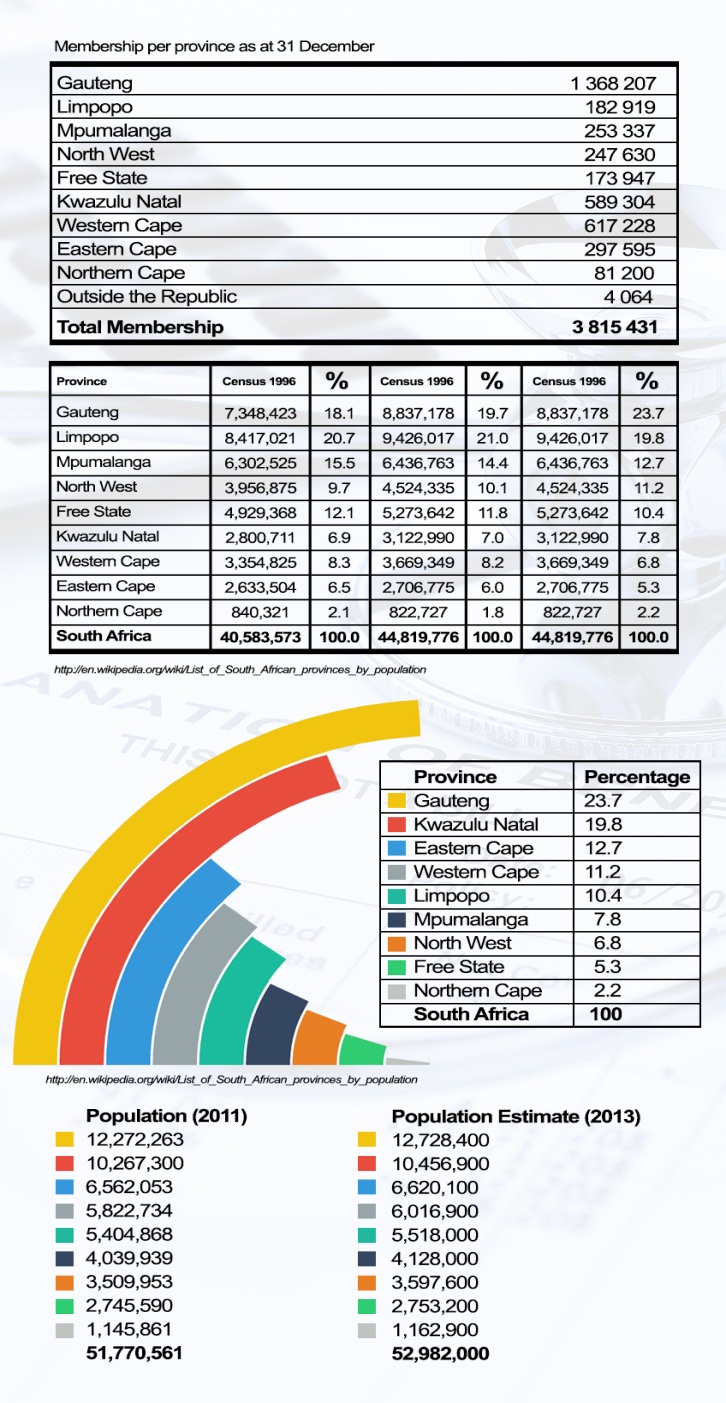 Note: there is a difference between a medical scheme/medical aid and medical insurance.
To better understand the South African insurance industry and the state of healthcare we spoke to the South African Insurance Association (SAIA) which represents most of the short-term insurance companies in South Africa with 60 members who abide by the SAIA code of conduct.
SAIA specialist: Adv. Suzette Strydom, SAIA General Manager: Legal
There's been some debate in South Africa regarding mandatory minimum vehicle insurance could medical insurance go the same way? What are the benefits of mandatory insurance?
Approximately, only 35% of the vehicles on our roads are currently insured, resulting in a huge burden for the insured public and their insurers. The insurance industry – together with various other role players – has called for compulsory third party motor property insurance in South Africa for many years now. We believe that there are many benefits that could positively impact not only the cost of insurance to consumers, but could also positively impact road safety.



The National Development Plan aims to phase in national health insurance with a focus on upgrading public health facilities, producing more health professionals and reducing the relative cost of private health care. The National Health Insurance Green Paper was published by the Department of Health during August 2011. The first five years will focus on strengthening the public sector in preparation for new NHI systems, with the launch of the new central NHI fund envisaged in 2014/15. The fact remains that it will take time for these changes to be implemented to positively impact on people's lives, and expectations will need to be carefully managed.
As we build towards the implementation of NHI in South Africa, there is a need for consumers to consider health insurance offered by the insurance industry to provide cover against unexpected health events in such a framework whereby the products complement medical schemes.


What regulatory/legislative changes (if any) is the SAIA currently proposing and why?
The SAIA is in the process of preparing a submission following the publication of the Second Draft Demarcation Regulations on 29 April 2014 for public comments. These Draft Regulations specify which types of health insurance policies are permissible under the Short-term and Long-term Insurance Acts and do not fall within the ambit of the definition of "business of a medical scheme" as provided for in the Medical Schemes Act.


Any advice for first-time medical scheme purchasers in South Africa or those considering acquiring cover?

It is important for consumers to understand the difference between a medical scheme and health insurance. As such, the second Draft Demarcation Regulations propose certain restrictions on the marketing of health insurance such as that the marketing activity or marketing material of health insurance policy may not identify the policy by the term "medical" , "hospital" or any derivative thereof, or create the impression that the policy is a substitute for a medical scheme.
As noted by advocate Strydom: in an effort to address the debated gap between the insured and the uninsured, the SA government is attempting to establish a national health insurance (NHI) system. This system would be primarily funded through taxes and a form of contribution system to further the expansion and capacity of the public healthcare framework. This could mean that the upper class would bear significant burden in paying for the medical services of the lower class.
Exactly when and to what effect this system will be successfully implemented is currently debated and the fact remains that we, as South Africans, need a little more security than residents of first world countries. Another glaring observation is that, if at all possible, we should all have some access to private/first class medical facilities as the current infrastructure of the public healthcare system is ill prepared to cater to our needs. Visit our main site to easily compare medical aid quotes to source the most cost effective cover per your needs.