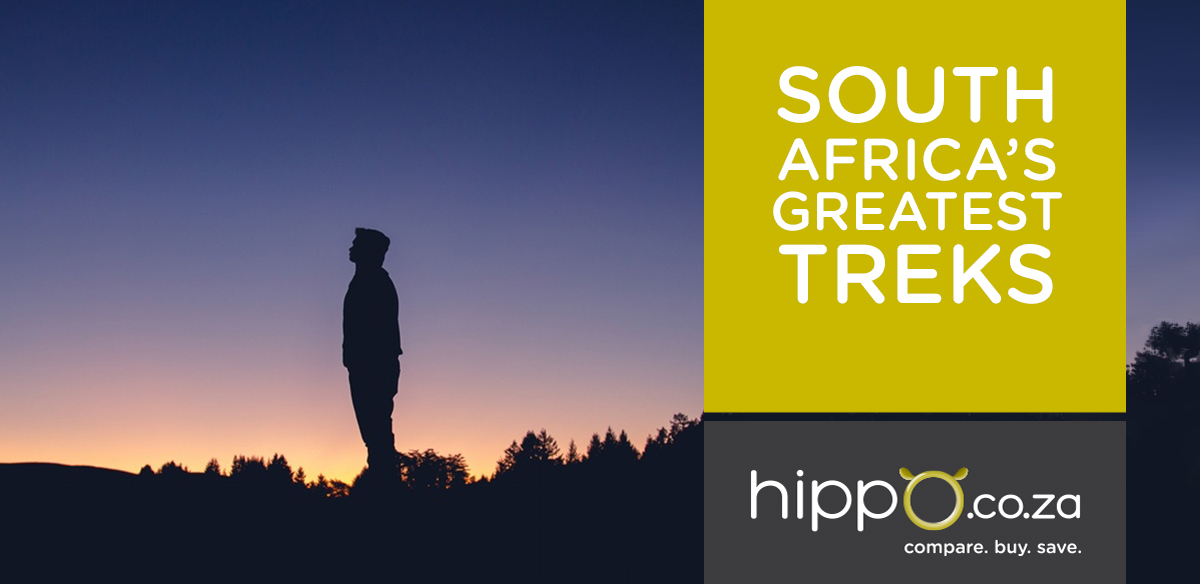 As we run between cubicles and stare at LED monitors for hours on end, we often forget that South Africa is a land of adventure, filled with unforgettable journeys - but it's up to you to embark on them. The holiday season is fast approaching and with the weather warming up, it is a perfect time to experience some of the greatest treks in South Africa.
Dust off those hiking boots and pack your camping gear, because we're going face to face with the outdoors – just remember to ensure your Medical Aid is up to date before you start tackling those trails.
Otter Trail
Cost: approximately R1 000
Distance: 42 km
Duration: 5 days
Location: Garden Route
About the trail: The Otter Trail is not only one of South Africa's most popular trails, according to its official website, but it is widely considered as one of the best hikes on the planet. It is also the oldest official hiking trail in South Africa as the inauguration of the trail took place in 1968. The route is found within the Tsitsikamma National Park on the famous Garden Route and runs from Storms River Mouth to Nature's Valley (going from east to west).
The Otter Trail will certainly provide a stiff challenge, but the reward is well worth the effort - with stunning views of the Indian Ocean, waterfalls, caves, cliffs and a multitude of rivers. There is a number of river crossings involved and hikers are urged to be aware of the dates and the times of the high and low tides. This is especially important when it comes to crossing Bloukrans. Other highlights include the Oakhurst Huts, Grootrivier, Skilderkrans and Blue Bay to name just a few. Also, be sure to book in advance as there is usually a long waiting list due to the immense popularity of this trail.
Trek difficulty: Challenging
Fanie Botha Trail
Cost: approximately R525
Distance: 52 km
Duration: 5 days (2 & 3 day options available)
Location: Mpumalanga
About the trail: This trail makes the list not only due to the magnificent scenery but also because of the historical significance it has to hiking in South Africa. This was one of the first multi-day trails laid out in the country and boasts sublime views, swimming holes and two famous waterfalls - Mac Mac and Lone Creek. The trail winds its way through pine plantations where the brightly-coloured green and red larvae of the pine emperor moth are often visible. Wildlife viewing is also on offer, with the likes of baboons, antelope and other small mammals.
It was originally supposed to be the first part of a much larger trail which would run from the Soutpansberg all the way to the Cape, in what would have been the National Hiking Way System. It is worth considering attempting the hike during cooler times in the year due to the extreme summer heat, which can make the trip rather gruelling. It is a fairly tough hike, but it can also be done in smaller, easier loops to accommodate hikers of various fitness levels.
Trek difficulty: Comfortable (short loops) - Challenging (full hike)
Rim of Africa
Cost: approximately R49 800 (smaller sections come at much lower costs)
Distance: 650 km
Duration: 52 days
Location: Garden Route
About the trail: If you are looking for one of the ultimate adventures in South Africa, completing the Rim of Africa Thru-Hike will be a considerable achievement. The Rim of Africa Thru-Hike is Africa's longest mountain traverse and trail initiative, according to Traveller24. This guided hike can be split into nine smaller traverses to cater for everyone from hard-core hikers to part-time adventurers. However, only a select few have completed the full Thru-Hike. The journey starts in the Cederberg then takes you through Kouebokkeveld, Agterwitzenberg, Hex River, Langeberg, Marloth Ridge, Grootvadersbos, Gouritz River and finally comes to an end in the Outeniqua Mountains.
Of course, this epic long-distance adventure is best suited for experienced and fit hikers. Although the costs are high, it includes food purchasing, group-prepared meals, logistics, transfers between the trail and Cape Town, medical packs, tents, cooking equipment, permits and camping fees, experienced guides and more. Trial season runs from September to November. Make sure you check for availability long in advance due to the length of the trip.
Trek difficulty: Tough
Amphitheatre Heritage Hike
Cost: Between R3 100 and R3 450
Distance: 29 km
Duration: 3 days
Location: Northern Drakensberg
About the trail: The Drakensberg ranks as one of the most beautiful destinations in South Africa and the Amphitheatre Heritage Trail will leave you with lasting memories. Climb to the top of the highest waterfall in Africa (the Tugela Falls) with the hike featuring a gruelling 1 200 m ascent as well as the famous chain ladders. Arguably the biggest highlight of the journey is The Amphitheatre itself - which is a gigantic wall of rock that stands 1 000 m high and runs for 5 km from the Tugela Valley, along the Eastern Buttress to Sentinel Peak.
The trip dances over the borders of the Free State, KwaZulu-Natal and Lesotho, and also features grasslands and indigenous yellowwood forests. Wildlife in the area includes eland, baboons, and mountain reedbuck. Should you want a little more of a challenge, guides can offer an alternative route which includes an overnight stay in caves in the area!
Trek difficulty: Tough
De Hoop Whale Trail
Cost: approximately R5 500 pp sharing
Distance: 57 km
Duration: 5 days
Location: Western Cape
About the trail: The trail is located within the unique and diverse De Hoop Nature Reserve on the Western Cape coastline and stretches from Potberg to Koppie Alleen. The journey takes place over five days where you are treated to ocean views coupled with the smell of fragrant fynbos. Hikers can also keep an eye out for the last remaining vulture colony in the Western Cape. However, the whale watching experience is what this trail is famous for, which means that it is best to book between June and December, when the southern right whales are in attendance.
It is not uncommon to see groups of over 50 whales playing in the water just a few kilometres out from the coast, while the area is also part of the Cape Floral Kingdom, meaning that it features a wide range of indigenous plants and flowers. The hike is quite challenging at times, meaning that kids under eight years of age are not allowed, and reservations are limited to group bookings of 6 or 12.
Trek difficulty: Challenging
Preparation
Once you've compared some of South Africa's greatest treks and picked the best hike for your fitness level, it's time to start planning. Although you should plan specifically for every hike, there are some important items that should generally be included in any trip…
Backpack,
Rain protection gear for backpacks and yourself,
A dry sack,
Water bladder,
Sleeping bag,
Thermal blanket,
Survival bag,
Cellphone with spare battery or small portable charger,
Multi-purpose knife,
Tin opener,
Map,
Pen and paper,
Cutlery,
Lighter and torch,
Candles.
Clothes
Comfortable hiking boots.
A hat and beanie,
Gloves,
A mixture of cool and warm clothing (mostly long pants and long sleeves),
Swimming costume,
Water shoes (like aqua socks),
Rain jackets,
Thermal underwear.
Toiletries
A light towel (quick dry),
Sunscreen,
Bug repellent,
Basic toiletries (like toothpaste, soap, shampoo etc.),
Toilet paper,
Wet wipes.
Conclusion
The abovementioned items are merely suggestions of what you might need on your hiking adventure. Remember to bring lots of small snacks for constant bursts of energy. Binoculars also allow for excellent wildlife viewing opportunities while a pack of cards always proves popular around the fire and a novel can be enjoyed during your quiet time. Most importantly don't forget to pack a small first aid kit in case of emergencies. And, of course, for peace of mind compare Medical Aid policies today.
DISCLAIMER
The prices quoted above were based on information obtained from the relevant service providers and were correct at the publication date of this article. These prices and amounts are subject to change without notice at the discretion of the service provider.
Hippo.co.za cannot be held responsible for losses or inconvenience that may arise from the use of information obtained from this article.