Top Ten Legends of SA Rugby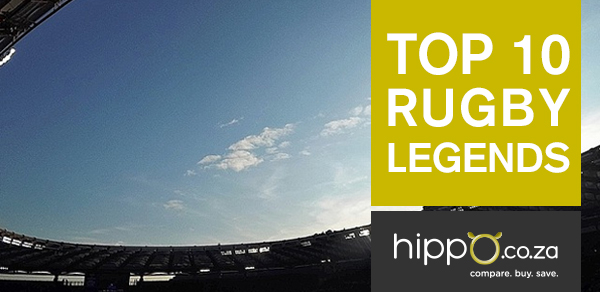 Rugby fans often debate about the greatest legends of SA rugby. With rugby fever currently running high, the debate will once again rage around the braai. If you're unable to attend any upcoming matches, you can still catch all the action on your TV and mobile devices (and with the right personal insurance cover on these items, you can continue to stay on top of every game). Meanwhile, grab a beer and some biltong and indulge in our list of ten rugby icons:
Francois Pienaar
Francois Pienaar is known as the man who transformed local rugby into a professional sport. He started his career with the Transvaal Province rugby team where he led them to Super 10, Currie Cup, and Lion Cup victories. After joining the Springboks in 1993 as captain and flanker, he gained international recognition when the Boks won the 1995 Rugby World Cup under his leadership. Former president Nelson Mandela presented him with the Web Ellis trophy – a moment that made history, united a post-Apartheid South Africa and still inspires millions of us.
Joost van der Westhuizen
As scrum-half for the Blue Bulls, Joost van der Westhuizen played in the 1998 Tri-Nations, and the 1998 and 2002 domestic Currie Cup tournaments. He also represented the national team in the 1995, 1999 and 2003 World Cups, and is considered as the driving force behind our 1995 World Cup conquest. Despite being over 1.7 meters tall, he could move swiftly on the field, spot and penetrate the weak spots in rivals' defences during the 111 matches he played for South Africa. At the time of his retirement, he held the test try record with 89 caps, and a score of 38 tries.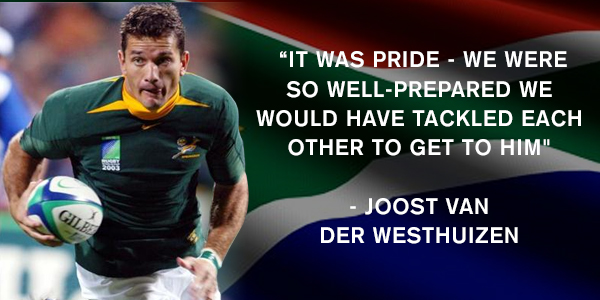 Naas Botha
Naas Botha kicked off his rugby career as a member of the Northern Transvaal team at the age of 19. He soon advanced to captain after the team won the Currie Cup six times, mostly owing to his excellent footwork. He was chosen as fly-half for the Springboks in 1980 and played his first two test matches against South America in 1980. Botha proved to have extraordinary left and right kicking skills, as well as incredible speed and distribution abilities as seen in the IRB Centenary match against England in 1986.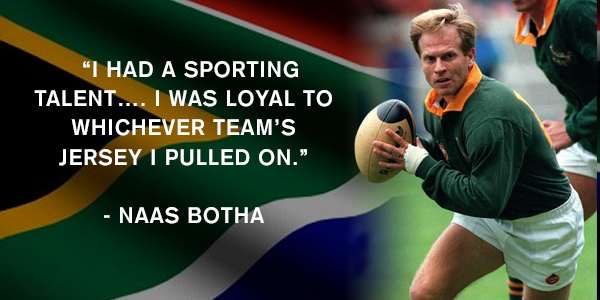 Os du Randt
Os du Randt had a successful 14 year career playing for local teams such as the Cheetahs, Blue Bulls and Cats. He retired from rugby as the most-capped prop in the history of the Springboks with a total of 80 tests. His honours also include the second-best loose head of all time by Rugby World magazine in 1999, and the only Springbok who owns two Rugby World Cup winners' medals, ranking him as one of the greatest in South African rugby history.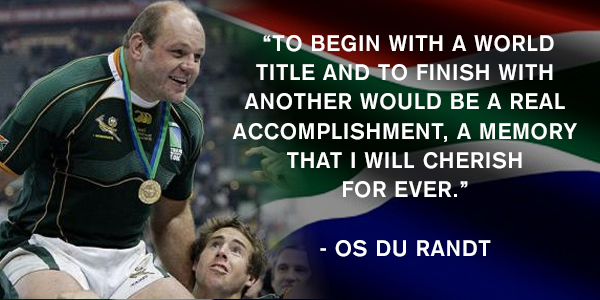 Chester Williams
When Chester Williams played winger for the Springboks, he was the only non-white team member. This inspired many black and coloured rugby players in disadvantaged areas, especially after the Springboks won the World Cup in 1995. His strong-and-silent demeanour combined with his lofty field work quickly made him a fan favourite. Williams's contribution to eradicate the racial barrier in South Africa through our 1995 World Cup win was later recognised in the film Invictus. Williams took up coaching the Springbok Sevens team after his retirement.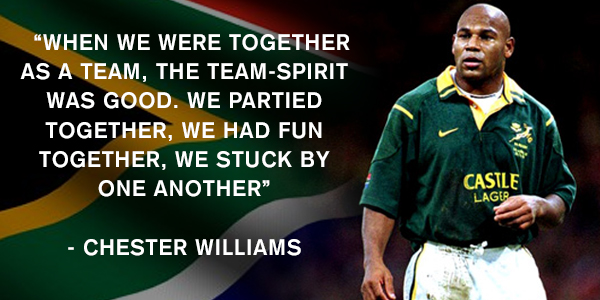 Bryan Habana
Many people remember him as the hero of our 2007 Rugby World Cup win, but Bryan Habana's talent as winger goes further than that. Apart from Currie Cup and Super Rugby victories and several South African Rugby Union and International Rugby Board awards; Habana became the first South African rugby player to achieve 50 test tries, as well as the fourth Springbok to reach 100 test caps.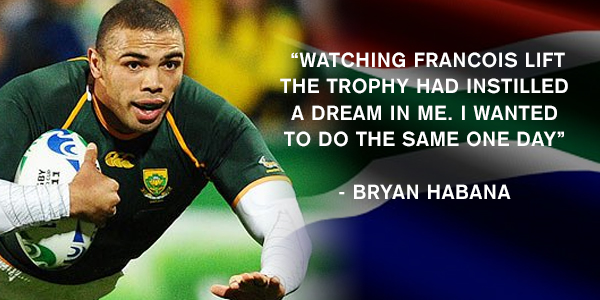 Frik du Preez
Frik du Preez was named "Rugby Player of the 20th Century" by South African rugby experts and fans. His techniques on the field were matchless in local rugby at the time. He continuously showed strength, rapid speed, ball-handling skills, as well as incredible kick and drop-kick abilities in every game he played. Du Preez had a remarkable career as lock for the Northern Transvaal and Springboks in the 1960s and 1970s, with a record of 38 caps for South Africa by the time he retired.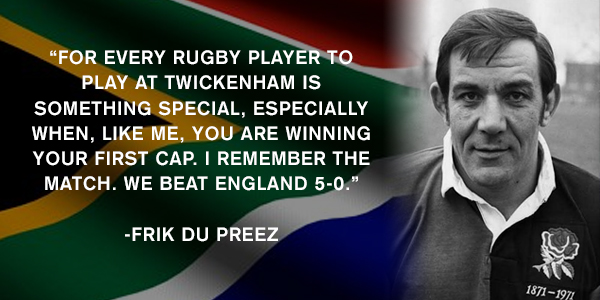 Morné du Plessis
Morné du Plessis is noted as one of the most efficient captains the Springboks had. The national team won 13 out of 15 matches during his captaincy from 1975 to 1980. Du Plessis also managed the Springbok team that triumphed at the 1995 Rugby World Cup. His excellence both on and off the field earned him a nomination as South Africa's Rugby Player of the Year in 1976, 1977, 1979 and 1980, an induction into the International Rugby Hall of Fame and membership of the World Sports Academy.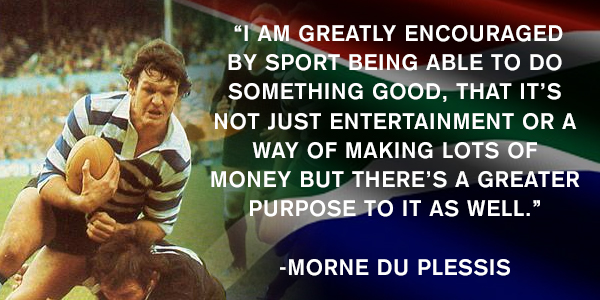 Victor Matfield
Despite former South African prop Ollie le Roux recently criticising Victor Matfield for "playing like an old man," the latter still deserves a spot in the top ten. The Springbok Rugby Hall of Fame lists Matfield as the South African player with the longest career, which gives him veteran status. He is still considered as one of the best locks in the world and made a significant contribution to South Africa since his first international appearance against Italy on June 2001.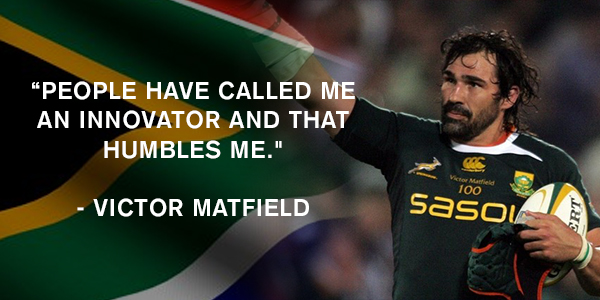 Kitch Christie
Kitch Christie was an instant success when he took up coaching the Springboks in 1994. After beating Argentina, Scotland, and Wales during their 1994 tour, the Boks took home the World Cup trophy a year later under his coaching. Christie ensured that the national team remained undefeated throughout his period as coach. Between 1994 and 1996 he trained and instructed the Bokke for 14 matches, winning them all in a row.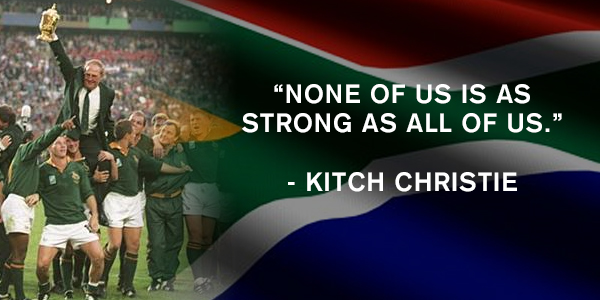 Image Sources:
TheSouthafrican.com, 5seasons.co.za, tvnz.co.nz, independent.co.uk, jacarandafm.com, rugby-talk.com, ruggaworld.com, albertonrecord.co.za, telegraph.co.uk, thenational.ae