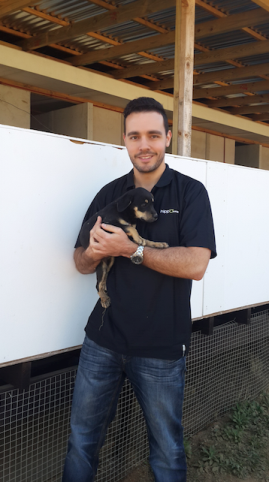 Hippo.co.za, the online insurance and financial comparison website, recently donated their billboards to the animal shelter, Kitty and Puppy Haven in Midrand.
Belinda Boarato for Kitty and Puppy Haven says, "We are thankful for the donation of the billboard material which we will use for shade in the play areas for our kittens and puppies."
Kitty and Puppy Haven are a rescue and rehabilitation sanctuary for injured, abused, neglected and abandoned animals. A pro-life organization that does not euthanise any animals if they can be healed and have a healthy, pain free, happy life.
Derek Wilson, Head of Hippo.co.za says, "We are growing our culture of giving back, and this year we decided to donate the material to our furry little friends. IOL recently reported that we have 9.1 million dogs and 2.4 million cats in South Africa. Many of these animals are neglected and abused and we therefore wanted to lend a hand to those who rescue and take care of them."
For the pets in happy homes, Hippo.co.za also offers an online comparison service for pet medical insurance, which covers costs such as veterinary treatments, surgeries, vaccinations and sterilisations from a range of providers.
Established in 2007, hippo.co.za is South Africa's leading comparison website that helps consumers save money by comparing a range of SA providers across financial products such as car insurance, home insurance, life insurance, medical and more. Hippo is free to use and saves consumers the time and hassle of shopping around for the best deal since the Hippo.co.za website instantly retrieves real-time quotes from the different providers using the latest Internet technology. At least 8 out of 10 people could save an average of R427 per month on their car insurance.
Hippo.co.za makes money by simply charging its partners a fee when a customer chooses to find out more about their products. The results consumers see, and the order in which they are presented, is in no way influenced by the fee hippo.co.za charges its partners or any other factors other than the price of the product being compared.
For more information, visit us on www.hippo.co.za, connect with Hippo on LinkedIn, http://www.linkedin.com/company/hippo-comparative-services-pty-ltd/, like us on Facebook, www.facebook.com/HippoSA, and follow us on Twitter @Hippo_co_za and YouTube, http://www.youtube.com/user/hippocompare.
Hippo Comparative Services (Pty) Ltd is an authorized financial services provider (FSP number: 16357).
*Based on a representative market research survey conducted by Kaufman Levin Associates, on behalf of Hippo.co.za in May 2014. Risk Profile Dependent.